Phil Clarke has a hard act to follow succeeding Sir Terry Leahy. As he takes over the hottest seat in UK retail, Jennifer Creevy looks at the big issues he faces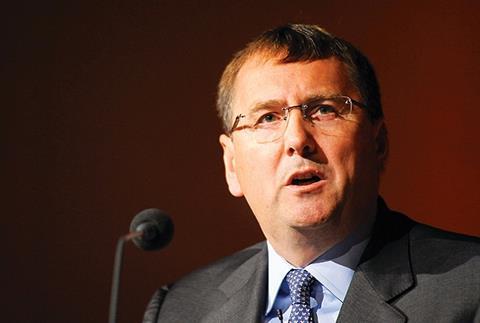 New Tesco chief executive Phil Clarke fired a warning shot to competitors this week as he stepped into Sir Terry Leahy's shoes. Signalling his intent to continue Leahy's ruthless focus on stamping on any rival that dares to try to take some of Tesco's market share, he launched an online price checker in competition with the Asda Price Guarantee, and topped that with £200m of price cuts.
This week's offensive serves to show that Tesco will not be taking its foot off the pedal despite the change in leader and shake-up of its management board. If anything, Clarke will want to show his rivals who is boss early on.
But while Clarke has inherited a global powerhouse, he has big shoes to fill. Leahy is one of the greatest retailers of his generation and while Tesco's strategic vision will remain the same, Clarke will no doubt execute it differently to his predecessor.
Clarke is a retailer through and through, having worked his way up the Tesco ranks, while Leahy is perhaps best known for being an outstanding marketer. And Clarke is likely to be wearing out his shoe leather in its stores across the globe rather than ruling from the grocer's head office in Cheshunt.
Clarke has a big job on his hands. The trading climate across the world remains challenging, and he needs to keep up momentum after Leahy's departure. Retail Week looks at five key issues facing Tesco's new boss.
1. How can Clarke put the spark back into the UK business?
Tesco's UK sales performance has lagged for a while, and some City analysts fear that the grocer has lost momentum in its home market. Some brokers worry that Tesco is reaching saturation in the UK and taken its eye off the ball.
Tesco's pipeline of new stores in the UK remains strong, and Clarke will be keen to keep up that pressure. The grocer claims that only 50% of the population is within 15 minutes of an Extra store and that this country also has the lowest density of stores in Europe - therefore there is still growth to come.
"We expect him to take decisive action over the US within the next 12 months"

Dave McCarthy, Evolution Securities
Clarke is also likely to focus on Tesco's non-food offer. The retailer admitted that the range had not performed as well as hoped over Christmas and some observers said it had become a bit dull.
Shore Capital analyst Clive Black says he expects Tesco to be "more driven and sharper" in all aspects of UK operations. In non-food, he says, the grocer needs to look at the depth of range and create clearer categories of value lines and more premium products.
Clarke had charged Laura Wade-Gery with putting the flair back into non-food but she defected to Marks & Spencer, and he has now drafted in Per Bank from the central and eastern European business. Bank is likely to reinstall quality into general merchandise, where quality and design may have been slightly compromised in a relentless focus on price during the recession.
Clarke is also likely to continue investment into the loyalty scheme Clubcard and try out different ideas. This week's offensive against Asda has been described by Evolution Securities analyst Dave McCarthy as "copycat not innovation", but Tesco has a long history of being first to market and Clarke can't afford to lose that edge. McCarthy believes Tesco should launch a major price repositioning to cripple competitors and limit the effectiveness of rivals' opening programmes.
Planet Retail retail analyst David Gray points to Tesco's beauty spa trials as an example of the grocer's willingness to try new ideas. "It has got so big it needs to look at new areas, and beauty spas is one," he says. "I imagine Phil Clarke will continue to diversify the UK business."
2. Which international markets will Clarke concentrate on?
Clarke already knows Tesco's international operations inside out, having headed the division for the past seven years, a period of transformational growth. With the new management structure in place, he will be looking for global economies of scale, and is likely to run Tesco more like a global FMCG business.
"We'd be surprised if Tesco remained committed to Japan"

Clive Black, Shore Capital
Asia will continue to be a key focus, as evidenced by the grocer's signing on Monday of a new joint venture agreement in China for four more Lifespace malls. China is likely to be a battleground for international retailers over the next few years, and Tesco will continue to invest while markets such as South Korea add incremental growth.
A question mark hangs over Japan, however, where Tesco continues to make losses against a difficult economic background. At its interim results in October it said that rebranded stores were doing well in the country, but brokers question whether Clarke will remain committed.
Black says: "We'd be surprised if Tesco remained committed to Japan. It's a sub-scale business and Tesco does not have the time to be sub-scale."
The US business, Fresh & Easy, also remains loss-making. It is also the only part of the international operation that did not come under Clarke's remit when he was the international boss.
At the interim results, Tesco said that Fresh & Easy would make a profit during its 2012/13 financial year as sales per store were rising and it was growing to gain the benefits of scale.
The grocer is understood to be happy with Fresh & Easy's offer of fresh and prepared foods - aiming to offer Wholefoods quality at Walmart prices - but it still needs to spread the word further to drive footfall. McCarthy says Clarke has been "absolved of any blame" over the US because he did not preside over its operation there, and adds: "We expect him to take big and decisive action over the US within the next 12 months."
3. Will the management structure work?
Alongside Clarke's appointment as Tesco's new leader comes the biggest shake-up in management structure in the retailer's history. The main board members have all been given new roles, including Richard Brasher taking over as the first UK chief executive and David Potts becoming chief executive of Asia.
Below the main board, Clarke has also created an executive committee and a UK management board. Many of the executive committee are long-time allies of Clarke, having worked with him in various international departments, including Bob Robbins, who becomes chief operating officer of the UK, and Ken Towle, who becomes internet retailing director.
"The management structure has been modernised and that's a good thing"

Clive Black, Shore Capital
The defection of Wade-Gery to M&S - just weeks after being given a bigger role at Tesco and being appointed to the executive committee - was a blow to the grocer, but analysts are confident it has created the right structure for growth. Clarke sees his role as being to connect the various parts of the business to avoid the company reinventing things it has already done, and he has set up teams with responsibility for each of the key areas and markets.
Black says: "The management structure has been modernised and that's a good thing. There is responsibility and accountability driven into the board and that, overlaid with the executive team, should help drive the whole business."
Part of Clarke's job will be to ensure Tesco's staff understand the new structure. He has previously told Retail Week that he wants the bosses of the different divisions - such as Brasher - to run those operations and he does not want to get in the way. Ensuring this message pervades the business will be vital.
The appointment of Tim Mason as deputy chief executive alongside his role as chief executive of Fresh & Easy in the US is also important. Some commentators believe Tesco lost some of its closeness to customers and marketing oomph when Mason moved to the States and he will now assume responsibility for branding and values, signalling change ahead in those areas.
4. How can Tesco become as powerful as Amazon online?
Clarke is understood to hold Amazon as the benchmark for its online operation, and he is known in the business for his keenness on all things digital. He spent seven years as Tesco's group IT director alongside his international role, so is well placed to steer the company on the digital front.
If Amazon is the benchmark then Tesco will need to broaden its offer online. Tesco is understood to be launching a 'marketplace' offer, as revealed in Retail Week in November 19, to pit it against digital giants such as Amazon and eBay by enabling individuals and other businesses to sell on its site.
Black says a marketplace would allow Tesco to sell a much wider assortment without the supply chain costs. He says that alongside financial services and telecoms - which also sit under the retailing services umbrella, - online and marketplace "could be the third big driver of growth in this area".
Tesco has led the market in developing apps, including a barcode scanner and a Clubcard app that shoppers can swipe in stores, and Clarke will be keen to keep on top of the game.
The grocer is understood to be considering offering a click-and-collect service at its dotcom-only 'dark stores' and convenience stores, which will link its online operation more with multichannel services.
Clarke will also seek to roll out grocery home shopping internationally. It runs in only three of the 14 countries in which Tesco operates at present and, while not all of the markets have the population density to support home shopping, there is scope to roll out to some of these countries.
5. What are the other big growth channels that Tesco will focus on?
Part of Leahy's legacy is that he turned Tesco from simply being a food store into a non-food giant, selling everything from bedding to books and TVs to toys, then diversifying into areas as varied as banking and telecoms and even second-hand gold.
"Offering gold exchange will never be a big part of Tesco's business"

David Gray, Planet Retail
Some of the channels Tesco diversifies into are "opportunistic" says Gray. "Offering gold exchange will never be a big part of Tesco's business but it's very of the moment and Tesco can easily get something out of it."
He adds that some new developments, such as moving into the sale of used cars, could be being tested as a driver to other parts of its business such as car insurance.
"Tesco first started convincing shoppers to stay in its stores for all their non-food needs as well as food, and now with banking and everything else they are telling customers they really don't need to go anywhere else," he says.
Black says banking and telecoms will be the key growth drivers. "These two areas have clear momentum in the UK and are areas where Tesco can make a real difference to its growth. They can also be rolled out internationally, which makes them more valuable."