It's the most wonderful time of the year for toy retailers, and The Entertainer boss Gary Grant is feeling chipper.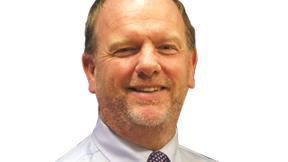 Any trepidation about how Christmas will pan out in the wake of the divisive EU referendum is clearly not top of the toy boss's mind.
"Christmas always comes," he declares merrily, sitting upright and excitedly drumming the table.
"There wouldn't be a toy trade without it."
This is no exaggeration. Sales over the Christmas season top that of the first nine months of the year at The Entertainer.
Despite Grant's optimism, he is not leaving anything to chance.
An infamous early bird, Grant says he's done a "full-day's work" before our 9am meeting at The Entertainer's headquarters in Amersham, which lives up to every child's dream of what a toy factory looks like.
In the boardroom, an eight-foot teddy bear sits in one corner, while a giant Goofy occupies the other.
This may be a playful base, but Grant and co mean business.
In the 35 years since Grant founded The Entertainer, he has grown the retailer to 127 stores – with a whopping 77 opened in the past six years – including a fledgling overseas business in Pakistan, Azerbaijan and Cyprus.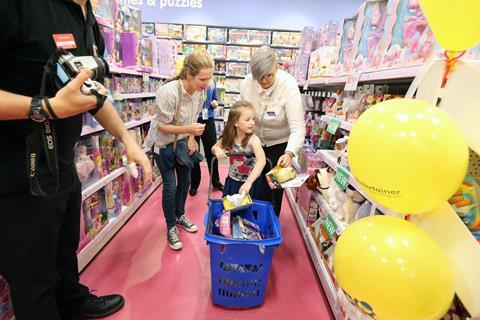 Christmas wishlist
However, there is only one thing that Grant is focused on right now – Christmas.
"We are so reliant on it. It dramatically impacts the whole year," Grant shrugs.
"Every business has its own stresses and strains and that's ours; it's what we do."
This Christmas comes with added pressure, as there is no blockbuster movie bringing the must-have branded toys that give children bragging rights on the playground.
It is these toys that usually rank at the top of Christmas wishlists.
However, Grant's son Stuart, The Entertainer's head of buying, says that this year's likely top seller, interactive pet Hatchimals, will more than make up for the lack of blockbuster.
"It really captures a kid's imagination," he says.
In fact, the buying boss's big concern is keeping up with the demand.
"No one will have enough of them for Christmas," says Stuart Grant.
He also has high hopes for tongue-twister board game Speak Out.
"The games market is having a great time, perhaps as the economy starts to contract.
"Board games are a cheap way of having a good time at home with the family. Plus there's been a lot of innovation in this market," he explains.
Brisk headwinds
However, it's not all fun and games. There are many brisk headwinds that Grant and the rest of retail is facing in to.
These include the introduction of the national living wage, which is causing The Entertainer boss some headaches.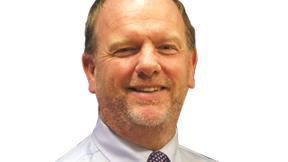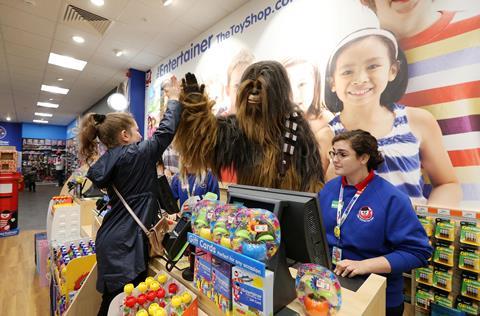 "I'm not fighting it; it's only right that everyone has a fair wage, but I've got to fund it from somewhere and it's a big amount of money," he says.
Grant had already pledged to increase wages by 5% a year.
The additional pressure of the living wage has led him to re-evaluate the retailer's productivity levels and consider changing working practices.
"We believe in pricing individual items to make the message more prominent, but we probably can't afford to do that now," he says.
The living wage is not the only pressing issue Grant has to contend with.
The uncertainty following the Brexit vote and depreciation of the pound has put additional strain on retailers and has forced him to put expansion plans on ice.
"We've built business models knowing what we know, and now we've changed it all.
"How can we plan for the next few years, to build and grow a business in Europe, when we don't know what it looks like anymore? Everything is on pause," he says.
Grant predicts that prices will rise across retail and potentially as much as 10% at The Entertainer next year, if the pound stays at its current level.
Although, looking on the bright side, Grant notes that price inflation could potentially lead to an increase in sales and be "the saviour" of rising retailer costs.
Business rates bugbear
One of Grant's biggest bugbears is a familiar one in retail – business rates. He says he's often forced to reject shops on the basis of rates often being "three time the rent".
"Even the new ones are completely and utterly unreasonable," he claims, "and if you can't turn the lights on and employ people, that's individuals that can't put back into the system. It's a vicious circle."
"The revaluation is a missed opportunity to rebalance and readdress this problem"

Gary Grant
Grant strongly believes that the playing field needs to be levelled between traditional retailers with experiential shops and "all the expenses the come with it", and etailers "that can operate from anywhere to deliver a brown box through the letter box".
"The revaluation is a missed opportunity to rebalance and readdress this problem," he says.
"The bottom line is this: The only thing that keeps businesses alive is this little thing called profit.
"If businesses see a continued decline in profit, you get less innovation, less refurbishment, fewer people and everything winds down."
"That doesn't bode well for the high-street," Grant warns.
A toy shop to remember
Despite the challenging environment, Grant is feeling bullish about The Entertainer's future and believes there will always be a place for toy shops on the high street.
"Everyone remembers the toy shop of their childhood," he says. "Ask any 50 year-old and they will describe it to you in detail."
"And when you ask a 6-year-old today the same question in 20 years' time, they're not going to be nostalgic about a brown package pouring through the letter box. They'll remember experiences they've had in toy shops."
Grant says that The Entertainer's stores are what "sets it apart".
"We are meticulous about getting the in-store ambience, the lighting levels, the racking and the layout, spot on," he says.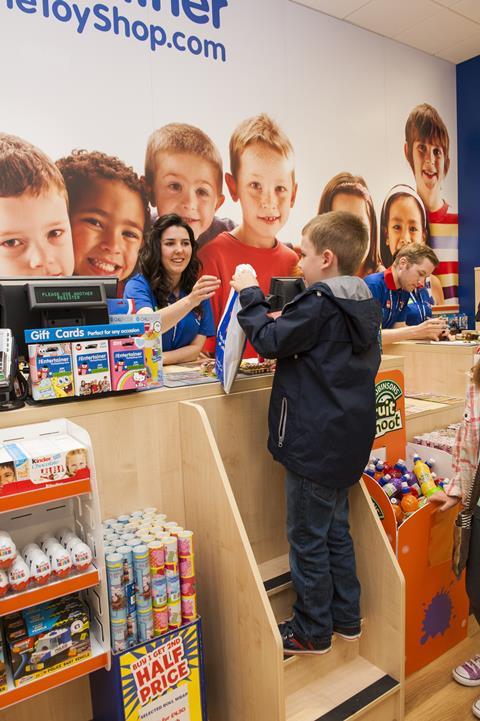 Small details, such as the steps at the till points that allow children to pay for toys themselves at eye level "make the children feel really special", he says.
Such initiatives appear to be paying off.
In its last financial year, The Entertainer's underlying pre-tax profits jumped 6.6% to £8.1m and sales grew 8% £139.5m.
This is the retailer's seventh consecutive year of growth.
Grant acknowledges that The Entertainer's growth has accelerated since Woolworths – which used to be the dominant toy retailer in many towns – disappeared from the high street in 2009.
But its success has been fuelled by more than just being in the right place at the right time.
"We are surviving because we are very, very demanding," Grant reveals. "Retailing is about the relationship with the landlords."
"It's critical we get our costs and model correct, because when we sign up a new shop it's for ten years.
"We want to be able to honour the commitments we take on with the landlord."
Staying true to its values
This determination to stick to one's values and beliefs is core to Grant and his business.
The Entertainer does not stock brands, including Harry Potter and Pokémon, that do not match the family's Christian values. Nor does not open on a Sunday.
"There is more to life than just making money," Grant says, explaining that for him, reputation is more valuable.
This is evidenced by the notices proudly hanging in The Entertainer's headquarters listing the 110 members of staff who have worked for the business for over 10 years.
This loyal, happy bunch of elves will be giving their all to help The Entertainer deliver a magical Christmas.