It might have been a difficult year for parts of the industry, but 2012's The Cloud Retail Week Conference brought plenty of inspiration and insight. Rebecca Thomson and Liz Morrell report.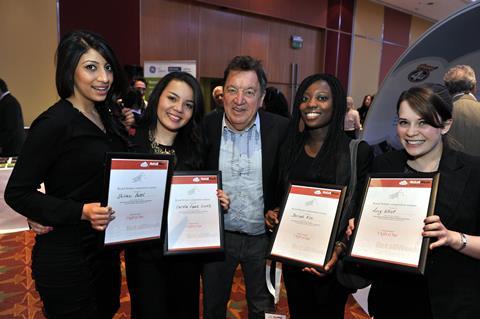 This year's The Cloud Retail Week Conference was further evidence, if any were needed, of the continued ebullience and resilience of the retail industry in the face of economic turbulence.
Retailers may have just experienced one of the toughest years in memory, but one thing remains certain – the industry is still brimful of ideas, excited about the future and willing to change with the times.
Whether it's advice on how to expand internationally or multichannel-driven evolution, retailers constantly look for the next source of growth and for new ways to improve their business.
John Lewis Partnership chairman Charlie Mayfield highlighted increasing the profitability of your best customers, while Marks & Spencer chief executive Marc Bolland looked anew at how to guide consumers into a new form of environmentally sustainable retailing.
And for Kingfisher chief executive Ian Cheshire, who also won the Clarity Search Retail Leader of the Year Award at the Oracle Retail Week Awards last week, success is all about the team leaders build around them – not just the talent at the top of the company, but throughout the entire organisation.
While the environment is undoubtedly difficult, the best retailers keep coming up with the goods. Whether it's B&Q's drive to rethink its business model to suit new trading conditions – using its teenage youth board to help generate ideas – or Sainsbury's marketing direction, tough times have served to bring out the best.
Standing out from the crowd has never been more important and as a result, there's a relentless focus in many retailers on developing products that shoppers can't get anywhere else.
The ideas of the young featured at the conference, whether the inspiring B&Q youth board, or London College of Fashion students who took part in a competition judged by retailers including Next and Per Una legend George Davies and Asos's Nick Robertson.
Whichever route retailers choose to go down in changing times, one thing is for certain – the UK retail industry will continue to change to better cater for customers.
The High Street conundrum
The relentless growth of multichannel and the high costs associated with bricks and mortar continue to fuel debate about the future of the high street.
At this year's conference, many of the most senior names in retail were vocal in their criticism of landlords and their inflexible attitude. What's more, predictions of further problems were rife.
Aurora Fashions president Stewart Binnie discussed how retailers are in the process of ascertaining their property needs for the next five years, and requirements are expected to be far smaller than they used to be. But the flexibility needed to make such changes just isn't there.
"The nature of the high street is changing, but we are locked into property arrangements that are largely inflexible. The only way you can get out is to go into administration and come out again," he said.
Former AS Watson UK chief executive Jeremy Seigal said more dynamism is needed from landlords. "The issue is about upward-only rent reviews," he said.
DFS chief executive Ian Filby pointed out that footfall on high streets has fallen 1% a year for the last 20 years while rents continued to rise. "It has created an unhealthy brew," he warned.
Binnie added: "We're in danger of underestimating the extent of the change which is about to take place. We could actually dispense with more than half our stores and that's with a business that's thriving." He added Aurora has no current plans to close stores.
The nature of high streets and shopping centres is changing, he added, but retailers are locked into property arrangements that they can't get out of.
"We have an inflexible property market and increasing business rates, but we have customer demand which is changing profoundly. There's trouble ahead," Binnie concluded.
Product innovation
It's perhaps no surprise that Apple has the biggest market capitalisation in the world – its research and development is legendary and its products are completely unique. It's an example others would do well to follow, said Kingfisher chief executive Ian Cheshire.
He advised focusing hard on research and development, and working on recruiting and retaining creative people who understand brands.
"With the best will in the world, a weather beaten hairy ops director is not going to drive a creative spark," Cheshire said.
While finding funds to invest is a challenge, unique product will be critical to survival. John Lewis Partnership chairman Charlie Mayfield said: "It's never been more important to develop and source products that your customers really want and can only buy from you. Success depends on this ability."
Boots UK chief operating officer Ken Murphy said that innovation will be one of the ultimate deciders in convincing people to part with their cash. "Shoppers are willing to pay for true innovation even in these times," he said.
Harrods managing director Michael Ward said that to foster innovation, retailers must be absolutely clear on customer needs. "Once you do that you can push the buttons and understand what people want," he said.
Amazon's Chris north: Playing the long game
Everyone wants to know just how Amazon has achieved what it has over the past decade, and UK managing director Chris North's advice to retailers was to take a more longer-term view on investments.
He told delegates: "We take a five to seven-year view on investments. It gives us access to opportunities you will not have access to." He added innovation isn't easy – not only do you have to predict what will happen, you have to wait for everyone else to catch up. "If you innovate on behalf of customers you need to be misunderstood for long periods of time," he said.
Through careful management of expectations, Amazon has built up some immunity to the financial pressures many retailers face. North said founder Jeff Bezos had enabled investors to understand the need to take a long-term view on essential investments for its future growth, such as e-reader Kindle and media streaming site Lovefilm. He said other retailers' preoccupation with quarterly updates and the City's reaction prevented them from being more strategic.
Multichannel's evolution
It is perhaps no surprise that multi­channel was a prevailing theme of the conference. But what was particularly notable compared with previous years was that as this new environment develops and as retailers become more sophisticated in their approach, the discussions are focusing more on specific aspects of multichannel operations.
The importance of seeing separate channels as one entity was a common theme. As Aurora Fashions president Stewart Binnie said: "The consumer is indifferent to channels – they just want the information in any form they require it."
That was echoed by Debenhams.com director Simon Forster, who warned: "The risk is we over-focus on technology and lose focus on the customer and what they want to use these channels for."
Mobile is likely to be the biggest game changer for multichannel retailing, Forster added, but most retailers have not yet fully realised its potential – elements such as scanning and location-based services have not yet come together in one package.
Google retail director Peter Fitzgerald agreed that mobile is the future, saying: "We see this new world, the online world, as a threat, it's bad, it's cannibalising this amazing business that I built and that's painful. And I would argue that businesses have this opportunity to merge these worlds especially through the mobile device."
For Ocado chief executive Tim Steiner, personalisation will be the next major multichannel trend: "Personalisation will be key for the market. We think retailers can respond much better to customers in this way."
It's never wise to become complacent, as the teenage members of B&Q's youth board made clear to an audience of retailers. One member, Mark Buckley, said: "We have grown up with the noise of social media and we know how to tune it out. How many of you are trying to think how you interact with us, rather than trying to sell to us? I would suggest not many."
Charlie Mayfield, John Lewis Partnership
John Lewis Partnership chairman Charlie Mayfield opened the conference with a focus on the structural changes facing retailers today. Not only are customers irrevocably changing the way they shop, but the consequences are impacting the whole retail industry.
This means big changes everywhere – from the property industry to technology, nothing is immune. "You used to need 250 shops to launch a fashion chain in the UK, and now that's 60 or 70. There's been a slackening of demand for retail space," he said. But he warned that the grocers' policy of increasing space – there has been a 50% rise in planning permission granted since 2008, he said – is leading to a property bubble.
That isn't the only major change retail faces. Profitability is the main aim for many retailers hoping to emulate the success of companies such as Apple, and Mayfield said the focus for retailers should increasingly be on their best customers. Around 80% of sales are generated by the 20% most profitable customers, he said, and these 20% are also the most likely to shop across the channels. "This will change significantly the way money is made," he observed.
And finally, a warning – this is no ordinary cyclical recession, Mayfield said. Consumer spending is unlikely to return to previous patterns, fuelled as it was by credit and deflation. "They fuelled an extraordinary boom in consumption prior to 2007," he said. "I think we are moving into a different phase for our economy." It is the retailers that acknowledge and respond to this that will succeed.
International
International expansion may be on many retailers' growth agendas, but the practicalities can be tough. "International retailing is much harder than people make out," said Kingfisher group chief executive Ian Cheshire, adding: "You are always more different than you think you are."
Aldo international president Norman Jaskolka admitted one lesson Aldo had learnt through its international strategy in the past had been underestimating the strength of local competition. "In certain markets there are established local players who have good relationships with suppliers and who are vertically integrated. Don't underestimate local competition and the work you'll have to do to build up your brand," he said.
But the many challenges should not act as a deterrent. M&S chief executive Marc Bolland said international expansion remained a focus for his business – especially as online opportunities increase retailers' potential reach. "The world in five years is going to be about international retailing, so if you are not going in that direction you are not going where the world is," he said.
To support international expansion, Cheshire said it is critical to invest in recruiting and developing people with the requisite skills and experience because of the fast-changing nature of international markets. "Over-invest in your own people going to these countries, rather than recruiting local teams at first. You need people who share your values and brand," he said. This had certainly been the case at M&S. "We have been building an organisation with international experience over the past 18 months," said Bolland.
For some retailers, international expansion is about finding trusted partners. Harvey Nichols chief executive Joseph Wan said: "We enter foreign markets ourselves but we don't have local expertise, local knowledge. So it's better for us to find a local partner that is strong in its financial capabilities, ideally with previous high-end retail experience."
For others it depends on the market. "In Canada, US and the UK we run our own stores, and in the rest of the world we operate with local partners," said Jaskolka. But he warned retailers to tread carefully. "Start with markets where you can build the credibility of your brand, such as the UK, and after that go into some markets that are quick wins," he said. "Next, go into huge population markets with growing middle classes. But don't go into these huge markets first without building the credibility of your brand. Building your credibility gives you the confidence to succeed."
Wan added. "Step one is to identify where the potential is – in China and India, for instance, there are people with money and the taste to understand luxury goods. The second step is to analyse whether the country is in the right stage of the economic cycle, and whether the development cycle is at the right stage for the country to be ready to receive a business like ours."
Marc Bolland, Marks & Spencer
One of the conference's biggest names used his speech to attempt to galvanise retailers into encouraging consumers to shop sustainably.
M&S boss Marc Bolland said there was a chance for retailers to drive the sustainability agenda, and added that the onus is on the industry to make a difference and create desire.
"We grew up with the American dream, the material presence of a car or a radio – it's built on real things. It's about status, desire, aspiration for success," he said.
"What are the role models for a sustainable world? They're fragmented, they're unavailable, it's too expensive. We need to create desire, we need to create hunger. We are not telling the customer story."
Bolland also emphasised the importance of financially motivating people to behave sustainability – 25% of bonuses for directors at M&S related to Plan A.
"Is it a box-ticking exercise? No it's not, because it's really going into the heart of the business," he said. "It's about making sustainable consumption more personal to get to the next level of engagement."
And after questions about management churn at M&S, Bolland was keen to halt the focus on boardroom rumours.
He said: "We need to stop gossiping and get on with what we do."
Conference tweets
"Ishan Patel (Aurora) talks great sense about Omnichannel developments. He is a thought-leader to follow"
@craigsearsblack
"M&S CEO getting applause for saying we need to focus on business & stop gossiping about boardroom politics #RWC2012"
@sbouzanemeadows
"Debenhams' Simon Forster says mobile will be the biggest game-changer for multichannel retail"
@ebay_uk
"Chris North, MD Amazon.co.uk: Our aim is to be the earth's most customer-centric company"
@geny_caloisi
"Realise how privileged we are at @ShopDirectHQ to have such rich customer insight. The key is what to do with it! #rwc2012"
@GJJones_SDG
"In the UK, growth happens when your offer is either the cheapest, or your offer is the best. Not somewhere in the middle. #rwc2012"
@abi_cooke
"Entrepreneurs laid bare. Shutl's @tomall particularly interesting and honest #RWC2012"
@sieung
"B&Q youth board… What a confident inspiring bunch. One of the best presentations So far"
@Pritchp
"We never evolve unless we do stupid things. Stupid things push the boundaries and innovate"
@garethmhealey
"We are very proud of our talented Youth Board who created quite the impression"
@BandQ