The number of start-ups in retail technology is growing quickly and Retail Week is highlighting some of the best. This week Knomi is in the spotlight.
Knomi is a social fashion discovery app for luxury retailers that allows users to share and find outfit inspiration as well as nearby retail branches.
Key facts
Founded: 2012
Investment: Undisclosed seed round funding from venture capital firm Reaktor Ventures
Retail Partners: Harrods, Net-a-Porter, Mr Porter, FarFetch, MatchesFashion
Founders: Gigi Zappel and Markus Ehrnrooth
What it does
Knomi is a UK-based fashion mobile app start-up which allows users to follow other people and retailers to find fashion inspiration and share gift ideas.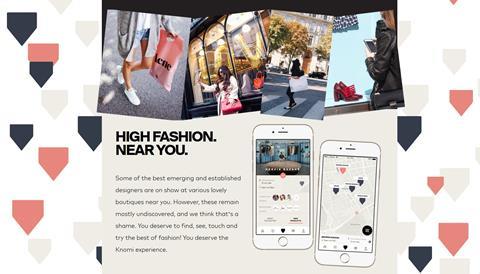 The mobile app is fully integrated in Facebook's messenger platform, allowing Knomi users to share findings through the social media platform as well as through the app directly. The app also includes swipe functionality, enabling users to browse products and other users quickly.
Knomi's mobile app is also equipped with bluetooth ibeacon technology, which sends users push notifications when an item they have liked on the app is available in a nearby store.
What problem it solves
Knomi is designed to help luxury fashion retailers increase their sales and customer engagement without reducing prices.
The mobile app combines social sharing and commerce, allowing users to use the app to find inspiration as well as make purchases.
By including ibeacon technology, the start-up is also designed to increase bricks-and-mortar footfall and purchases for retailers.
It also further reduces the difficulty of buying gifts, with the app allowing users to see their friends' preferred items of clothing and buy them through the gift feature, which allows one user to pay for an item of clothing for another user.
More information: http://knomi.com