Start-ups in retail technology are growing and Retail Week is highlighting some of the best. This week Viadex Discover is in the spotlight.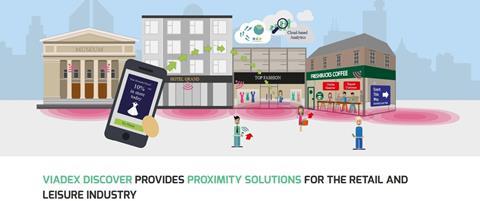 Viadex Discover is a proximity marketing platform that provides retailers with tailored solutions to increase customer engagement and sales. Co-founder Charlie Hayden-Hammond explains more.
Key facts
Founded December 2014
Investment Initial seed of £500k with a further £1m in development.
Retail partners Viadex Discover could not reveal its partners due to non-disclosure agreements, but said it is working with "a major licenced retail group".
Founders Dino Cooper, Elliot Read and Charlie Hayden-Hammond
What it does
Viadex Discover combines proximity marketing, beacon and wi-fi solutions and cloud-based analytics to create personalised marketing solutions for bricks-and-mortar retailers.
Retailers can use their various offers in a variety of ways, whether they want to see real-time results on shopping habits using Viadex's cloud-based analytics dashboard or drive traffic with proximity marketing.
"Retailers can also engage with customers, either through location based services sending messages, alerts or information direct to their mobile device with or without an app," says Viadex Discover co-founder Charlie Hayden-Hammond.
All of Viadex Discover's suite of insight options are easily integrated with retailers' existing systems.
What problem does your technology solve for retailers?
Viadex Discover's aim is to enable retailers to influence shoppers' buying decisions and habits within their stores prior to the point of purchase.
Using wi-fi and beacon technology, Viadex Discover drives shoppers into stores. Once there, cloud-based analytics then give retailers valuable insight into their customers. Information gathered covers passers-by, unique visitors, new visitors, repeat visitors, dwell times and path to purchase.
"We add value by selecting tailored, multi-vendor solutions that deliver what the client needs" says Hayden-Hammond.
"Our technology bridges the gap between online and in-store browsing, allowing retailers to see behaviour before point of purchase and communicate with customers based on personalised analytics data."