Start-ups in retail technology are growing and Retail Week is highlighting some of the best. This week Streethub is in the spotlight.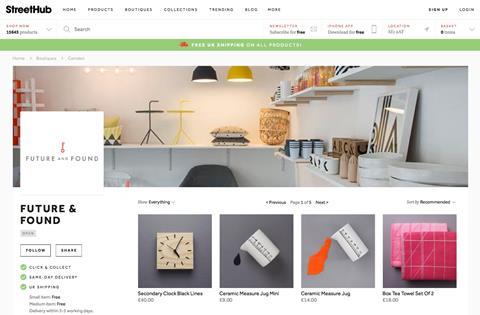 Online retail platform Streethub offers a stage for independent retailers across London and Brighton to sell their homeware and fashion merchandise. All products are available to shoppers for immediate click-and-collect or delivery. Director and co-founder Mandeep Singh explains more.
Key facts
Founded: January 2013
Investment: StreetHub raised a $1.2m seed round in December 2013 from Octopus Investments, Index Ventures and Playfair Capital.
Retail partners: Over 360 independent home and fashion retailers across London and Brighton
Founders: Maxim Berglund, Mandeep Singh and Alex Loizou
What it does
StreetHub is an online platform for independent home and fashion retailers. Available as a website and mobile app, Streethub offers shoppers easy online access to independent retailers.
"StreetHub is the marketplace for independent retail. Thanks to our proprietary live inventory data, all items are available in real-time and can be purchased for instant click and collect, or delivery in as little as 90 minutes" says co-founder Mandeep Singh.
Streethub offers merchandise from over 360 retailers across London and Brighton, combining the curated content of independent retail of with the convenience of online shopping with a larger retailer.
What problem does the technology solve for retailers?
As omnichannel becomes the new retail norm, Streethub offers independent retailers a convenient online platform. This allows independent retailers that would otherwise lack the scale and resources to invest in multichannel to offer customers an appealing online shopping experience.
By giving independent retailers access to last-mile innovations such as click-and-collect, Streethub also bridges the gap between online and offline purchases, getting online shoppers into independent retail outlets.
"By bringing the independent retail community together, StreetHub is able to provide them with the tools to compete with the bigger chains, drive more footfall into their shops and reach a wider audience" says Singh.
More information: https://www.streethub.com/