Argos was an early adopter of online retail, first entering the etail fray in 1995. How has it adapted its online offer since then?
Argos is the third most visited ecommerce site in the UK according to IMRG's reckoning.
Reviewing the site's home page over the years it's clear to see why it's top of mind when consumers want to research products and shop online.
Argos was one of the first major high street retailers to venture online, with a site operating since 1995, and the heritage of its catalogue has been very much evident in the development of its website.
Back before consumers could quickly check product specifications or prices online, an Argos catalogue at home would often be the beginning of a customer journey that would finish on the high street.
Ramping up Ring & Reserve
It launched a precursor to click-and-collect back in 1998 with its Ring & Reserve service.
Its unique model without stock on the shopfloor, giving it more accurate store stock data, allowed it to launch and succeed with Ring & Reserve.
And so by 2001, we can see Argos was already offering Click and Reserve, well ahead of the rest of the market, as it already had the infrastructure and store processes sorted out.
At this time, Argos was very focused on instructing consumers, with prominence given to how to use the site and quickly access services within its dropdown navigation menus.
For customers who wanted to find products, there was an assumption that they would also have a catalogue (and therefore a catalogue number) or use search.
In fact, mentions of search by catalogue number appear on the site up until 2014.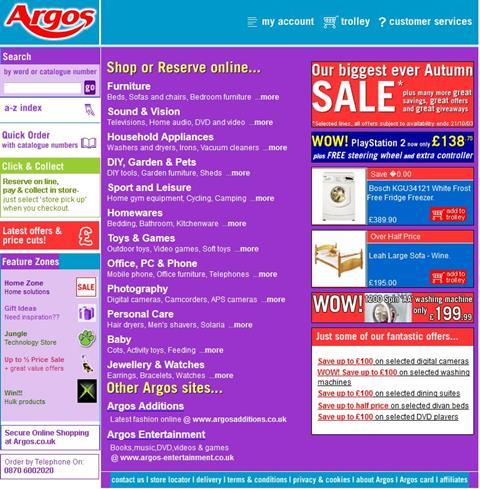 The other notable design element of the 2001 site was the odd vertical navigation options down each side of the page, something that thankfully did not catch on in web design circles.
By 2003 Argos clearly felt that its customers had learnt how to use the site, and the focus of the home page had shifted to exposing the product range.
This had been bolstered by Argos's then parent, Great Universal Stores, purchasing Jungle.com, which was rolled into Argos's site in 2002.
Promoting products
It's interesting to note that the Argos home page was still being used to promote the printed catalogue in 2005, however, the business was starting to adapt to web trading – highlighting that its online prices were updated daily.
Product imagery on the home page had improved, and the site showcased 17,000 products although there was still no product-focused navigation (this didn't appear until 2007).
The number of SKUs continued to increase to 18,000 by 2007 and 20,000 by 2009.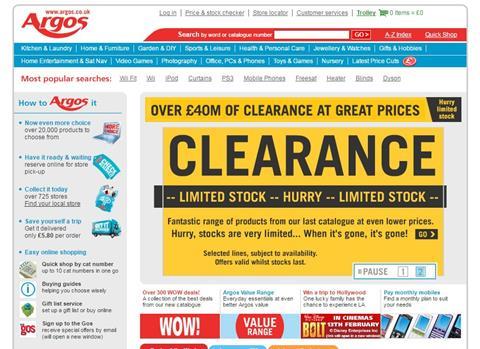 The 2007 and 2009 sites look relatively similar, and the clearance graphic on both is exactly the same.
By 2007 a carousel had been introduced to the homepage. They have lost favour in more recent times and with these examples it is clear to see why – the pause button on both is because they moved so quickly there wasn't time to read the contents.
By 2011, editorial-style product imagery (which had always been used in the catalogue) had appeared, although the carousel with the pause button was still evident.
Responsive design
The more recent iterations of the site all look pared down and less busy by comparison, with imagery that appears to have been more tailored for the site.
The Argos offer is now well understood, and the site has remained relatively stable from a template perspective since 2011.
With a large rollover mega-menu for the last few years, less space on the homepage needs to be given over to explain the product range.
The 2016 site is responsive, and this partly explains why the search field has once again been given prominence – search is more important for consumers on mobile devices.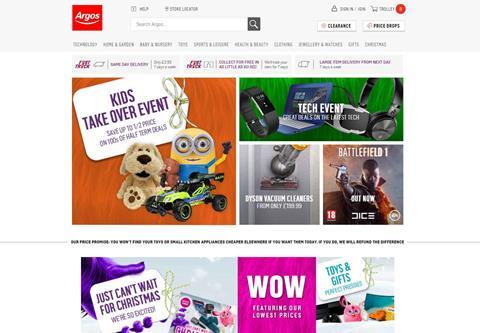 The printed catalogue has now become obsolete at a time when any consumer with a smartphone or tablet has access to all the same product and pricing information.
In fact, one could argue that the Argos homepage has come full circle – it now emphasises the online shopping proposition as the key sales differentiator.
However, in 2016, rather than simple Click and Reserve, Argos now offers same-day delivery and superfast (60-second) store collection, together with the option of paying upfront for goods to be collected when ordering online.
Mark Pinkerton is director of optimisation at Practicology