With technology changing so fast, choosing what to invest in can be a minefield for retailers hoping to latch onto the next big thing. Rebecca Thomson considers how to predict future hits and misses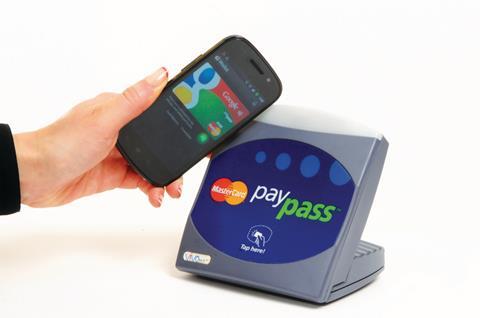 Current Technology Trends
Tablets
The iPad always gets plenty of attention, and Burberry is one of its early adopters. However, there is no consensus on where tablets fit into the retailing process yet
RFID
It's been around for decades and failed to make an impression in dozens of retail trials. But some believe it's about to make a comeback - one potential is its role in making stock systems more accurate
Social media
It's relatively inexpensive to explore both on PCs and on mobiles. It's a must if your customers are using these networks
Smart TV
Internet-enabled TV is just starting to emerge. Watch developments closely, and perhaps dip a toe in the water with low-key trials
Mobile phones as loyalty cards
This reduces the upfront investment needed to launch a loyalty card, although does require customers to have smartphones. Tesco already allows customers to use a Clubcard application to collect points and manage their accounts
Near field communications (NFC)
It might be big in Asia, but retailers are reticent to invest in more point-of-sale systems after having to spend on PCI-compliant systems. Mobile operators are pushing it though and customers may well get on board, so it continues to be one to watch
From iPads to digital signage to in-store kiosks, the march of new technology can seem relentless. So how do retailers decide what's worth pursuing and what will fall by the wayside, and how do they work out what suits their business?
Technology is notoriously faddy. While most companies have an IT strategy that's linked to the overall business strategy, retailers must also contend with the latest consumer trends and products that suppliers want to push. It's a conundrum. You could invest and get it wrong, or you could not invest and miss an opportunity. "It's a tricky one to get right," says Brian Hume, chief executive of consultancy Martec International. "If you wait too long you become a follower, and you lose all market advantage. But if you're an early adopter, it means you take risks, and some will go wrong." Navigating this minefield becomes a tricky proposition - one which retailers approach in very different ways.
One step ahead
At a digital retailing event held by global media firm WPP last week, Kiddicare technology officer Simon Harrow said: "Everything in our business is in a constant state of evolution. By the time you've finished a project with a start and end date, consumers will expect something else."
The retailer, which was bought in February by Morrisons, went from the concept stage of its mobile site to launch in seven weeks, and launched one-hour time slot delivery earlier this year. But instead of asking customers what they want, Kiddicare takes the view that innovation is what's important. "You can't ask customers for things they don't know they want yet," says Harrow.
For others, customer data has become a rich resource for deciphering which technologies might work by building a picture of who customers are and what they might respond to well. BT Expedite chief operating office Richard Dodd says Tesco and Best Buy are well known for using their customer insight software to drive most of their business decisions, and others are starting to get on board with the idea.
Speaking at WPP's digital retailing event, Harrods Direct director David Worby said the luxury department store has only recently started to truly understand the wider business benefits that its loyalty card can bring. He believes it's also important to steer clear of a "me too" mentality, which can cause businesses to buy technology simply because its competitors are. "Many businesses don't understand what they're trying to do. Their approach is 'they've got something shiny and we want one too'. But they don't know why."
Worby says the trick is to decipher what works for your customers. "We all have lists of thousands of things we could do, but it's about understanding what you can do and what your customers want from you. There are generally no more than five things that you should pursue."
Follow the customer
While instinct plays a role in dictating investment decisions - as Kiddicare has found - 'Ask your customers' is still the most common answer to the conundrum of what trends to invest in. Cindy Etsell, commercial marketing manager at analytics software firm SAS, says a retailer needs to know its customers, and in turn a software provider needs to know what its client wants to achieve. There is little point, she says, in investing with short-term projects in mind. "You need technology that grows as your business grows. Short-term answers mean you'll have to rip things out and start again."
Large retailers often have budgets for research and development, but Hume says there is still opportunity for smaller companies to get ahead. If a technology supplier has a clever new technology, it is often willing to allow retailers to trial it for free. "But there has to be some connection between what you invest in and the company's plan," he says.
Some technologies are simply in the wrong place at the wrong time. Electronic shelf-edge labelling has been around since the late 1980s, but while it's widely used in some parts of Europe it never really took off in the UK. Hume says it's down to the business case in each place - the geographically wider space in France, for instance, means it's necessary to stock more locally produced products in grocery stores. The price of locally sourced food changes more often, meaning it made sense to use electronic labels instead of paying people to change paper ones. "There are plenty of good ideas," he says. "But some of them work and some don't."
Ideas factory
What really matters is having ideas - there's no chance of getting ahead if no one is thinking of new things to try. Worby says the only way to have an innovative approach to technology is to employ innovative people. "Within any organisation you can find people with entrepreneurial capability in them. The traditional structures of retail businesses can make development quite a challenge, but if you've got good people that's probably half the battle."
Ideas don't just have to come from within the business - watching what other companies do can be a good strategy for choosing the right technologies. David Selinger, former head of the research and development arm of Amazon's personalisation team and now chief executive of personalisation company RichRelevance, advises looking to companies like Amazon and Tesco for ideas on what to invest in. "Look at your heroes and see what they're doing," he says. "Then take a step back and ask what it could mean for your business."
Good people and ideas will always help, but so will having a complete view of customers. Harrow says a lack of clarity will lead to poor decisions, and it's worth investing in a company structure that improves the visibility of who customers are and what they want. "Businesses that make good decisions will be those that do have that visibility. You'll be able to make decisions based on your consumer rather than decisions based on your bottom line."
Dodd agrees. He believes the two investments that will truly be worth it at the moment are customer relationship management and loyalty schemes. Such software will allow retailers to make informed decisions about any other technologies that come along, he says.
Technological innovation might be difficult to get right but retailers have proved it's not impossible - a combination of good ideas, research and clever use of data can make that crystal ball obsolete.