PAID FOR POST
The Hermes Supply Chain Blog on Retail Week
The retail warehouse is having to work harder and more efficiently than ever before – and retailers are overhauling their logistics operations to future-proof their businesses.
Shop Direct hit the headlines last week when it revealed it was closing three warehouses in its Northwest heartland, putting 2,000 jobs at risk.
Meanwhile, Marks & Spencer is to shut its Hardwick warehouse near Warrington and, separately, has hired DHL to run its new Southeast distribution centre in Hertfordshire.
Retail Week looks at what has driven these moves and what retailers want from their warehouse facilities these days.
Location, location, location
Shop Direct has relocated its warehouse to East Midlands Gateway, a new 700-acre development with six million sq ft of logistics accommodation, just off the M1. This site, in the heart of the Golden Triangle – which sprawls from Nottingham to Birmingham to Bedford – is ideal for a centralised warehouse, say experts.
Its location, close to the M1, M42 and M6, makes it the optimal place to deliver from. "It's like they've put a pin in the middle of England," says Forrester vice-president George Lawrie.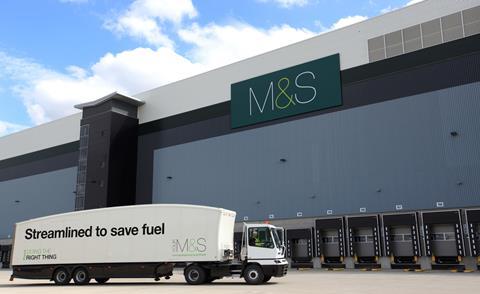 The East Midland Gateway will also house a rail terminal, which will connect to the major eastern and southern ports, and is close to East Midlands Airport to make accessing stock arriving from overseas quick and easy.
Professor Alan Braithwaite, senior advisor to Bearing Point, says the retail exodus to the Golden Triangle is driven by customers demanding later cut-off times for next-day delivery.
"10pm cut-offs are normal now and Amazon, which delivers its own stock, doesn't have a cut-off"

Alan Braithwaite, senior advisor to Bearing Point
Shop Direct interim chief executive Derek Harding says better transport links at the new hub will enable it to extend its cut-off point for next-day delivery from 7pm to midnight.
Braithwaite says this will help keep Shop Direct competitive: "10pm cut-offs are normal now and Amazon, which delivers its own stock, doesn't have a cut-off. Shop Direct wants to be close to the parcel sortation depots."
Former House of Fraser CIO and supply chain director Julian Burnett says most of the big logistics firms are also based within the Golden Triangle, which effectively cuts the "three hops" of delivering from retail warehouse to courier to shopper down to two.
Keep it central or spread it out?
Shop Direct has consolidated three warehouses into one. There is a growing trend towards retailers operating from a single centralised warehouse, notes Burnett, who says this is the cheapest way to manage logistics.
However, Accenture managing director for retail technology consulting Rob Barnes says a centralised warehouse is not appropriate for all retailers. "For more time-critical delivery and perishable product you need a more distributed supply chain and to be closer to the consumer," he says.
Amazon, of course, handles such large volumes that it could not operate from one single warehouse and instead has multiple sites, close to major conurbations to enable speedy delivery.
Meanwhile, Argos uses its larger stores as mini distribution centres to allow it to offer its FastTrack same-day delivery.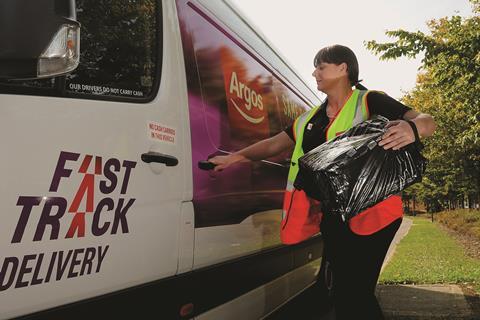 Burnett questions whether using stores as warehouses is the right approach for most retailers.
He says: "Working capital is tied up in stock and if that stock is moved to the edges of the distribution network – ie, the shops – your ability to flex, adapt and respond is diminished if demand comes from different places and different channels.
"The economics of tying up inventory in stores doesn't work quite as well as holding it centrally and providing on a responsive basis."
Instead, Burnett recommends retailers become better at predicting demand.
Barnes points out that this super-speedy delivery is a USP for Argos, but says this is not a necessity for all retailers.
"Where you offer a great product or great service, it's less necessary. People are prepared to wait longer for less commoditised product"

Rob Barnes, Accenture
"Where you offer a great product or great service, it's less necessary. People are prepared to wait longer for less commoditised product," he says.
Lawrie suggests that retailers should follow Amazon's lead and segment products based on shoppers' desire to receive them rapidly.
"Retailers need to run some analytics and find out what items people are happy to wait days for and keep those products in a cheap warehouse."
For the most in-demand products, Lawrie recommends retailers seek cheap spaces within major cities to store and deliver from.
"Some delivery companies are using unused space under railway arches in London," he says. "It doesn't have to be big or sophisticated, it just needs to be close to where the customers are."
Robots rule the roost
Robotics and automation are playing an increasingly central role in retail warehouses. Shop Direct's new site will be automated and just 500 jobs will be created there, compared with the 2,000 currently held at its existing warehouses.
Meanwhile, M&S' decision to automate its Bradford distribution centre will allow it to have more capacity, which means its Hardwick warehouse is no longer needed.
Lawrie says increased warehouse automation across retail is a response to rising labour costs brought on by the introduction of the national living wage.
"Over time, labour will get more expensive and there will be more automation"

George Lawrie, Forrester
"Over time, labour will get more expensive and there will be more automation," he says. "We've traditionally found it easy to get pickers and packers. With the living wage, automation starts to get more interesting."
However, Barnes insists that automation is not designed to replace people. "Sometimes headlines don't tell the truth," he says.
"A lot of the time retailers are trying to enable people with technology rather than replace them. Specific, perhaps mundane, tasks will be carried out by robotics."
But what technology will the warehouse of the future have?
Braithwaite predicts the technology that Amazon bought following its 2012 acquisition of robotics firm Kiva, which brings goods to the human picker, will become mainstream.
"It saves the walking", he says. Figures suggest there could be a 30% cut in the labour needed.
Braithwaite says the actual picking part will be carried out by robots within the next five to 10 years.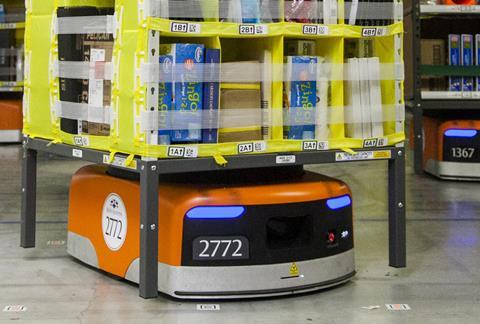 RFID to make a comeback?
Forrester vice-president and principal analyst George Lawrie predicts that new-generation RFID devices will help transform product tracking in warehouses.
The technology uses radio frequency identification – tags on products to identify where they are, giving real-time data on warehouse inventory.
RFID was predicted to transform inventory management around a decade ago but never really took off. However, Lawrie says technological developments mean that RFID is now simple to use in warehouse environments.
It is now possible to print RFID tags and antennas, which can even be embedded into fabric, he explains.
"That could make handling and identifying a lot easier than it has been," says Lawrie. "A lot of things we hoped for 10 years ago are more achievable now."
However, it's not just in picking and packing goods where retailers can gain benefit from using robotics. Barnes says other tasks such as pallet handling and product packaging can be automated.
Going forward, artificial intelligence will be used on the "managerial side" of warehousing, says Barnes.
"Although we've seen a growing amount of automation on sorting and picking, the decisions on where to put product and how to organise and optimise the warehouse have typically been done by people," he says.
"AI will be used to improve that and make it easier for managers to make informed decisions."
It appears the AI revolution in retail warehouses has only just begun.