Aldi has been identified by Retail Week analysts as one of 15 global businesses leading operational excellence in the Retail Changemakers report. We dive into the grocer's latest investments and central priorities as it looks to become a £135bn company
Aldi's business model is based on driving down costs and creating efficiencies throughout the supply chain.
From a technology perspective, huge advancements are in the pipeline – with the grocery chain receiving approval in 2021 for a 1.3 million sq ft site in Leicestershire that will include a semi-automated distribution centre and office space just 20 miles from the company's head office. This will add to its existing 13 DCs that it operates across the UK and Ireland. Aldi expects to open its 1,000th store in the UK by the end of 2023, so needs the supply chain capacity to support a growing bricks-and-mortar business.
Aldi is renowned for its low-tech strategy but when it does invest in this space it does so with speed, efficiency and cost-cutting in mind. In many cases – including ecommerce, which it only entered in January 2016 – Aldi refrains from investing in tech for as long as possible, but that means it will usually pick the right systems for the business and learn from other businesses' work in the space.
Aldi's sales forecast
Total sales 2022/2023 estimate: (Retail Week analysts) £101.5bn
Total sales 2027/2028 estimate: (Retail Week analysts) £135bn – 4.4% five-year CAGR
Aldi is in growth mode and is looking to recruit 6,000 store staff – and it is investing in its people, with warehouse staff given a 20% pay rise in February 2023. Basic pay for 7,000 workers in this area of the business now sits at £13.18 an hour. This exceeds the National Living Wage of £10.90 an hour. It comes after Aldi increased its hourly pay for store assistants to £11.90 nationally and £12.75 within the M25. In comparison, Tesco's hourly pay for store staff nationally is £11.03 and Sainsbury's is £11.
After its initial £35m investment into ecommerce, the supermarket chain has slowly ramped up its offering online, with a focus on click and collect rather than home delivery to keep costs to a minimum and to leverage its store estate.
At the time of writing, more than 200 of Aldi's 990 UK supermarkets offer click and collect and – while in June it axed the service at 12 of its stores such as Reading and Crawley due to a lack of customer demand – the service will remain elsewhere. The retailer relies on a strategic partnership with AO Logistics to deliver bulkier 'Specialbuys', which ensures this part of its operations stays at a fixed cost. That tie-up has been in place since September 2019.
Aldi UK also acquired PSI Global Logistics – which provides software for strategic planning, controlling and optimisation of logistics networks – in 2015 for an undisclosed sum. This acquisition gave the retailer the key data analytics and management tools to oversee its supply network, transport processes and logistics centres across the UK and Ireland.
In September 2022, the discounter overtook Morrisons to become the fourth biggest supermarket in the UK in terms of market share, according to Kantar.
From a sustainability perspective, Aldi started trialling the use of an all-electric refrigerated trailer in its UK fleet in April 2022. In August 2022, it started piloting heavy goods vehicles that run on compressed natural gas, which it said will reduce its carbon footprint and save operating costs.
Since February, Aldi has been working with food waste prevention app Too Good to Go to help reduce the amount of end-of-life food it throws away. At the end of each day, bags of items nearing their sell-by date are packaged up for a third of their normal price and consumers can reserve these through the app. It gives Aldi a chance to drive extra revenue from would-be waste.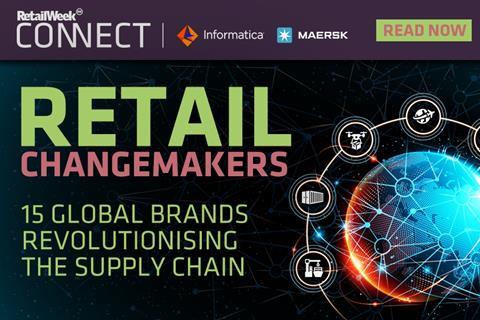 What other retailers are achieving supply chain success and sales performance to boot? Read the Retail Changemakers report for free here to meet the 15 celebrated businesses and access exclusive strategic insights.
You will discover:
Each retailer's major investment priorities, latest partnerships, and sustainability efforts
Exclusive sales forecasts for the 15 global retailers – both for the current financial year and five years' time
The biggest global supply chain trends and how these will play out in 2024