Returns have long been a conundrum for retailers, increasing costs and shrinking availability. Retail Week profiles the businesses shaking up returns.
Returns present a real problem for many retailers, who struggle to compete with Amazon while still making money.
Fashion retailers are especially vulnerable to the returns dilemma because as much as 40% of product is sent back to the retailer. And with constant newness increasingly important to the consumer, by the time product is introduced back into the supply chain, the retailer is less likely to sell it full price.
"By the time a product is back in the mix you have often lost the full price sale," confirms Vicky Brock, founder of Clear Returns who now works as director of data innovation for Rebound Returns. "Retailers sometimes buy 25% or 30% more stock than they can possibly sell so that they have better availability."
However there are myriad disruptive businesses all clamouring to make returns easier, faster and cheaper for retailers. Here are five of the best:
ZigZag
Founded in 2015, London-based ZigZag takes the returns process out of retailers' hands completely and tracks and manages the process itself by working with 50 major carriers such as Doddle, Hermes and CollectPlus across 130 countries. It plugs into a retailer's website via a shopping cart such as Shopify or Magento.
ZigZag aims to reduce returns costs by 50% and journey times by 65% by redirecting returned products to places where they have the highest chance of selling. It calculates this based on a retailer's recent sales history and directing product to the locations it has sold best in.
It also notifies retailers as soon as a product is returned to a ZigZag warehouse so that they can send a replacement or refund a customer instantly, speeding up the returns process and improving the customer experience.
ZigZag also collects data from customers on why they have returned a product and analyses it on behalf of the retailer to identify patterns in returns. Retailers' buying and merchandising teams can then use this to improve their purchasing decisions.
Rebound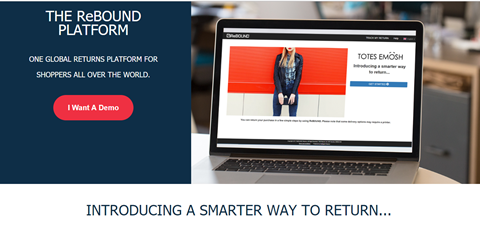 UK business Rebound was founded in 2014 and claims to save retailers an average 45% on the cost of an international return. Its clients, which include Asos, Boden and Mango, are mainly fashion retailers.
Retailers' international shoppers sign up to use Rebound and the business then governs the returns process, from telling customers their nearest returns locations to consolidating parcels before sending them back en masse to the retailer's main distribution centres.
The business marries local knowledge with international processes to ensure that retailers benefit from efficient global IT systems and local shoppers are familiar with the returns outlets and carriers they are asked to use.
Returnly
US-based Returnly works with fashion brands including millennial-favourite athleisure retailer Outdoor Voices and emerging underwear brand Thinx, to give customers the option to exchange or purchase again from the same brand as soon as they have decided to return their items.
When a shopper opts to return an item, Returnly gives them a voucher for the retailer they are returning the product for.
The voucher then sits in an online wallet and remains there, tempting the customer to spend it. If they don't spend it by the time the product arrives back at the retailer's distribution centre, the funds are taken out of the online wallet and paid back into the customer's bank account.
Like the success that buy-now, pay-later operator Klarna has had with young fashion retailers, Returnly is especially good for cash-strapped millennial customers, who do not have the funds to constantly purchase new items while their money is still in a retailer's account.
Parcelly
First launched as a delivery business in 2014, Parcelly has now expanded to cover returns.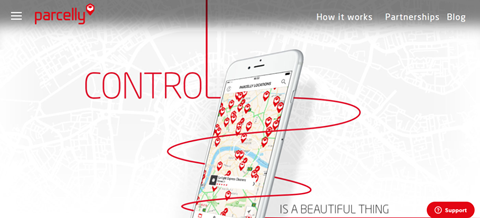 The business, which has more than 1,600 locations across the UK, allows private individuals to act as a local corner shop would by becoming a Parcelly Agent and earning money to act as a delivery drop-off or return pick-up point for bigger retailers.
Shoppers wanting to use the service simply sign up to Parcelly and choose a location near to their home or office. They then choose to 'add on' Parcelly when they check out on any retailer's website, entering a Parcelly ID and delivery address into the address form.
Parcelly is courier agnostic, which means retailers are able to add it onto their fulfilment options without negotiating with existing carriers. Parcelly is currently trying to expand its Agent business into rural areas without a corner shop to act as a drop-off point.
Supply AI's ReturnSense
Founded in 2016, ReturnSense is an AI-powered platform created by US-based business Supply AI.
The platform draws on more than 1,000 data points to predict which orders are likely to be returned. Its algorithm takes into account previous purchase trends like the number of items bought and kept as well as the price, colour, fabric, brand and sizes of the products that were kept by a customer.
It then matches the customer's purchase history against the 'keep rate' of the product that they've just bought to try and predicts how likely it is that the customer will return the item.
If the chance of a return is high, the customer is then contacted by a third-party agent before the order is processed, who talks through their choice and advises them on whether or not to go ahead with their purchase.
Designed to prevent spiralling returns costs and improve retailers' margins, the platform also aims to improve shoppers' confidence in their purchasing habits and so persuade them to shop with partaking retailers more.