As multichannel operations mature and seek greater efficiency, some retailers are moving to single stock pools. If managed properly these can have numerous benefits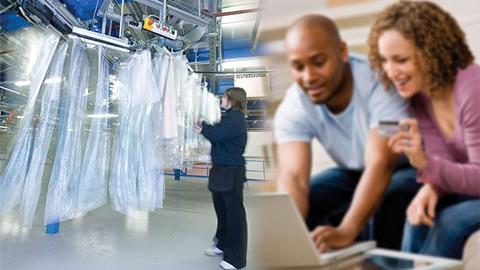 When online retailing was first born there was no best practice for the fulfilment side, and as ecommerce has grown this problem has remained.
During its infancy many retailers held to the model of picking orders from a store, but as volumes grew they realised they had to move to a more sophisticated arrangement.
For many retailers this meant moving the ecommerce operations to a third-party fulfilment provider that had the specialised capabilities required for ecommerce operations such as individual picking, packing and receipting, rather than the traditional store replenishment capabilities of a standard warehouse.
Some 67% of UK retailers have separate warehouses for non-store channels, according to the Multichannel Retailing 2010 report from Martec International. But with multichannel now at the heart of nearly all retailers' strategies the days of one channel competing against another have gone. Ensuring product is available for whichever channel best suits the customer at the time is key.
To improve such efficiency some retailers are now heading down the path of single stock pools for their product.
Retailers have tried this before but quickly found out-of-stocks for either channel as product was sucked to stores or the internet as required. The change is implementing systems that will protect stock allocations for each channel.
Taking stock
Alan Morris, managing director of supply chain solutions provider Retail Assist, says: "In an ideal world it's about having the right stock in the right place at the right time. A good supply chain system should allow you to have one physical stockpile but with separate allocations for the product so that you can reserve proportions for the different channels, and can free-up product by moving it on the system rather than in the warehouse."
Will Treasure, operations director at multichannel consultancy Javelin Group, agrees. "Where you are sharing the same stock pool as stores that gives you maximum flexibility, but it's about how you share stock while retaining some stock for the internet. There are tensions for how you manage that."
He continues: "It's not just a systems or process thing, you need to take a view as one business because it leaves organisational issues. For example, if you are a store assistant and can see it's in the ecommerce allocation but can't get to it, that's frustrating."
Jim Macleerie is general manager for Norbert Dentressangle, which works for Marks & Spencer's ecommerce division, where stock is also held in a single stock pool. Macleerie says: "When product comes in it gets held in the same area as stock for stores, so it's received once, picked once and is picked as a shop, but then removed to a specialist ecommerce packing area of the warehouse."
However, internet product allocations are protected by the system.
If online sales start to decline and the withheld stock cover looks too high then the system flags up the excess and staff are able to adjust the system to make the product available for stores to clear out.
At fashion retailer Aurora Group - which includes the Karen Millen, Coast, Oasis and Warehouse brands - the retailer is just completing a move to a single stock pool for each of its brand fascias. The process began more than a year ago and is due to complete shortly, with Karen Millen the final fascia to move.
Aurora chief financial officer Richard Glanville says: "When we started off doing ecommerce we outsourced our fulfilment because that seemed to be the way of doing it."
Although Glanville stresses that the third-party fulfilment provider did a great job, he says there were challenges, such as the product hitting the ecommerce warehouse a day or so after stores because it was treated as a separate store.
"Over time the ecommerce operation got bigger and bigger and the implications of having the wrong stock in the wrong place got more and more profound," says Glanville.
Built for speed
As a result the retailer started bringing all of the internet stock back into the company's single warehouse in Stanton Harcourt, in Oxfordshire.
A reservation of stock is held for the ecommerce operation below which product won't get picked, allowing a greater availability of product. As with M&S, Aurora can adjust the system markers protecting the stock to be moved as, and when, required.
"It's very fast and more efficient," says Glanville. However, he admits the system is not perfect and has to be managed correctly. "You can starve your solus stores of your most exciting product if you are not careful," he says. "It also gives you problems of fragmentation because you don't release locations in the warehouse as fast as you used to. You also have to be careful you don't fill up the warehouse with near-empty boxes, because for the internet you are picking singles rather than bulk. You need to have the space in your warehouse to pick a single item."
The distribution centre also has to be more proactive at pushing product back to the brands to move it on for markdown, or selling through the outlet route. However, with different peaks for ecommerce deliveries to store deliveries it has also allowed more intelligent use of the existing workforce. "Keeping
the workforce flexible means that they can move between roles," says Glanville.
But Aurora is moving forward further. Glanville adds: "That has taken us to one level but the next level is to have a common stock pool across all of our channels -so why should we only sell stock that's in the warehouse?"
The fashion group will launch a new integrated store click-and-collect service mid-year that will allow customers to order product on the internet and collect from their local store, or order from the store and get it delivered to their home via the central warehouse, with the system itself recognising if the product is in-store or needs to be sent via the distribution centre to the store.
Virtual solution
Glanville says the new system will offer a number of advantages including increased availability, better customer service and fewer markdowns.
Mike Padfield is head of multichannel sales at BT Expedite - the partner with which Aurora has been working on its new in-store capability. He says that in the US retailers have moved to being able to sell and source product from anywhere within the business - for example sending product to customers directly from the store.
"If your company has one enlarged virtual stock pool then product can be in the warehouse or in a store at the other end of the country and the customer doesn't know where that's coming from," says Padfield.
The solution brings its own challenges - for example, ensuring the packing standards of a central distribution centre or specialist online fulfilment arm are maintained in a store - but for the US, where the geography of the country make it easier, it works.
Canadian retailer Sport Chalet has introduced the Epicor Retail Enterprise Selling tool - a cross-channel order management software solution that allows the retailer to sell merchandise from anywhere within the business and for which BT Expedite is a supplier in the UK. It allows the retailer to have a single view of product across channels rather than sales associates having to call around stores to locate the product and sending out product from the stores or warehouse as appropriate.
Sport Chalet says it not only saves sales and taps inventories that might not otherwise move as fast but also shows its customers that the retailer will go the extra mile for them.
Introducing a single stock pool makes logical sense for retailers in fashion and similar sectors. However, implementing single stock pools needs to be a company-wide change.
Treasure says: "At a retailer where it's not particularly seasonal it works well but you have to get your organisation aligned. It's not just your systems and processes. However, get it right and you can not only gain better control of your stock but also prevent markdowns and improve cash flow."