Five years ago, 1,134 fashion industry workers died in Dhaka, Bangladesh, when the illegally constructed Rana Plaza building collapsed into rubble.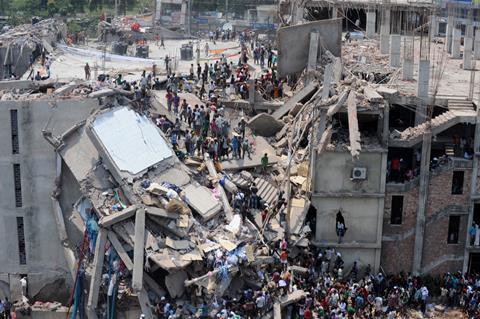 On April 24, 2013, the employees – who were mainly poor, semi-literate, rural migrants – had been scared to enter their workplace. Only the previous day, cracks had begun to appear in the building's façade.
Despite an engineer declaring the building unsafe and police ordering its evacuation, owner Mohammed Sohel Rana insisted that work continued. Management coerced workers into the building, threatening to sack them if they didn't continue working.
That day, the building collapsed, crushing the workers inside.
The Rana Plaza disaster sent shockwaves across the globe. While factory accidents in developing nations are still shockingly common – in 2017 there were 20 in Bangladesh, with four resulting in more than five deaths or 10 injuries – the scale of Rana Plaza drew media attention.
The undeniable responsibility held by everyday consumers also made the West sit up and think of where the clothes on its collective back were coming from.
Associations were set up, Western governments planned initiatives and multinational retailers pledged to do more. But how much has really changed? And how might new technologies help stamp out supply chain abuse?
Has the situation improved?
In the months following Rana Plaza, two industry associations were established. One, named the Accord on Fire and Building Safety in Bangladesh, mainly comprised European retailers. The other, called the Alliance for Bangladesh Worker Safety, primarily consisted of US retailers.
Since they were established, 250 global brands have joined the Alliance and Accord, which have collectively inspected around 2,900 factories in the country, racking up a list of remedial actions to undertake, ranging from making sure fire exits are unblocked to building entirely new factories.
"It is great that retailers put their money where their mouths are and we have seen phenomenal progress"

Debbie Coulter, ETI
It has taken years, but 85% of those remedial actions are now complete. Around 260 factories – 10% – have seen their orders suspended for failing to meet requirements, according to the Centre for Business and Human Rights at NYU's Stern Institute, which has produced a report on the progress made since the disaster.
"It's important to emphasise that brands and retailers took seriously the project they undertook with the Alliance and the Accord," says co-author and deputy director for the Stern Institute's Business and Human Rights Centre Paul Barrett. "They applied real pressure. It's not a sham, it deserves to be applauded."
"It's been a monumental overhaul of an entire industry in those factories producing for the Western market," affirms ETI interim head of practice, evidence and learning Debbie Coulter. "It is great that retailers put their money where their mouths are and we have seen phenomenal progress."
Many retailers have also begun to prioritise spending on corporate social responsibility programmes, giving the issue greater airtime within the boardroom.
And more retailers are open to speaking about the issue – although Bonmarché and Matalan, both retailers which were directly involved in Rana Plaza, refused to speak to Retail Week.
Even those who are open to talking about it emphasise how difficult it is to stamp out abuse entirely.
"Slavery in the 21st century should not exist. If you look, you will find. If you don't look, you don't find"

Nick Beighton, Asos
Asos boss Nick Beighton said supply chain abuse was a "multifaceted beast". The etailer has become an industry leader on issues such as modern slavery, recently co-hosting an event at the House of Lords on the issue.
"I welcome legislation like the Modern Slavery Act because it shines a light on issues and gets everyone thinking about it but those sorts of things are minimum success criteria," he adds. "Quite simply… slavery in the 21st century should not exist. If you look, you will find. If you don't look, you don't find. And when you find, you can't unsee what you've just seen."
Primark, which had a supplier based in Rana Plaza, has worked hard to rectify its position.
"We have been committed to supporting the families that were affected," says Primark owner Associated British Foods finance boss John Bason. "And that support has not stopped, it continues now. We know all the families and we give them continued support so it wasn't 'here's some money, go away'.
"We are working constantly in Bangladesh and other emerging markets in terms of building a sustainable, safe and good environment for the people that work there."
Despite a lot of progress being made, it is important to emphasise the dichotomy that can exist between different retailers' approaches.
"Rana Plaza completely changed retailer concerns"

Peter Needle, Segura
"Rana Plaza completely changed retailer concerns," says Peter Needle, chief executive of ethical supply chain specialist Segura. "That shift is still happening and has slowly progressed over the last five years.
"We have seen that accelerate in the last two years with the Modern Slavery Act coming in too. CSR departments now generally have a decent amount of funding and leverage and are sometimes even at board level."
He cautions however that some smaller Western retailers are still "petrified" of uncovering issues within their supply chain. "They are in the minority but they still exist," he asserts. "Some retailers are petrified of uncovering issues because they wouldn't have the resource to deal with them if they found them.
"It's about focus at board level. It has to get to the stage where a chief executive loses sleep over it and has to deal with the problem and locate the resource."
Outsourcing vs exporting
There is a stark contrast between conditions in factories which work directly with Western retailers to those which work indirectly with them. Outsourcing is rife in Bangladesh and factories that carry out this work do not have the pressure of multinational corporations watching them and are instead monitored by the Bangladeshi government.
The Centre for Business and Human Rights at NYU's Stern Institute found that subcontractors are still working for Western brands. Unfortunately, outsourcing, as is the case in the UK, is often where abuse in the supply chain is located.
"Two subcontracting factories that we visited in late February and early March were both sewing labels for Western brands," says Barrett. "They said they were producing clothing for European markets and there was hard evidence that was the case. I doubt that the brands were aware of it."
"One government official said on our visit that subcontracting factories did not exist, which is a very odd thing to be told when you've just visited several"

Paul Barrett, Stern Institute
He believes that it will be incredibly difficult, if not impossible, to stamp out unethical subcontracting.
"A lot of people and organisations have an interest in minimising sub-contractor bills," he says, adding that the Bangladeshi government has not approached the issue of factory safety with the same rigour as Western brands.
"One government official said on our visit that subcontracting factories did not exist, which is a very odd thing to be told when you've just visited several. People have agendas and they want to look away."
Despite these concerns, shared by the ETI's Coulter, the Accord and Alliance will soon have to hand over responsibility for monitoring the factories manufacturing Western garments to the Bangladeshi government, along with trade unions – which still struggle to operate in Bangladesh – and local industry associations.
For now, the two bodies are reviewing whether the Bangladeshi government is capable of taking over their responsibilities, with the Accord reserving the right to retain its work for the next three years.
How technology can help
While the Rana Plaza disaster was caused by poor construction – the building's top floors were added illegally – supply chain visibility became a huge issue in its wake, with retailers including Benetton unable to confirm whether its clothes had been manufactured on the site.
Since the vast improvements at the Accord and Alliance-governed factories, retailers need to ensure that their clothes are really made where they think they are.
Human engagement is, of course, an essential part of greater visibility, but in the five years since Rana Plaza, innovative technologies have developed which aim to give clothing retailers visibility throughout their supply chains.
Blockchain is often spoken about as the next piece of technology set to revolutionise reliability and visibility.
Effectively a ledger that each part of a retail supply chain can view and add information to but, crucially, not alter afterwards, blockchain allows a retailer to track each and every step that a product has taken.
"Heat-sensing cameras can track the volume of people in a building and allow retailers to get a view on how crowded a site is"
But it won't revolutionise the supply chain by itself, says Needle. "It has the potential to completely transform supply chain along with other technologies," he says. "When added together with cloud-based systems and technologies like RFID it will be a level of transparency we have never seen before."
This is where the internet of things comes into play.
RFID technology, which allows the user to attach sensors to an item and track its location, is usually used to track stock within a retailer's inventory and boost availability and therefore sales. But it can also be used to trace how an item has made its way to a retailer.
And within factories themselves, heat-sensing cameras can track the volume of people in a building and allow retailers and manufacturers to get a view on how much workers move around, how long their days are and how crowded a site is.
However, cautions Deloitte Consulting UK director Sundeep Khanna, much of this technology is not yet economically viable for mainstream manufacturers and retailers to buy into on a large scale.
One piece of technology which could soon be affordable though is what IBM is dubbing 'the world's smallest computer'. The next step of its 'crypto anchor programme', which creates hi-tech watermarks to verify that products are really from a certain factory or aren't counterfeit, is a chip as small as a grain of salt.
IBM is planning to sell these chips, which would 'talk' to blockchain technology and sense the environment around them, for around 5p each. It's certainly cheap, but unfortunately the technology is still in IBM's labs – however, it may be available commercially in some form within the next five years.
Why integration matters
While technology is an increasingly important part of minimising abuse in the supply chain, integrating it into a supply chain is just as crucial.
"Having a standalone reporting system sometimes just creates more data," says Khanna. "You need to be able to integrate it into supply-chain systems and make sure that suppliers can use it.
"It's a challenge to really integrate it. You need to have people who will be comfortable using that tech right through the network.
"It really needs to be as easy as using a smartphone because otherwise you will introduce a productivity loss within the supply chain. If something is too cumbersome it stops getting adopted."
Ultimately, this logic applies to marrying human and digital intelligence across the supply chain.
There have been multiple technological advances in the five years since Rana Plaza. But how retailers choose to use that technology – and how well they cope with what it might reveal – is key.