At Retail Week Connect's Supply Chain Conference, retail experts explored what Britain's impending exit from the EU means for retailers' supply chain strategies.
In the midst of an historic moment for the UK, leading supply chain directors from the country's biggest brands came together to investigate the three 'S's of supply chain – speed, sourcing and sterling – against the backdrop of Brexit uncertainty.
The topic of the conference directly reflected what retail boardrooms across the UK are most concerned about.
A third of leading retail chief executives reported speed and sterling are the biggest supply chain challenges they face, while sourcing is a major concern for a fifth of bosses.
Retail Week Connect research showed that the unfavourable exchange rate was mentioned more than any other factor when retail leaders discussed what was having the greatest impact on their supply chain.
The shortening of supply chains to reduce lead times and the trend towards sourcing closer to the UK has been ongoing in UK retailing for some time. But what's clear from our research is that the Brexit effect, combined with current sterling devaluation, has become a catalyst for greater urgency in these vital areas.
Turning to UK manufacturing
Does a weakened sterling create a more compelling case to buy products made in Britain? The answer from Supply Chain Conference delegates was a resounding yes.
"Retailers attending the conference talked extensively about the benefits of UK manufacturing"
Retailers attending the conference talked extensively about the benefits of UK manufacturing and called for the Government to lend financial support in order to encourage skills lost decades ago to return to Britain.
Retailers discussed the benefits of UK manufacturing, including greater agility, reduced need for forecasting 9-12 months in advance and auditing cost-savings.
One retailer said that "it just seems like a good thing to do", adding that a move to UK manufacturing and sourcing would also lead to lost skillsets returning to the country.
Certain trades, such as shoe manufacturing, could return to the UK if the Government encouraged the creation of a skilled workforce.
However, other retailers expressed that their concern that Brexit will potentially lead to a smaller workforce, given possible restrictions on EU workers.
Another added that the UK doesn't have the infrastructure in place to support domestic manufacturing.
Consumers want reliable delivery, not speed
The need for speed in fulfilment has been eclipsed by consumer demand for reliability, claimed leading supply chain experts.
"Even for the 35-45 year olds that value speed most compared to other age segments, the top factor is reliability"
Speaking at the event, Patrik Silén, a partner at management consultancy McKinsey, said that speed should not necessarily be the top priority for all retailers.
"Speed is hot and growing, but it's for certain customers, products and occasions. Many customers are still looking for low-cost delivery," said Silén.
One recent survey McKinsey conducted found that 70% of shoppers are content with the cheapest form of delivery, while 23% are willing to pay extra for same-day delivery, 5% for a specific time and 2% for instant delivery.
Silén added that in online womenswear, younger consumers are more preoccupied with the returns process, whereas for older generations delivery value for money, choice and in-store returns are key drivers.
Even for the 35-45 year olds that value speed most compared to other age segments, the top factor is reliability.
Founder and chief operating officer at womenswear retailer Finery, Luca Marini, agreed. "Speed is important but reliability is way more important. There is only 20% of people who want next-day delivery and 80% are fine with waiting two days.
"What people want is reliability, they expect their product to be there on the day you say it's going to be and if it's not then they freak out."
"Speed is important but reliability is way more important"

Luca Marini, founder and chief operating officer at womenswear retailer Finery
"Too many retailers get excited about the new things.
"Speed is important for certain categories – obviously for Deliveroo, speed is incredibly important.
"However, people need to focus on reliability and tracking. Tracking is a huge issue as well as looking at how you deal with mistakes.
"Speed is a plus but most retailers need to focus on nailing the basics before they tackle speed."
The cost of speedy next-day and same-day delivery was also touched on during the panel discussion at the half day conference.
"It's difficult to get consumers to pay what it actually costs to do this," said Silén.
"The high street runs at super tight margins and the whole retail calendar is now changing," said Marini.
"If you add the pressure of having to look at more expensive delivery options too, then it leaves no room to play."
"I'd rather put more money into the products. Any customer would favour a higher quality piece of clothing rather than one-hour delivery"
Marini also shrugged off opinions that same-day delivery would soon become the norm. "The bulk of people want good-value clothes delivered on the day you told them they would be," he said.
Brexit bothers
Britain's imminent exit from the European Union cropped up during numerous discussions at the conference.
"Never let a good crisis go to waste, as Churchill once said"

Patrik Silén, McKinsey
Despite issues surrounding weaker sterling, the opportunities provided by the Uk leaving Europe were also highlighted.
Marini said: "For those that have the opportunity and the focus, retailers can really use international expansion and the weaker sterling to their potential.
"Businesses should be looking to exploit the weaker currency. Raw materials will be more expensive but you can be more competitive with your exports."
Silén added: "Never let a good crisis go to waste, as Churchill once said.
"In our experience there is also more potential than many retailers might think to counter the currency effects and become more competitive through improved efficiency in both sourcing and overheads.
"Retailers should look at how the car industry works with its suppliers and how FMCG companies have started using Zero-Based Budgeting to tackle their fixed costs.
Serving John Lewis' growing online business
John Lewis expects its online trade to equal that of its bricks-and-mortar stores in three years and is investing in its logistics operations to ensure a smooth transition.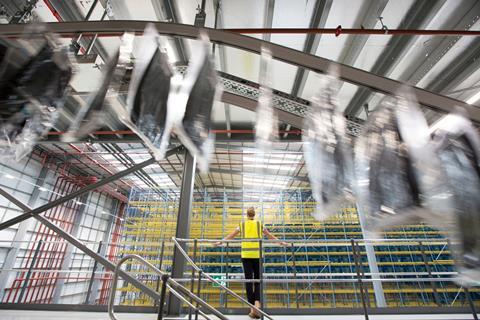 Speaking at Retail Week's Supply Chain Conference, John Munnelly, head of operations at John Lewis, said: "We believe by 2020 we will be a 50/50 business.
"Our goal is to be the UK's leading omnichannel retailer and so we continue to invest both online and in our shops."
Munnelly described how the department store chain has totally evolved its business over the last decade in order to cater for the rising importance of ecommerce.
"The transformation of John Lewis has been a great example of a business that has had to reinvent itself for an omnichannel world," he said.
"We've seen a real proliferation of additional stores and additional formats which has introduced a real complexity when it comes to fulfilment," added Munnelly.
The Magna Park facility was built with both scale and capacity in mind, and in order to aid the expansion, the retailer opened its latest addition to the distribution facility in September last year, having invested £250m in the operation in recent years.
The Magna Park campus now totals 2.4million sq ft and comprises three distribution centres, making it one of the biggest campus operations in Europe.
Munnelly explained that a key aim at the beginning of the development was to have a single pool of stock helping to service both online orders and store replenishment.
The site is now responsible for around 70% of John Lewis' online demand.
"Our online investment continues to take a large percentage of our overall capex," he added, speaking about the continued growth of ecommerce across the John Lewis business.
"Many people suggested our online business wouldn't be any bigger than a medium-sized department store," reminisced Munnelly.
"However, online as a percentage of trade has grown exponentially over the last couple of years and now makes up 38% of total trade."
"Our USP has been, and still is, our click-and-collect offer," he said. "Our facility at Magna Park has enabled this."
"Those people who had traditionally been behind the scenes are now more front of house than ever before.
"Delivery drivers, carrying out 46 different types of service proposition, contact centres and warehouse partners are all right at the heart of our customers' shopping journeys now.
"Gone are the days of those people being in dark, dusty warehouses."
With thanks to our gold sponsors, XPO Logistics and DP World London Gateway