Fashion Fringe at Covent Garden is helping new designers learn about the world of retail and supply chain - an area many know little about.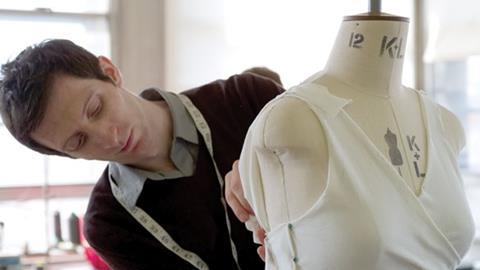 Fashion designer Elliot Atkinson is a picture of concentration.
In DHL's Birmingham boardroom, he barely blinks as a presentation runs through everything he needs to know about getting his product to the consumer. Surrounded by fellow designers, the only sound in the room is the lecturer's voice and the scribble of pen on paper. Who would have thought a supply chain expert could have a fashion darling on the edge of his seat?
Atkinson is a finalist of the highly regarded Fashion Fringe at Covent Garden (FFCG). Existing partially to expose and educate new talent on the business side of the industry, finalists are advised by dedicated mentors on how to ensure their designs end up on shop rails.
Atkinson - along with fellow finalists Yelena Smirnova, Jenny Holmes and Dimitris Theocharidis, who design under the label Go Tell Them, and design duo Lidija Danilovic and Dejan Agatonovic, also known as LD.DA - is on this occasion a student of experts from international courier and logistics service DHL.
DHL global forwarding account manager Simon Parker has the group wide-eyed at the prospect of what could go wrong if they break a customs regulation at some point in the supply chain. "It's the difference between getting paid and potentially losing a lot of money," he says, as they note his warnings and cautions.
And his list of advice, dos and don'ts is lengthy. Freight expenses, animal hides, storage units - if a designer does not know the rules and costs of each aspect of transportation, the consequences can range from mildly irritating delays to bankruptcy.
Despite the importance of knowing the intricacies of the retail supply chain, the finalists admit they were taught very little about this - or in fact about business in general - while studying design.
Smirnova, a Salford University fashion graduate, says: "Before the mentoring session, I didn't know about supply chains. I didn't complete any business classes while studying, so FFCG's programme has been useful and informative. Now I have a better idea of business solutions and business structure."
Edinburgh Art College graduate Atkinson agrees: "We had a very brief introduction to business. We forecasted sales projections and worked with numerous spreadsheets without any one-on-one feedback or discussion; it was very cold." Elliot adds: "The mentoring provided by FFCG has completely elevated this experience. We've received thorough, relevant information and it was provided by professionals, tête-à-tête."
Danilovic and Agatonovic are more aware of supply chains through their personal experience rather than education. The former says: "We studied at London College of Fashion and Central Saint Martins College of Art and Design but we didn't have any particular classes related to the fashion business. With the DHL mentoring session, they went through every single step related to logistics and we are pleased with everything we have learned."
The FFCG programme teaches finalists the nuts and bolts of public relations, legal issues and sales, to name but a few heavyweight subjects. As these mentoring classes last for hours and the designers are unfamiliar with the subject, the experience is no doubt intense. But, as DHL account director and mentor Oliver Baker says, they are being taught the language of business.
Avoiding costly mistakes
Baker says: "These designers are new and more likely to get caught out by legislation and bureaucracy, but I do think this mentoring scheme will help make sure their mistakes aren't
big ones."
And with regard to the supply chain mentoring sessions, she adds: "Not understanding your supply chain and managing it properly is the difference between being successful and failing to make a mark. It really is as simple as that. With fashion, if there is a problem in the supply chain and the goods don't arrive, the retailer can reject them."
Harrods womenswear general merchandise manager Helen David says it is particularly encouraging when young designers have a keen awareness of retail operations. "This knowledge will help drive and develop their business at Harrods," she says. "If they understand the value of early deliveries, they will achieve a higher sell-through, therefore enabling us to increase orders for the following season."
With the finalists admitting they know little or nothing about the supply chain side of the fashion business, Baker suggests it may be time for the UK's art colleges to revise their curriculum. He says that while he understands that the last thing those with creative minds at the heart of the fashion world want to do is spend time learning about supply chains, "if they want to be successful they need to know about this". He adds: "I'm not saying young designers need extensive teaching, but they should know the basics. A small, compulsory module would serve them well. If they want to have their own business in the future, it makes sense for the colleges to teach them how they can make this happen and the supply chain is a big part of it."
Future design gurus may not consider business knowledge necessary when they are students. But if they get to the stage of selling their product to the mainstream, such teaching is invaluable, as two designers have found. Winner of FFCG 2008 Eun Jeong and runner-up William Tempest believe the mentoring they received has given them a distinct advantage when it comes to working with retailers.
Jeong says: "I don't really have a business mind and I really needed the mentoring FFCG gave me. It has definitely been a valuable experience and has helped me learn how I can support my business so that it can continue designing. I understand the legal side of things now and I am better at selling my designs. Learning about every part of the business has made me feel like I can support my business better."
Tempest agrees, admitting there are things about the industry colleges just don't teach. "FFCG gives you access to people you usually don't get to talk to.
I hadn't learned much about the business and retail side of things at college and I'm so glad I experienced the mentoring programme. Without it, I wouldn't know what I know now," he says. "The business side of the industry affects your schedule - you need to have your collection ready in time for buyers. Understanding retail means you will sell your designs.
If I didn't know this, how could I run my business?"
Although the FFCG hopefuls will start producing garments on a small scale, each harbours the ambition to develop a bigger brand. The complexities of the supply chain may not be relevant to them in their current incarnations as up-and-coming designers, but this will change should they trailblaze through London Fashion Week.
As Parker says: "The people we met today will start in high-end fashion and won't be producing mass quantities of their designs. But one day they might. Look at Ralph Lauren and Burberry. Both started out being exclusively high-end but now are huge. These designers learned information today that will help them as they get more and more successful. I'm glad we could give them that."
What is Fashion Fringe at Covent Garden?
The event began in 2004 to invigorate London Fashion Week by finding and exposing new design talent
An advisory committee, chaired by Donatella Versace, chooses four finalist portfolios from hundreds of entries after meeting with 10 semi-finalists
This quartet of labels will each have a catwalk show at London Fashion Week and be mentored by industry experts over three months
The winner will receive grants to develop their business and additional mentoring in business, planning and marketing
Previous winners include Erdem Moralioglu, Gavin Douglas, Aminaka Wilmont and Eun Jeong
Key advice for designers
Invoices must include: a clear description of the product, commercial value, composition, country of origin and duty classification HS codes
The difference between ocean and air freight costs is significant. If you can spare the time, the former takes approximately seven days and costs 20p per unit, whereas the latter costs £1.50
Study the Directory of International Trade. It's like an encyclopaedia for supply chains