PAID FOR POST
The Hermes Supply Chain Blog on Retail Week
They may still seem to be the stuff of sci-fi, but driverless lorries are yet more proof that retail supply chains are at the cutting edge of technological innovation.
A story published in The Times last week reported that driverless lorries are revving up for a government-funded UK trial this year.
The story, which suggested the funding could be announced by Chancellor George Osborne in next week's Budget, described convoys of up to 10 computer-controlled lorries, spaced just metres apart, driving along a stretch of motorway.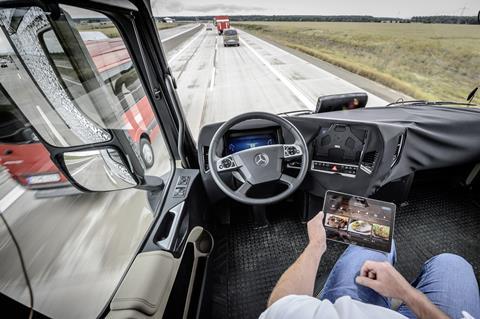 Asked about driverless lorry and HGV platoons, a spokesperson from the Department for Transport said the UK "is in a unique position to lead the way for the testing of connected and driverless vehicles". They went on to explain: "We are planning trials of HGV platoons – which enable vehicles to move in a group so they use less fuel – and will be in a position to say more in due course."
Last year, automotive corporation Daimler tested its driverless lorry on a public road in Germany. A human driver was present at all times but a "highway pilot" used a radar and camera sensing system to avoid traffic.
Are UK retailers ready?
Retail supply chain is undoubtedly a hot pot of innovation. Shouldering the strain of consumers' diverse fulfilment demands, retailers' logistics and operations teams are not ones to shy away from some pretty 'out there' technologies.
But while new software and systems are one thing, the prospect of moving stock around the country in computer-driven lorries may be quite another. Having said that, it's hard to ignore the potential savings that may reverberate down the supply chain and into consumers' pockets should the vehicles work out.
In theory, the slip stream created by the lorries moving together in close proximity could reduce fuel costs, while separately, productivity among long-distance drivers may improve. Moreover, in September last year, an AXA UK and Douglas McNeill report revealed that if the UK logistics industry used driverless vehicles, cost savings across labour, fuel, insurance and vehicle utilisation could result in almost £34bn of savings.
Look at the wider picture and congestion from ecommerce growth and expanding supply chains could be cut.
However, arguably press reports raise more questions than answers, not least around safety and the logistics of negotiating other traffic on the UK's busy roads.
But regardless of whether driverless lorries truly are set to become a feature of UK motorways, these trials are a sign of the levels of automation that we may soon expect to see cropping up along the supply chain, indicating that logistics and operations may indeed be unrecognisable in just a few short years.
Kate Doherty is Retail Week Connect's deputy projects editor