There is much talk about the potential for greater UK sourcing, but is it feasible and what would it mean for retailers' supply chain teams? Sarah Butler examines the pros and cons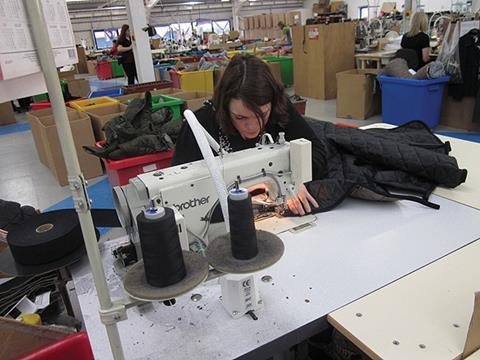 Sourcing in the UK
Benefits
Shorter lead times allow quick response to unpredictable markets
Easier to meet demand for newness and high fashion and so achieve additional sales
Closer monitoring of factories for better quality
Lower inventory levels required as product can be topped up relatively quickly
Reduction in discounting with right product at right time
Avoids expensive long-distance transport costs
Can cut back on expensive, time-consuming buying trips
Supporting British industry
Difficulties
Manufacturing capacity in the UK is low and suppliers may require financial support to meet demand
Existing manufacturers want to focus on higher value items rather than volum
Potential competition for capacity could drive up price
Even with reduction in discounting, margins are lower
With the royal wedding sending wafts of patriotism across the nation, perhaps it's no surprise that retailers in the UK are thinking of buying British again. Shop Direct, Arcadia and N Brown are all examining sourcing more goods in the UK. Food retailers, meanwhile, are boosting local sourcing in response to consumer interest in British produce and a desire to support local farmers.
For clothing and general merchandise retailers, there may be some marketing mileage about flying the flag, but rising transport and labour costs mean that switching out of the Far East is becoming a genuine option.
Shoppers' increasingly unpredictable behaviour is a further incentive. Some retailers emerged from the Christmas trading season with hefty stock overhangs that were difficult to clear as long lead times led to wrong buying decisions. Alan Braithwaite, chairman of supply chain consultancy LCP Consulting, says increasing market volatility means that finding sources with shorter lead times has become an imperative.
N Brown buying and merchandise director Paul Short says that even in the home shopping specialist markets, where keeping up with fashion trends hasn't traditionally been a priority, shoppers are demanding the latest looks: "We can see the market getting faster and faster and that's changing the business dramatically."
Fast and loose
Deeper analysis about how fast categories sell through and how to respond to demand will become an important part of a supply chain team's work. It may mean a complete switch in strategy for retailers that have relied on selling high volumes to underpin large orders of low-cost goods from the Far East.
Braithwaite says: "If they can't predict stable demand for product then companies are prepared to accept higher costs for cutting down lead times and fulfilment in a matter of weeks." He adds that even after transport costs there is a net margin gain of between 15% and 20% on producing in Asia for high volume lines, but that doesn't take into account the risk of discounting stock if those volumes cannot be sold. After taking markdowns into account, the difference can slim down to between 5% and 10%. Ongoing inflation in China, meanwhile, means that the gap continues to close.
Shop Direct chief executive Mark Newton-Jones says it has found that UK sourcing – with its shorter lead times – delivers better sell-throughs. As a result, the margin is only 5% to 6% less than clothing sourced from the Far East. "We couldn't turn this product around in any other way and so we see it as incremental sales despite the lower margin. As labour rates keep going up in the booming economies of the Far East and Near East, we can see that in a couple of years there won't be any margin degradation."
Meanwhile UK or European sourcing can mean lower inventory levels as the company doesn't need to order the same volume of goods required by Far Eastern manufacturers. This in turn means the cost of warehousing and shipping can be reduced while expensive buying trips to the Far East can be cut back. Short says shortage of capacity in the Far East has been another issue, driving up prices and hitting reliability: "Last year was probably the most difficult year we have experienced for many years in dealing in the Far East."
In an attempt to find an alternative, N Brown held an away-day in Leicester for more than 50 UK-based suppliers and is in talks with 30 of those, examining the quality and quantity of what they might be able to produce. Some of those also have facilities in near-Europe countries such as Morocco and Turkey, which might offer an alternative to the Far East.
Playing catch up
N Brown's need to investigate suppliers based less than 100 miles from its head office highlights the problem for a new generation of supply chain managers in finding suitable sources of production in a much depleted UK manufacturing industry. Companies will need to build new relationships as well as expertise in sourcing components and fabrics because the back-up infrastructure ubiquitous in countries such as China now barely exists in the UK.
Supply chain managers will also have to examine product ranges carefully to identify how to divide up sourcing to get the most benefit. Certain categories, such as high fashion, knitwear or hosiery are much more suited to UK production than technical, labour intensive items such as bras or jackets.
Fashion retailers from River Island to New Look have been making high fashion ranges and repeat orders in the UK and relatively nearby countries such as Turkey for some time because of the benefits of quick response. DIY retailers, meanwhile, source heavy goods such as plasterboard locally because of the inhibitive transport costs. Fragile, short-lived product such as plants are also likely to be bought in the UK. As margin differences narrow, analysis may reveal new product areas that make sense.
Braithwaite says: "Retailers will need to go through a structured review process and identify where they can reach out and find local capacity. Then there will be a challenge to negotiate the right sort of deals."
Supply chain managers will have to support that with better analytical and negotiation skills, while supply chain teams will need to work closely with sales and operations teams to ensure the implications of buying closer to home and from a broader array of sources are fully understood throughout the business."This is a new game and buying and merchandising teams haven't had to play it before," Braithwaite says.
Short agrees. N Brown has teamed up with Manchester University to study the total cost implications of sourcing in the UK or Europe and surrounding countries for a selection of products against buying in the Far East. "I can see us increasingly having dual and triple sourcing for products and we will have to do analysis to make sure we are making the right decision. We will need a lot more information than we have had in the past. Buyers have been too easily swayed by the cost price but we have to look at net margin rather than intake margin."
Nevertheless, he admits opportunities are limited. N Brown currently makes less than 5% of its clothing in the UK and Short makes clear any expansion could only work for certain categories such as knitwear, simple jersey tops and high fashion garments. Shop Direct, meanwhile, only sources about 1% of its clothing in the UK at present. It is planning a significant increase for autumn/winter but even then it will still only amount to about 6%.
M&S has been touted as a potential returnee to UK sourcing. Its head of UK sourcing for clothing and home Garry Gordon says it is open to opportunities. It does source some clothing here, particularly in hosiery, and has a significant UK homeware sourcing operation including an eco furniture factory in Wales. However, he sums up the view of many high street retailers: "We are not seeing a shift in production back to the UK in any significant numbers. The clothing industry is a global industry with a global supply base."
For most product, the margin gains still make sourcing abroad worthwhile and a greater swing towards the UK is likely to face significant capacity issues. Braithwaite says: "There isn't the local capacity and finding suppliers or distributors who are prepared to take a risk is a challenge." What's more, those manufacturers that have capacity will need reassurance of an ongoing relationship if they are to be persuaded to increase volume and lower prices, particularly at a time when the weak pound is driving demand from Europe.
Short says N Brown might consider helping to finance the development of a supplier if it found the right partner with which it could build a long-term relationship. "I think there will need to be Government support to get the skill set in place in the UK," he notes. Given the Government's budget issues, any support is likely to be some way away.
Got a supply chain initiative that's worth shouting about? There's still time to enter the new Ligentia Retail Week Supply Chain Awards. The closing date has been extended to May 27. Find out more and enter online at Retailweeksupplychainawards.co.uk