Retail in the old days used to be so much simpler. Location, location, location was a guiding mantra and chains raced to grab the best sites on the best high streets and top malls and parks.
Today the store may retain its pre-eminence, but the rise of ecommerce and multichannel shopping is radically transforming industry dynamics.
When the sofa is a prime point of sale, the warehouse is increasingly usurping the role of the shop.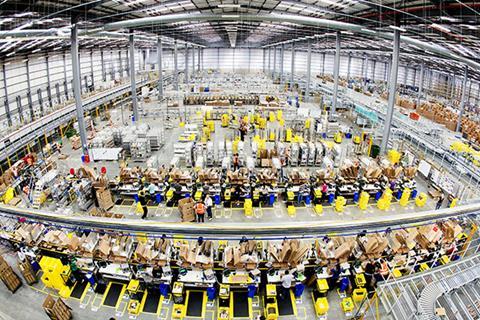 That was clear in the most recent results of Intu, owner of shopping centres such as Lakeside and Metrocentre, and Segro, a warehousing specialist that counts many retailers among its customers.
Last month, as each posted results, Intu's shopping centre portfolio's valuation slid 6%, while Segro's warehouse estate climbed by almost the same amount.
The idea that warehouses are the new shops was reinforced by reports that Amazon may make a play for stores being shut by Homebase to expand its delivery network and help facilitate speedy fulfilment.
Andy Gulliford, Segro chief operating officer, says: "What online has done is shatter [the traditional warehouse-to-store] supply chain because it's entirely demand led. You need to gets lots of smaller things to different places, often within a time constraint."
Charlie Pool, founder of Stowga, a warehouse-on-demand start-up service, observes: "When you buy something online it comes from a warehouse and not a shop. The demand for retail property has declined while demand for warehousing has increased."
Big sheds and small hubs
The growth in warehouse demand is evident in property investment management specialist JLL's latest data on logistics space.
Occupier take-up of top grade logistic space was 12.3m sq ft in the first half of this year – a 90% increase versus the second half of last year and 38% up on the comparable period in 2017.
Online retailers accounted for 34% of demand – logistics companies were number one and spoke for 38% of demand – and distribution rents were expected to increase 3.4% this year.
Two big trends are driving this demand – giant centres that can support national and regional capabilities and, ever-more important, smaller hubs that support last-mile delivery. The former often supports the latter.
John Lewis' investment at Magna Park near Milton Keynes is a prime example of investment in a giant centre. The retailer opened two new distribution centres at its campus there in 2016, following years of planning and investment of £150m. The warehouses should help John Lewis grow its online sales, which are expected to make up 50% of total revenue next year.
And online-only retailer Shop Direct is creating an automated, 500,000 sq ft distribution-and-returns centre at Segro's East Midlands Gateway, exiting existing warehouses at the potential cost of 2,000 jobs.
The retailer said when it revealed its plans in April that "to continue to meet customer demand, the business now needs a new, purpose-built and automated facility in a central, well-connected location, that can accommodate all one-man fulfilment and returns operations on one site, and that provides room for continued expansion".
Such big distribution centres are located not just for good transportation, by air and rail as well as road, but good power supply, reflecting the growing importance of automation, and good labour supply – still essential despite the rise of the robot.
At the other end of the warehousing spectrum, urbanisation is accelerating the need for smaller warehouses that can fulfil last-mile orders.
The demand for new housing in urban locations is bringing problems from a retail distribution perspective – one reason, perhaps, why Amazon is eyeing Homebase stores.
Gulliford says: "On the supply side, the urban locations are more difficult than national and regional. There's less than six months' supply in some submarkets. Land is very hard to come by and in urban areas there's displacement for residential."
Delivery deserts
That raises the prospect of a 21st century equivalent of the food deserts of the past. This time, rather than communities being cut off from supermarkets, they may face lack of access to the delivery services now seen as the norm, such as speedy delivery.
"We need a balance, otherwise you'll have all these homes without the supply infrastructure," warns Gulliford.
The JLL data shows, there is no sign of a slowdown in demand. Along with Amazon, which according to JLL industrial and logistics research director Jon Sleeman spoke for about 25% of warehouse demand last year and is "still pretty acquisitive" (it is taking 500,000 sq ft at East Midlands Gateway), discounters such as Aldi and Lidl are also building their warehouse capacity.
JLL associate director Tessa English says speculative development is on the up and there is about 6.6 million sq ft under construction.
The high level of demand is one area where Pool sees an opportunity. Stowga, dubbed the 'Airbnb of the warehouses world', enables retailers to scale up or down, depending upon their needs at any time.
Pool points to the growth of specialist educational supplier Pi-top, which has gone from 20 pallets to an entire warehouse, and says the idea of using temporary space is drawing increasing interest from established retailers.
It is evident in many areas of property, he points out: "Now everything is about pace, the need to move fast to be able to compete. We've seen this in other parts of property, like offices with WeWork."
That flexibility can be especially useful during peak periods such as Black Friday and Christmas. Pool says: "The traditional thinking is that warehousing is very long term.
"Yet what we're seeing is that people are shifting away from this idea that it needs to be the long fixed cost of a lease to something more flexible like other parts of the supply chain, like trucks and delivery scooters."
It also gives retailers, he points out, the opportunity to make money from any underused space of their own. Asda has rented out its unused warehouse space with Stowga, turning a cost into a source of revenue.
Whether on a temporary or permanent basis, warehouses look likely to remain in demand just like the best store premises on the high streets of old.
Sleeman says: "There's been greater awareness of the importance of the supply chain to competitive advantage. It's the bit that makes retail work, so they have to get it right."
While the warehouse may never quite replace the shop, for the consumer the two are increasingly interchangeable.
Sleeman concludes: "People talk about on-shelf availability – you only have that if you have a good distribution network."
Location, location, location is taking on a new meaning as the revolution in retail unfolds.