Work to bring a host of retail units to London's iconic Centre Point is now underway.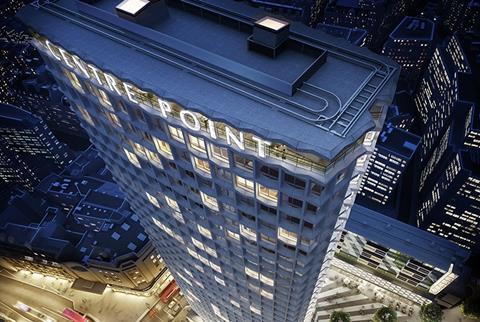 Developers have today started work on the Grade II listed building, which they say will create a new retail and restaurant "hub" in the city.
Property development and investment company Almacantar are transforming the Oxford Street landmark with 41,780 sq ft of retail and restaurant space.
Retail outlets, restaurants, bistros and open space will be built at lower levels and inside the bridge link – a walkway that will connect Centre Point tower to Centre Point House.
The regeneration, which also includes 82 residential flats and 13 affordable homes, will feature a new public piazza and an open air terrace overlooking New Oxford Street.
The route to Covent Garden from Centre Point will also become pedestrianised, with developers aiming to make Centre Point "the natural hub" between Soho, Covent Garden, Bloomsbury and Fitzrovia.
Almacantar development director Kathrin Hersel said: "The start of construction at Centre Point is a pivotal moment for a scheme which has been more than three years in the making.
"The project will breathe new life into this landmark, giving it a sustainable and exciting future for the benefit of all Londoners and visitors to the capital.
"The two and half-year build programme will come to fruition in time for the arrival of the new Crossrail station at Tottenham Court Road and we are delighted to be able to play an important role in accelerating the rebirth of this central London hub."
Developed by property tycoon Harry Hyams in 1966, Centre point will be wrapped in artwork by global fashion and design company Eley Kishimoto during the development, which contractor Brookfield Multiplex is expected to finish in the second quarter of 2017.