Over the past 12 months a lot has happened in retail, and the changes are characterised by Retail Week's ranking of the top 25 UK stores by design.
Click on the company names below to jump to the corresponding description.
The number-one slot goes to Apple – not because it has a new store, but owing to the fact that now the wraps are off its Regent Street flagship, following a protracted period in which it was being refurbished and during which much of it was closed, it is a thing of beauty.
The outcome is a chart-topper, but it is worth pointing out that of the 25 shops that have made the grade, 12 are new entrants, which does point to a sector in flux and in which retailers are busy honing their stores or entering new markets.
It is also worth commenting that where there has been substantial upward movements of stores that were already on the list, such as Liberty, it is because they have completely reinvigorated a store interior.
George MacDonald's view
"While retail has become more complex than ever, and effective deployment of technology and data play an increasingly central role, the bricks-and-mortar shop remains at the heart of the industry.
"It's ironic that tech giant Apple has earned a reputation for stores – now a bit pretentiously labelled 'town squares – equal to that for its ground-breaking innovations.
"Having disrupted what people buy through services such as music streaming, and how they buy through smartphones, Apple is setting new in-store standards.
"It's not the only tech powerhouse to see value in shops, as shown by Amazon's acquisition of Whole Foods.
"The onus is on more traditional retailers to make the most of technological opportunity to enhance their stores in the same way the digital giants are using branch networks to complement their technology."
Let us know what you think of the list by commenting below, or using the hashtag #TopoftheShops on social media.
1. Apple, Regent Street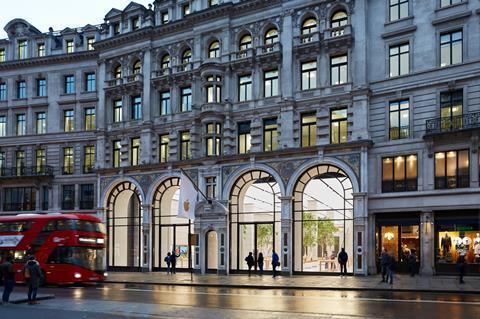 Stores from the Californian purveyor of tech tend to be things of beauty, and the Regent Street flagship is no exception.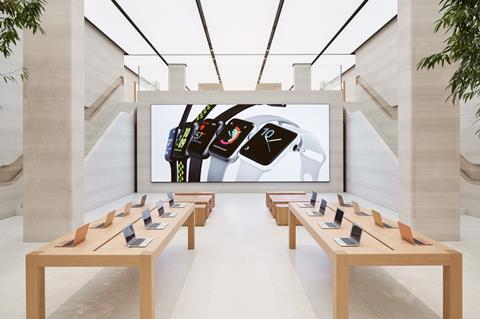 Refurbished last year, this one epitomises the retailer's Town Square concept, complete with chairs and potted trees, but is sufficiently big in scale to make it a lot more than a standard large Apple store.
It benefits, of course, from being in a grand Regent Street building, but within the interior has been completely remodeled.
Now that it is up and running following a long period of closure in 2016, it merits the prime position in this list.
2. Selfridges, Oxford Street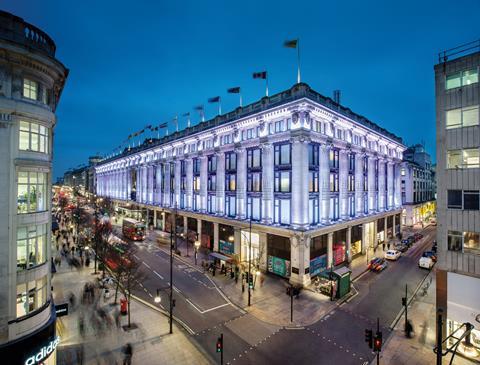 Glamour, innovation and a sense of place. All this and more are the reasons for Selfridges being once more among the best shops in the UK.
Whether it's windows celebrating Shakespeare's 400th birthday or the recent addition of a bag and accessories hall, there is always something to make a repeat visit worthwhile, which is probably the reason that it continues to be a magnet for locals and tourists in central London.
3. Topshop, Oxford Circus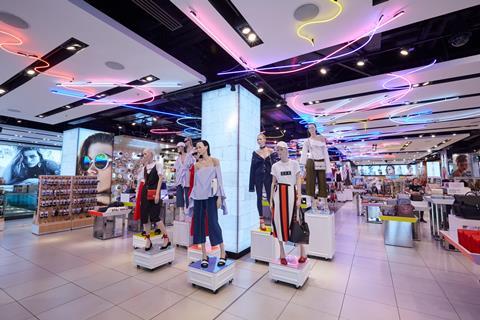 "Fashion central", as it is known by the modish crowd, is a multi-floor edifice that has a basement, a sub-basement and then a series of floors dedicated to style.
The point about Topshop is that while it may appear, from time to time, vaguely chaotic, it is in a constant state of flux – making it worthy of repeat visits by the fashion pack in search of something new.
In terms of visual merchandising, the windows alone make this one worth a visit, as does the store layout, where each floor feels almost completely different.
4. Harrods, Brompton Road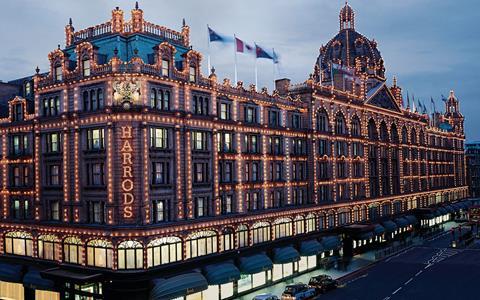 As Europe's largest department store, Harrods is an icon for the sector and a historic London landmark.
The neo-classical French and Queen Anne Baroque-style building undergoes almost continual reinvention as it keeps pace with the changing face of retail. There is almost nothing about this store that is not opulent, from the world-renowned food halls, to the fine jewellery rooms.
For shoppers, it is often a case of selecting an area to explore in detail, as the store is almost too large to be digested at a single visit.
5. John Lewis, Oxford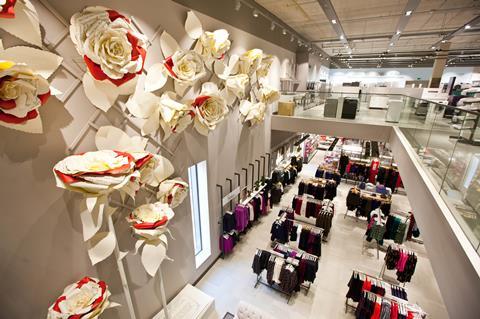 Middle England's favourite department chain has branded this newly opened south Oxford outpost as its first 'experience store'.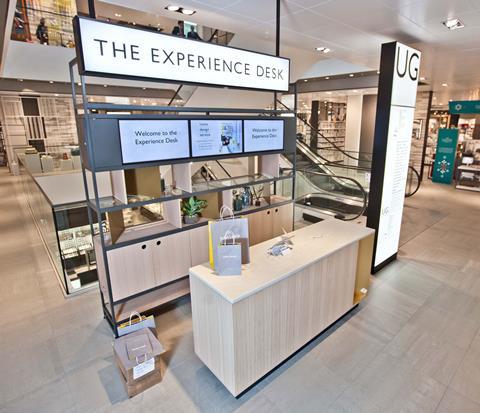 Practically, this means an 'experience desk' on the upper ground floor where shoppers can book treatments, workshops and assistance from John Lewis staff as they go about the serious business of spending (much) longer in a shop.
Just as importantly, the themed visual merchandising that is found throughout the store makes this an interesting one to visit and lends character to each of the three floors.
6. Liberty, Great Marlborough Street, London

Opened in the 19th century, Liberty remains a retail icon with a loyal UK following and a very healthy level of recognition internationally.
Its size has flexed over the past decade and it lost its Regent Street frontage in the past decade, but it has just emerged from a store-wide makeover, reasserting its prominent position as the Arts and Crafts department store beacon in London.
It remains a department store beacon for British design and continues to be a West End launchpad for new talent, as well as existing big names. Its substantial back catalogue of Liberty prints, many of which were created for the store by Arts and Crafts hero William Morris, ensure its continued relevance.
The building itself is unique.
7. Harvey Nichols, Knightsbridge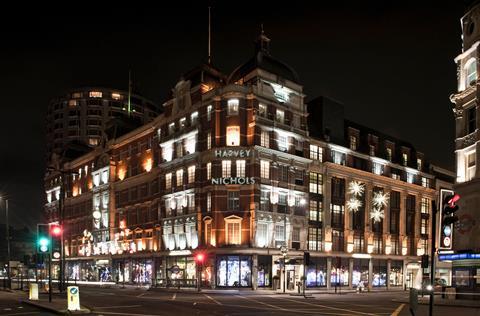 The luxury department store chain's flagship is now benefiting from a series of makeovers that have been taking place on a floor-by floor basis, with the basement menswear department and beauty on the ground floor being the prime example of the process in action.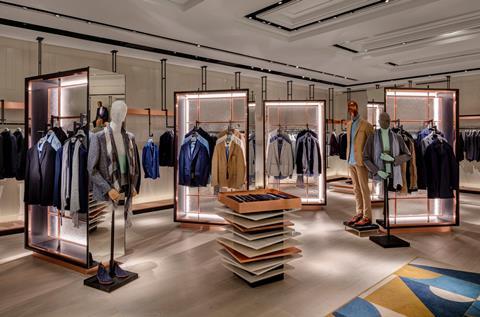 For Knightsbridge fashionistas, the outcome is a store that is once more on the circuit, a store that is a destination when looking for the latest, and probably most expensive, clothing. This remains a work in progress.
8. H&M, Oxford Circus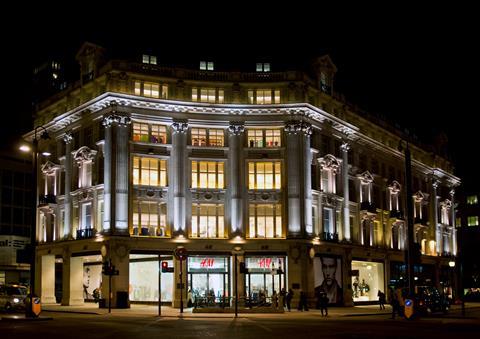 Its location immediately confers flagship status on this multi-level H&M store, but its semi-discrete beauty store and ranges aimed at different lifestyles, with layouts and equipment to reinforce this, make this a shop with broad appeal.
It is also noteworthy for the constantly changing windows, which make very effective use of digital media to promote its fashion credentials.
Frequently used as the launchpad for the retailer's designer collaborations, this one stands up to the severe competition from Topshop, directly across the road.
9. Uniqlo, Oxford Street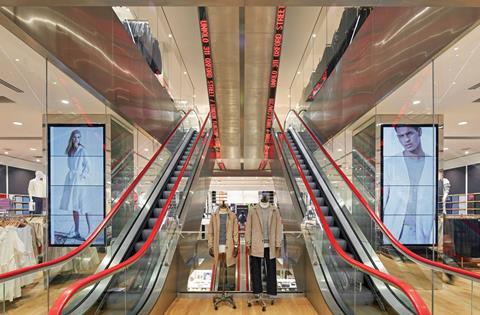 Close a store for a year, add an extra two floors and create two distinct shops under one roof and you have Uniqlo on Oxford Street.
This is the Japanese fashion retailer's European flagship and as well as the usual signature elements of its other 'global' stores, there is a loft-style space on the top two floors that feels as if you have entered another shop, although the stock is the same.
This store is about taking a design template and using it to create difference and to make it an Oxford Street one-off.
10. Arket, Long Acre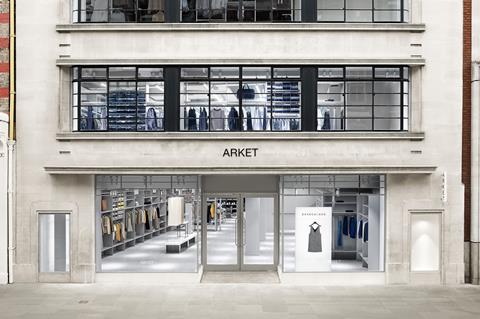 The Arket in Covent Garden was actually the second store that H&M opted to open, a fortnight after the global launch of the fascia on Regent Street. It has an overtly 'designed' feel to its interior, owing to the fact that it has three floors, giving breathing space for all of the brand's elements.
The store itself is housed in an Art Deco building on Long Acre, and the simple black metal-framed windows lend a pared-back minimalist feel to the store, an idea which is continued when the shopper steps inside.
11. Primark, Tottenham Court Road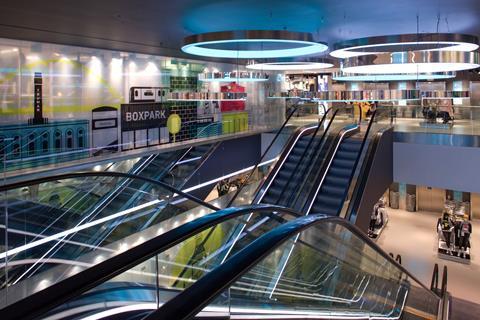 This is the second Oxford Street 'flagship' for the discount retailer, roughly a mile along the thoroughfare from the Marble Arch store.
Located opposite Tottenham Court Road Tube station, this store takes value fashion and pulls off the trick, as do most of the retailer's newer stores, of making it feel not only acceptable but desirable.
It does so through a heady mix of large-format graphics, a massive video screen on the ground floor and large amounts of natural daylight on every level.
12. Tesco, Llansamlet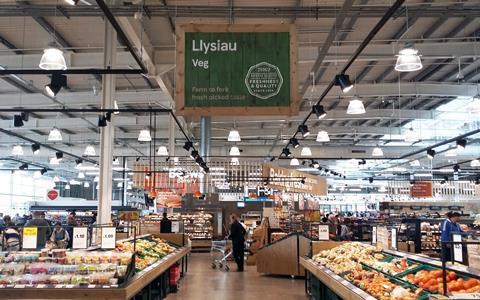 Located in the Swansea hinterland, this large store feels more like a Continental hypermarket that has had dealings perhaps with Whole Food Market.
As such, departments such as meat, fish and bakery are in the mid-shop, rather than arranged in a line along the back wall, which makes this an unusual and considerably more dynamic hypermarket than almost any other in the UK.
It also has a simple and highly intuitive signage system that makes the job of finding your way around more straightforward than might initially be imagined.
13. Missguided, Bluewater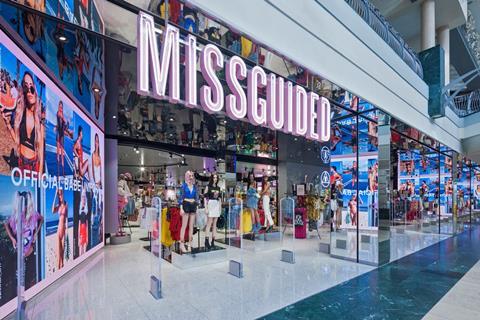 Making the leap from online fashion retailer to physical, bricks-and-mortar shop operator is difficult, but the Missguided store in Bluewater is an object lesson in how to go about this.
Designed to look like a webpage brought to life, this is a store that is an assault on the senses with music, light-box messaging that runs from floor to ceiling at the front of the store and merchandise that demands to be touched.
There is a mildly risqué feel to the interior, entirely intentional, that helps to foster the sense of a rebel brand.
14. Jigsaw, King's Cross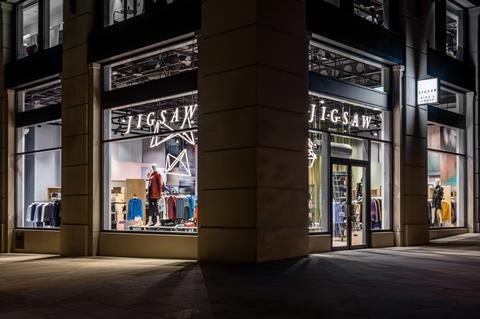 As part of the emerging shopping scheme that is taking shape around King's Cross and St. Pancras stations, this store immediately benefits from high traffic.
It rewards those passing it with a highly flexible interior that uses coloured scaffolding, white neon tubes and no obvious wayfinding layout to guide shoppers around its single floor.
Instead, this is a fashion voyage of discovery, in which Jigsaw's customers can take a free-form approach to the business of inspecting the offer.
15. Waitrose, King's Cross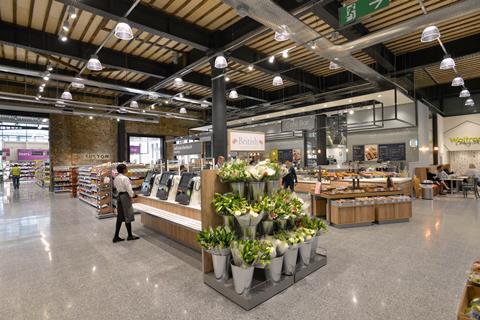 Putting a 24,000 sq ft supermarket in central London is unusual, given the constraints of cost versus return on investment. Doing this in a Victorian-era, listed railway depot building makes the Waitrose store in London's King's Cross a unique accomplishment.
With features such as a semi-discrete wine bar and counters that place a heavy emphasis on snacking, this is a large store that sets its cap at the pedestrian shopper (there is no car parking associated with the store) in this newly fashionable part of London.
16. Hamleys, Regent Street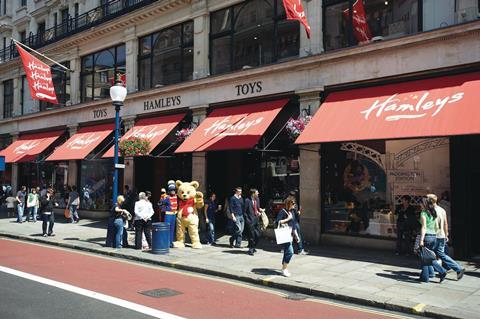 Hamleys has been around for more than two centuries, a toyshop that is a byword for its category worldwide, and is a destination in every sense of the word on Regent Street. Today the shop's floors are themed and one of the elements that sets it apart is the high degree of in-store interactivity and live demonstrations in most departments.
The windows are also noteworthy, acting as magnets in a way that few others can manage. Most shoppers with children arriving in London will, at some point, make a trip to this store.
17. Lush, Oxford Street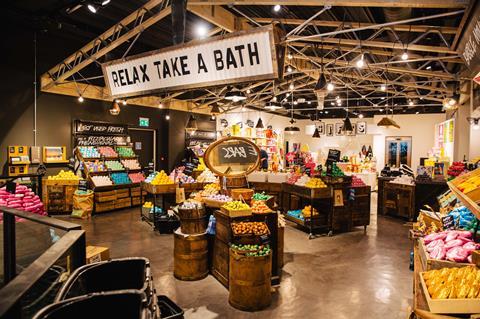 Opened in the spring of 2015, this is a three-floor flagship for the cosmetics retailer most famous for its bath bombs.
The underlying intention here is to create a destination that will deliver a range of experiences from spa treatments in the basement to a Lush "party" on the first floor.
The ground floor features bath bombs of various compositions in baskets, on shelves and stacked high on tables, providing a feast of colour for the eyes and scents for the nose. With heavy use of recycled materials for the fit-out, the store manages to maintain the ethical stance for which Lush is known.
18. Habitat, Tottenham Court Road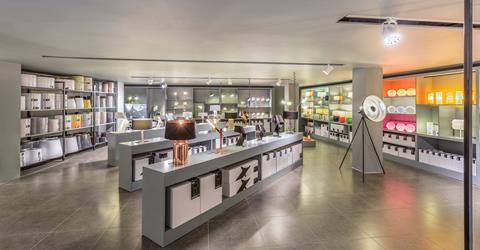 As one of the three remaining standalone Habitat stores, there is a sense almost of the one-off about this store, a feeling that is accentuated by a store-wide makeover that has been conducted over the past couple of years.
The outcome is a two-floor emporium that sells 'design' from an interior in which design and architecture are to the fore.
Everything looks modern, casual and relaxed, but this belies the fact that what confronts the shopper is a highly organised piece of visual merchandising.
19. Berry Bros & Rudd, St James's
London's oldest wine merchant moved shop this year and reopened in larger premises, which although located in a grand address has a democratic feel about it.
This means staff recommendations for the bottles on the mid-shop wooden display equipment, a low-key approach to merchandising and a ceiling that has been formed by deconstructing French wine barrels.
For those for whom money is no object, there is of course a climate-controlled Fine Wine room at the back of the shop, but in total this store is about making wine accessible to all.
20. Debenhams, Stevenage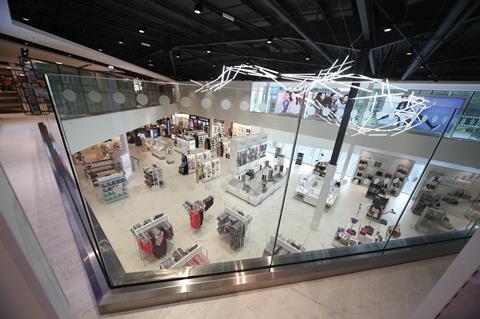 This may not be one of chief executive Sergio Bucher's 'stores of the future', but it does feel a considerable distance from a standard Debenhams.
With two floors and a central atrium that features coloured neon tube sculptures, this is an engaging environment that hints at luxury and gifting, without being flash.
Designed in-house, the store does provide a sense of future direction as far as the department store group is concerned. It also successfully melds leisure with retailing.
21. Smeg, Regent Street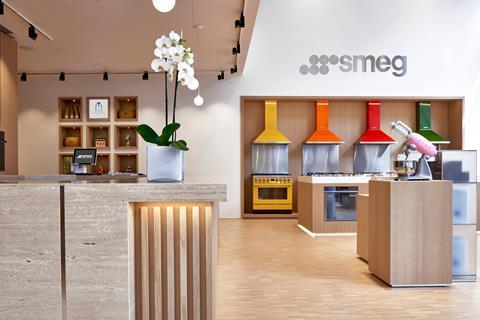 A flagship for the posh white goods brand set across three floors and taking a category that is normally a somewhat mundane part of retail and making it into a piece of pure theatre.
This is done with everything from the front of Fiat 500s turned into freezers for the window display to upright freezers handpainted by Dolce & Gabbana, and on to a lecture theatre in the basement where cooking lessons and Smeg technology demonstrations take place.
Smeg is at the top end of the white goods pyramid and this store serves to confirm that position.
22. Clarks, Manchester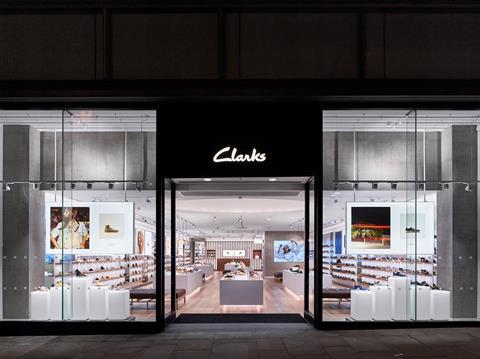 'Sensible shoes' used to be the cry when the name Clarks was mentioned, but this Manchester flagship shows just how far the brand and retailer has moved from this view.
With mid-shop internally lit display boxes, screens with promotional videos around the perimeter and a dramatically lit cash desk at the back, this is a highly contemporary store and one that is intended to show the path that the Somerset-based concern is taking.
As an entity, it also happens to be a store in which shoppers will feel at ease spending time.
23. Rapha, Brewer Street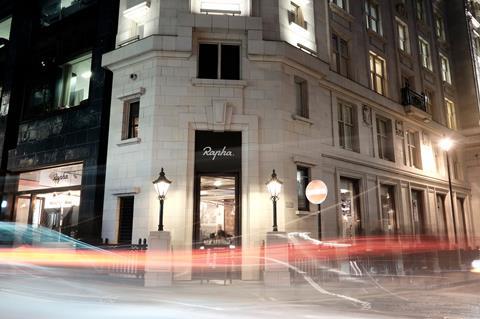 This is the original store-cum-café for fans of cyclewear from up-scale brand Rapha. This is a store in which the faithful can buy winsome garments that will, presumably, make them cycle more quickly. But rather more to the point, it is a gathering point for cyclists for whom money is a minor irritation and who enjoy the idea of cycling as part of a peleton.
This is the underlying notion of the 'Club'. When it opened, the store was split, roughly 50/50 between the retail element and a café where those who had gone on a ride with the Rapha Club could relax with a coffee and a cake or, in extremis, a beer.
As far as the design was concerned, the interior had been modeled around the cyclist's needs. This meant a vertical bike rack just inside the door, perimeter rails and shelving for the merchandise while at the rear a vintage Citroen van which had had its bottom removed and the back doors replaced with a curtain to form a fitting room – all of which is on brand for the road-racing enthusiast.
It is the combination with the café that sets this store apart however. A series of tables and chairs are fronted by a good-looking coffee bar, but it is the TV monitors above this that make this a cycle café, rather than a café. These show cycle road races, live and recorded, and as Rapha founder Simon Mottram said, prior to the opening: "I don't really care if they (shoppers) come in, spend £2.00 and then stay a couple of hours. They will come back."
His words were prescient. For well-heeled cyclists this remains one of the go-to destinations, but it is also sought out by those in search of somewhere different to hold impromptu business meetings (much of the UK music, advertising and film industry is based in Soho) which has meant that the café has doubled in size since opening. This remains an object lesson in designing a store that starts with the target customer and works back.
24. John Bell & Croyden, London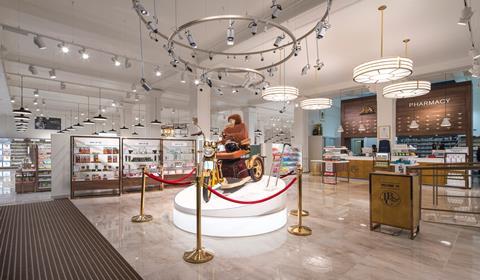 As a pharmacy by Royal appointment, you'd expect this sprawling store to look and feel special, and with an area just inside the entrance that features a central display point, metal-framed cabinets and almost every form of medical aid that might be available, you will not be disappointed.
The store was refurbished and remodeled around 18 months ago and the result is a shop that makes the business of walking around a pharmacy something of a pleasure, rather than the usual distress purchase.
25. Paperchase, Glasgow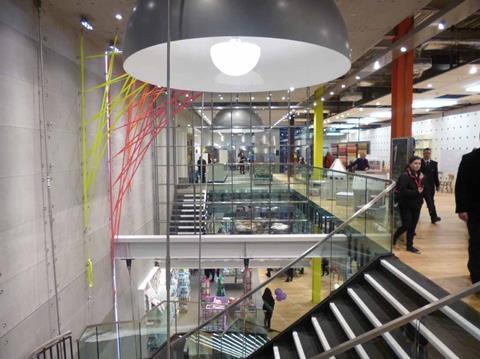 Stationer Paperchase opened its store at the top end of Glasgow's Buchanan Street in 2013. This is a two-floor branch and while, at 15,000 sq ft, it is very much smaller than Paperchase's larger Tottenham Court Road outpost, it has all the trappings that shoppers expect of a retail show-pony.
From the large glass frontage, designed to look like an envelope, to the modern take on a Palladian staircase on the left-hand side of the mid-shop, this may be "design-neutral", as the design company that created the store blueprint claims, but it is hard not to admire what has been done.