Traditional retailers and online players are increasingly turning to pop-up shops to create awareness of their brands.
Pop-ups allow retailers – online or offline – to create a buzz without a significant outlay.
The UK pop-up market was estimated to be worth £2.3bn a year in 2015, according to a report by EE and the Centre for Economics and Business Research.
Alice Ratcliffe, head of brand at Appear Here, an online marketplace for short-term space, says they are a fantastic way to drive customer engagement through high-profile events.
"It gives brands the flexibility to do something creative and test something a bit more risky," she says.
This year has brought a range of pop-up innovations. Here, we highlight some of the best.
Greggs – Gregory and Gregory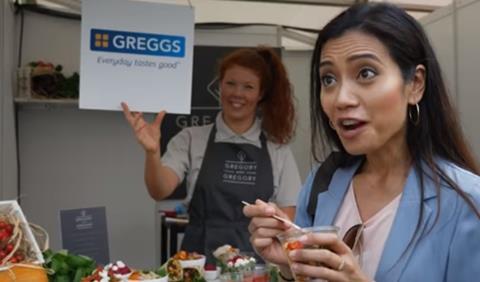 In May, bakery chain Greggs went to the Foodie Festival undercover with a fake pop-up artisan deli called Gregory and Gregory.
The goods sold were from Greggs' store shelves and included salads, pasta, rice dishes and vegan wraps.
Food lovers at the event were filmed praising the food and then reacting to the big reveal about the decidedly un-hipster origin of the cuisine.
As a PR stunt it was a spectacular success and was featured in The Sun, The Daily Star and the Daily Record, among others.
It also performed strongly on social media and appears to have helped shape the perception of the brand.
As one Gregory and Gregory diner said: "You wouldn't normally find me in a Greggs but I think what they've done with these new salads is brilliant.
"I'll certainly be popping in there for lunch in future."
Google – Curiosity Rooms
This month Google unveiled its Piccadilly-based pop-up shop Curiosity Rooms, which will host a variety of workshops and events during its five-week tenure.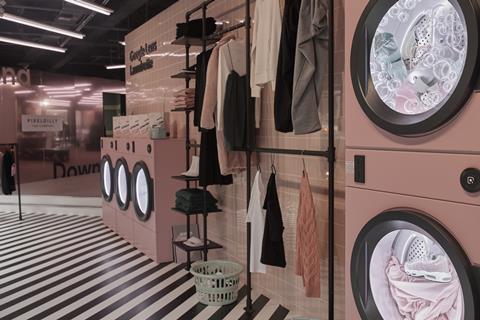 The pop-up shop was launched to highlight the tech company's latest smartphone, the Google Pixel 3, alongside its Google Home products.
Visitors will be able to buy the phone and Google Home products from retail partners Carphone Warehouse and Currys PC World.
The space showcases the features of its latest smartphone on the ground floor with a series of interactive displays, including a selfie booth and a slide that takes photos of shoppers as they descend, to demonstrate the phone's photographic prowess.
Over the five weeks, visitors will be able to watch talks, live podcasts and join in interactive events.
The store will also host other businesses ranging from coffee shops to fashion labels on a weekly basis.
The Fragrance Shop – Sniff Bars
This week The Fragrance Shop launched pop-up Sniff Bars in high-footfall locations.
The bars allow customers to sample and purchase products online, and the first were in Trinity Leeds and Birmingham Grand Central.
Each bar sells products from brands including Bulgari and Calvin Klein.
Fragrance Shop chief executive Sanjay Vadera said the idea had been tried out at a charity gala and was well received.
The retailer plans to launch more Sniff Bars in high-footfall areas and host events in partnership with fragrance brands.
Amazon – Baker Street
In October, Amazon opened its first British fashion store in London's Baker Street.
Much like Google, the retailer focused on gathering shoppers' views on its ranges and prices during the week-long event.
The timetable included denim customisation sessions by Pepe Jeans, beauty trend discussions with Vogue beauty and lifestyle director Jessica Diner and live music from Tom Grennan and Nao.
"This is a big learning experience for us to understand how Amazon fashion translates in physical retail"

Amazon UK spokeswoman
An Amazon UK spokeswoman said: "This is a big learning experience for us to understand how Amazon fashion translates in physical retail."
Shoppers were able to buy goods to take home or order for home delivery via the app and in-store tablets.
Last year, Amazon opened a 'guerilla store' in London for Black Friday, where it showcased bestsellers in an environment recreating rooms in the home.
Notonthehighstreet – Christmas gifts
Notonthehighstreet has launched two pop-ups in central London locations in the run-up to Christmas.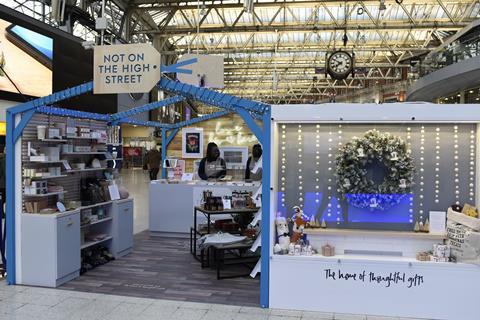 The online marketplace showcased goods from more than 200 sellers at London's Waterloo Station and Westfield London.
The Westfield pop-up also allowed shoppers to make personalised Christmas gifts.
Speaking at the November launch, Ella d'Amato, chief commercial and marketing officer, said: "We hope it will help our customers to understand the work of the 5,000 creative small businesses that sell through Notonthehighstreet by bringing their stories to life and demonstrating their passion for creativity in a way which it can be hard to appreciate when you're browsing online."
Superdrug – vegan beauty
Superdrug opened a pop-up shop in London's Shoreditch Boxpark to capitalise on the rapidly growing vegan beauty trend.
The health and beauty retailer's vegan pop-up shop opened in March for three months and sold products across makeup, skincare and men's grooming categories.
Superdrug said the rising sales of vegan beauty products has been largely driven by non-vegan shoppers who "choose vegan beauty products for ethical and quality reasons".
Commercial director Simon Comins said: "Our technical team is constantly challenging all of our suppliers to offer products that are suitable for vegans."
The Co-op – Festivals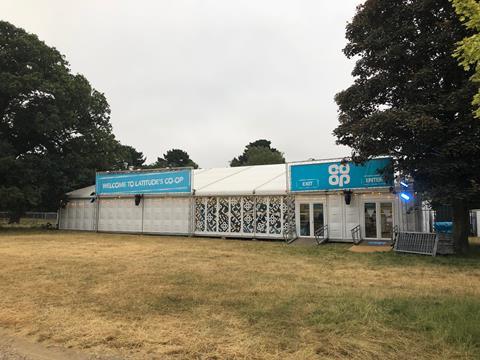 The Co-op became the first UK food retailer to have a supermarket at four major summer music festivals.
The retailer worked with Live Nation to sell festival essentials to revellers at Download, Latitude, Reading and Leeds.
"Co-op is all about being close to the customer and it doesn't get much closer than being right outside your tent"

Amanda Jennings, The Co-op
Amanda Jennings, director of marketing communications, said: "This industry-first deal puts Co-op at the heart of festival communities this summer. It shows our ambition to reach out to new and younger customers, providing essential and quality products.
"Co-op is all about being close to the customer and it doesn't get much closer than being right outside your tent."
The retailer supported the scheme with a comprehensive digital and social media campaign, alongside PR and experiential activities.
MADE51 – refugee crafts
Made51 is a forthcoming UNHCR (the UN Refugee Agency) pop-up selling artisan crafts made by refugees.
The London-based project – named after the 1951 Refugee Convention – is designed to help refugee artists achieve independence by creating a means to market their crafts worldwide, and ultimately build a better future for refugees.
UNHCR's Heidi Christ, who is overseeing the project, said: "In recent years the refugee crisis has been brought into deeper focus and, to many, this crisis invokes feelings of pity.
"Refugees do not need pity but opportunities to rebuild their lives and re-establish a sense of self.
"We hope to build a new model for ethical consumption that gives refugee artisans and local social enterprises access to global markets otherwise beyond their reach."
The pop-up will visit numerous sites in London, starting at WeWork in Devonshire Square in London next week.
It's not just retailers…

Appear Here's Alice Ratcliffe highlights two examples of effective pop-ups that were not run by conventional retailers – streaming service Netflix and dating site Match.
For the launch of sci-fi series Black Mirror, Netflix 'took over' Old Street station in London with posters featuring headlines taken from episode plots and an experiential surveillance monitoring room.
Match turned some of its eligible bachelors into 3D-printed dolls and put them on shelves at a store in Marylebone, London, to show shoppers the range of potential partners using the service.
Ratcliffe says: "As more and more businesses are competing online, brands realise it's cheaper to drive engagement through physical retail."
What's the future of pop-ups?
Ratcliffe thinks the popularity of pop-ups will continue to rise.
She says: "With the rise of online shopping, the transaction can happen anywhere most convenient for the audience.
"Retailers have to make them want to come along and meet the brand in person. These short-terms really play into that experience element.
"We have heard a lot about online killing the high street, but online brands are now going to the high street. It's exciting. High street retail is becoming campaignable for the first time. It's part of your media campaign.
"It's tailored and relevant to people in a certain area. You can book a space within minutes for a day or for a year, whatever is best for your brand."