Upmarket butcher Boucherie Grinder has tapped into the glamorous side meat buying in Montreal, offering a taste of something different.
Back in the day when there was a butcher on every high street, they were usually fairly mundane. A visit was a weekly essential for most people.
The good offices of the supermarkets have put paid to this however, and shops with large red-faced men in bloodstained white aprons are no longer in most towns.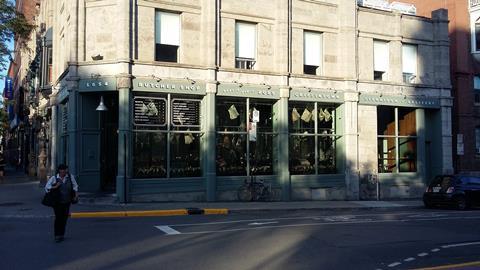 Across select neighbourhoods, in their place has come the designer butcher, and one of the world's best examples is in Montreal, Canada.
Opened in 2015, Boucherie Grinder is in the newly-fashionable Griffintown area – to the west of the city centre – and externally it looks like a slice of yesteryear with a washed, aqua-green wooden frontage.
The windows themselves are cold stores for large hunks of meat, softened by sprigs of rosemary.
Inside, a long wooden workbench and a massively extended butcher's block act as the counter, above which lines of copper-plated pendant lights tone well with the dark wood that has been used to cover the walls around much of the interior.
This is glamour butchery and has no place among the 'half a pound of beef mince' crowd. Instead, for occasion diners and, well, show-offs, this is a true meat buying experience.