Manchester's two major shopping destinations present a feast of Christmas visual merchandising.
In retail terms, Manchester always seems like two cities.
There's central Manchester, taking in the Arndale Centre, Exchange Square and the area around King Street.
And then there's the Trafford Centre, roughly four miles from the centre, functioning as a destination for those living in the towns that surround the city as much as for Mancunians.
Its 180,900 sq m big, making it almost a world to itself.
It is perfectly possible to visit the Trafford Centre and see more or less everything that you'd find on the high street, all while benefitting from the gold leaf-covered interior and easy parking.
And as Christmas shopping becomes a reality, retailers in both central Manchester and the Trafford Centre are decking the halls with window schemes and interiors aimed at pressing the Yuletide panic button for shoppers.
River Island, Trafford Centre and Manchester Arndale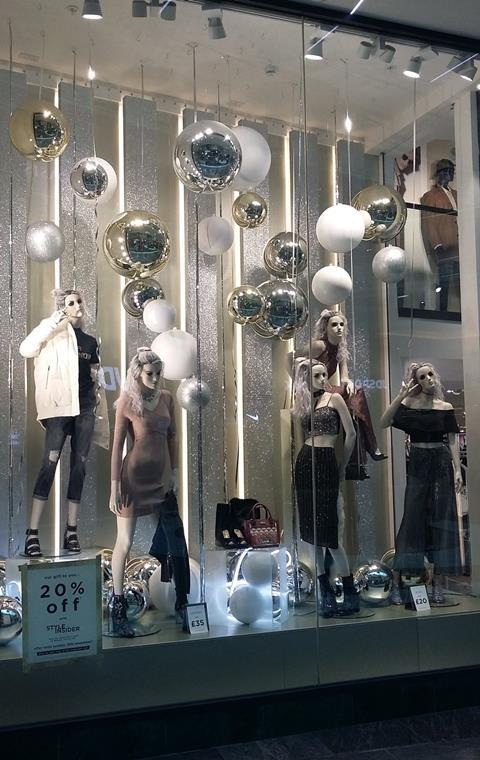 It's been a tough year, particularly if you happen to be in fashion.
The advent of Christmas is therefore as much about controlling costs as it is creating visually arresting windows.
Perhaps with this in mind, River Island has a scheme in the windows of its Trafford and Arndale stores that consists simply of large suspended silver and white balls set against a backdrop of hanging stripes that alternate between muted gold and silver.
More balls cover the window scheme's floor, as does a twisted white neon tube.
A bevy of party-clad mannequins is set amongst all of this and lighting is provided by the usual spotlights that are part of the River Island windows throughout the year.
This is a simple display, but its seasonal glitter is of a type that can be installed in almost any window shape.
It will have been relatively inexpensive compared to many rivals and yet succeeds in grabbing the eye.
Selfridges, Exchange Square and Trafford Centre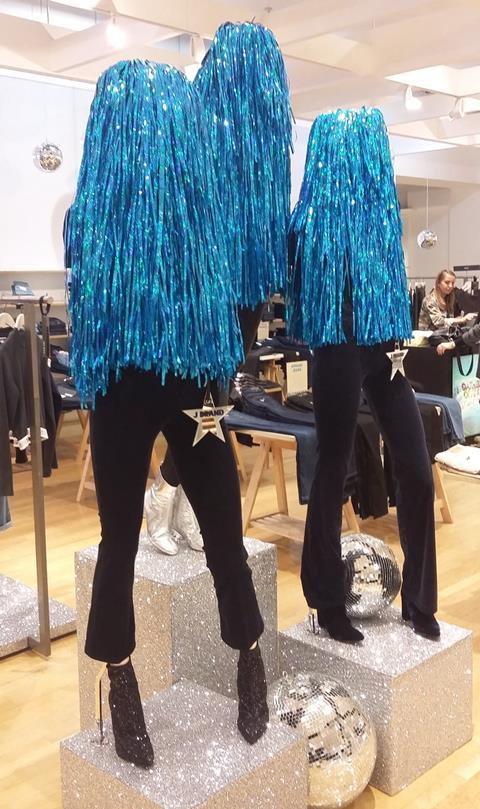 The reason for including both branches of the London-based department store is simple – each has its own distinct style.
The highlight of the Exchange Square store has to be the arcade-style entrance which on one side has an Alpine hut filled with characters enjoying a festive 'disco' and on the other a female mannequin clad in modish skiwear sitting on a gold-covered chairlift which is being viewed by a pair of pink penguins.
All of which would sound a mite surreal in tone, but this fades from view when set against the in-store visual merchandising tricks played in the Trafford Centre branch.
Here, suspended lower bodies wear jeans and glitter sneakers, while a pile of silver balls fill part of the perimeter in the Denim area on the lower floor.
Or there's the group of mannequins whose faces are obscured by long wigs composed of iridescent blue lametta.
Unlike the big chains, Selfridges has the luxury of being able to work on displays that are unique to each store, giving shoppers a reason to visit different branches.
Lindt, Manchester Arndale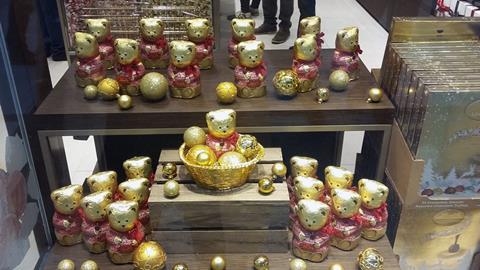 If it's Easter then it must be a gold bunny, and at Christmas it's a golden bear with a heart attached to a band round its neck.
Chocolate manufacturer Lindt has a standalone store in the Arndale Centre and makes the most of the power of repetition of the same article, both in the window and on the perimeter shelves that are located on the left-hand side of the shop.
A sign in the window also makes clear that if the shopper requires a personalised golden bear, this can be realised in-store.
Inevitably, there are chocolate Santas, part of the 'Festive Figures' promotion, and plenty of reindeer.
Although this is a small store with a very limited product range, it is one of the most obviously seasonal in the whole of the centre.
Phase Eight, Trafford Centre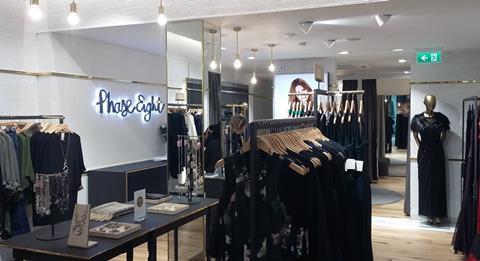 There is a row of smaller boutique-style shops along one of the Trafford Centre's many avenues and one of the shinier, newer looking stores on this thoroughfare is Phase Eight.
The store's refurb was completed by Itab UK a little over a month ago.
The product and equipment do the talking as far as being festive is concerned.
Practically, this means a store with a glass door that concertinas during business hours to allow views of the stock within.
The Phase Eight shopper looking for party frocks or seasonal ware is afforded views right to the back of this deep, narrow store and there is a lightness of touch about the perimeter fixturing which consists of suspended rails sprayed gunmetal grey.
The wooden timber floor and whitewashed brick walls add to the sense of a store that is restrained – more about Christmas drinks that party time.
The back of the shop is worth a mention too, with the grey theme continued with padded armchairs next to a small wooden coffee table outside the fitting rooms.
This is Christmas for a more mature audience.
Marks & Spencer Christmas Shop, Trafford Centre
This is not just any old Christmas pop-up store, this is the M&S Christmas Shop.
For the second year in a row the retailer has managed to find a unit in the Trafford Centre that it can sell Christmas gifts from.
The pop-up is some distance from the main store, which lies in a different part of the mall.
Big banners overhead announce 'gifts' and 'decorations', with plenty of shoppers underneath them on the day of visiting.
There is almost nothing about what has been done here that does not involve using standard M&S mid-shop and perimeter fixturing, but it is a measure of the efficacy of a temporary store in a high-traffic area that shoppers were pausing to look at the interior.
M&S is not without its problems currently, but this is a good idea, simply and effectively executed.
Pull & Bear, Trafford Centre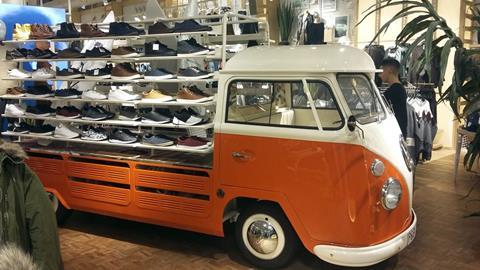 There are, of course, those that broadly eschew the glitz of Christmas and opt instead for displays that would be eye-catching at any time of year.
Among these, the recently-opened Pull & Bear store in the Trafford Centre makes little concession to Santa, opting instead for a modified VW camper van, complete with surfboards, that has been turned into a display vehicle for its shoe range.
There is, of course, little that is new about using motor vehicles in stores, but what has been done here has been conducted with a slickness that means it will certainly be inspected.
Pull & Bear is a store where Christmas is not high on the agenda in visual merchandising terms.
It perhaps proves that decking the halls may not always be the best route to ensuring that a fashion environment is relevant.