The new Jigsaw in London's St James's is quite unlike others in the retailer's portfolio.
Slick is not normally a word associated with retail in this country.
There may be a few operations that could be described as such, but not only are they thin on the ground, there is also the matter of whether they are appropriate to UK shoppers.
That might be the excuse for some pretty lacklustre city-centre store designs.
While many UK retailers might think that what they do is slick, a look at New York's Fifth Avenue would give a few clues as to how the term should really be applied.
Emporium of delights
Yet just occasionally, some slick stores do open in this country.
A recent example is the new Jigsaw St James's Emporium, located on the southern end of Regent Street, beyond Piccadilly Circus, in the area known as St James's.
A block on the east side of the street is now known as St James's Market, and the 3,500 sq ft Jigsaw is on its northern corner.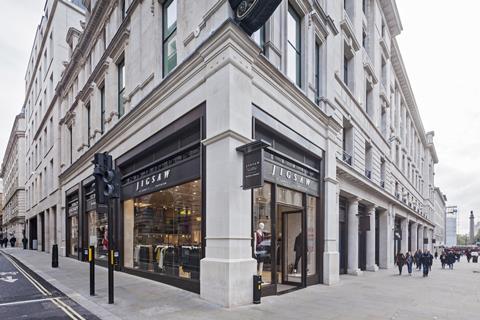 Peter Ruis, chief executive at Jigsaw, says that the St James's area is relatively new ground for retail.
"What's been interesting is that we've got shiny new shopping centres appearing, but there is a sense of it being the same as we've seen before," he says.
"Now people are coming to us with a vision and not such high rents. It's about being a bit less 'high street' and a bit more about experience."
Until recently, retail life in the area ended at Lilywhites, in Piccadilly Circus. Beyond there things get rather well-heeled and you get a sense that the tourist hordes haven't quite made it this far south.
"It's a question of fitting in locally"
This is perhaps why the design of this Jigsaw is a sharp contrast to the retailer's other 78 stores, despite every Jigsaw being different. It's a question of fitting in locally.
The store is also the first concrete evidence of a new retail axis in the West End that looks set to be very different in feel from the rest of this part of central London.
Cornering the market
Standing outside the store, it has a long, glazed frontage and an impressive row of windows along its side on Carlton Street.
It will call aspirational casualwear retailer Paul & Shark its neighbour when that store opens.
David Dalziel, creative director at Dalziel & Pow, the consultancy that worked on this project, says: "It's a good corner site and we were forced to keep the windows. The building is very much a response to the location."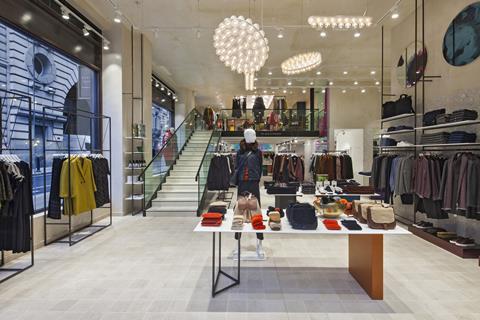 Ruis says that while this store is an attempt, internally and externally, to be "slicker" than other stores in the portfolio, this does not mean that it has the "coldness" that characterizes many outlets on New York's Fifth Avenue.
The first thing to notice is that the store actually has a remarkably plain shell.
Other than the huge amount of natural daylight, pre-fit out this would have been referred to as a 'unit'.
To this has been added a modestly-sized mezzanine with a staircase on the left-hand side leading up to it.
Having guests over
As Dalziel puts it, this is more a visual merchandising job than an architectural one.
"There are 25 guest brands in this store and all of them are at a higher price point than the Jigsaw offer"
As is the case in the other two 'Emporiums', in Guildford and on London's Duke Street, this store offers other brands alongside the Jigsaw range.
There are 25 guest brands in this store and all of them are at a higher price point than the Jigsaw offer.
They are also all displayed on the mezzanine floor, creating a semi-discrete shop-in-shop for those wishing to spend considerably more.
Merchandising touches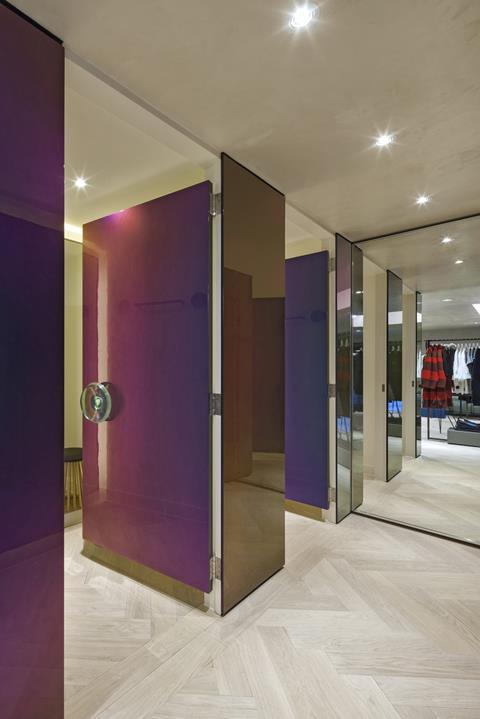 The real point about the store, however, is that it has been lifted by relatively simple pieces of furniture in the mid-shop (Jigsaw has a furniture collection, from Victorian to mid-century) and by the simple but high profile finishes around the perimeter.
The right-hand wall has circular mirrors, to which iridescent patterns have been applied – each is a "one-off", according to Dalziel.
The same is certainly true of the metallic film that has been applied to the acrylic wall panels that form the fitting rooms on the mezzanine.
The finish was applied by car brand TVR at its workshop in Whiteley in Hampshire and is identical to one of the colour options for its cars.
The flooring is noteworthy too. Dalziel points out the "small-scale" tiles on the ground floor that create a lower-key feel than if large terrazzo tiles were laid, while upstairs the floors are wooden.
Once again, this is about ensuring that there are two clearly different but complementary aspects to this shop.
The ground floor is home to womenswear and menswear, with a range of 'gifting' options hidden at the back of the shop.
"This is about ensuring that there are two clearly different but complementary aspects to this shop"
Unlike the Duke Street Emporium, there is no cafe – the focus is on clothing and there are many dining options locally.
Designer vibes
While this still feels like a Jigsaw in terms of it being a distinctly aspirational interior, it is very different from other branches.
Ruis says that plans are in place to open at least two more Emporiums and that there are locations that are under consideration, although nothing has been finalised as yet.
Meanwhile, £900,000 down the line, the new Jigsaw in St James's Market is indeed slick and appropriate to its location.
This is a chain that offers designer-style clothing and environments, without the price tag that normally accompanies such stores.
Jigsaw, St James's Market
Opened
October 20, 2016
Size
3,500 sq ft
Build and fitout
£900,000
Design
Dalziel & Pow
Highlight
Irridescent TVR fitting rooms
Ambience
Slick