EasyFoodstore has a very long road ahead of it – there is more to operating a shop that people will frequent than just low prices. 
Roll up, roll up! If you're a c-store owner that is. Imagine a cash and carry where you can buy your stock for 25p per unit, no matter what it is.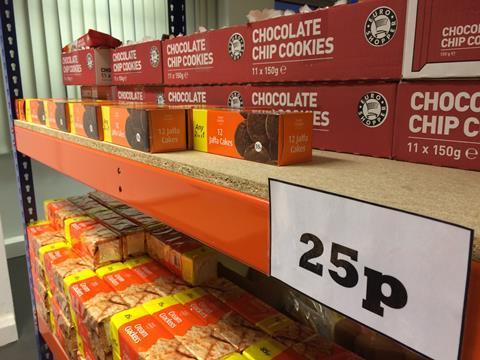 Sound good? Well possibly, but there are less than 100 SKUs available to buy and there's a real danger that the shelves may actually be empty when you get there.
Couple this with the fact that it's located in traffic trap Hanger Lane and perhaps heading to your usual supplier might not be such a bad idea after all.
For anyone with half an eye on what happens in the dizzy world of retail the name easyFoodstore will probably have come to mind by this point.
Grocery disruptor?
You may have read in certain quarters how Sir Stelios' latest venture has the capacity to shake up the turbulent UK grocery sector – well, possibly.
But consider this. When Lidl and Aldi arrived in this country they may not have been as palatable as they certainly are now, but they were at least shops and had competent ranges.
"EasyFoodstore looks more like a stockroom than a shop. As a place to go shopping, think again"

John Ryan
EasyFoodstore looks more like a stockroom than a shop – and an empty one at one point last week.
Its severely minimal offer means that it really is fine if you happen to be a local c-store operator in need of stock, but as a place to go shopping, think again.
Raising the discount stakes
The obvious question in all of this is how low can you really go? Aldi and Lidl quickly realised that if they were to thrive in the UK, then stores which featured long queues and cardboard boxes with the sides torn off wouldn't cut it.
They raised their game and today, their newer stores bark at the heels of the big four. They are a competitive threat, taken seriously by everybody.
This is not to say that easyFoodstore is incapable of such a thing, but opening a store with stock at a stunt price is only likely to attract one-off visitors, until such time as economic reality and the need to make a profit becomes a pressing requirement.
For the moment, this is no threat and looks a very long way from being so.
If you're driving along London's North Circular and want something inexpensive, head for Ikea instead. Its restaurant is well-designed, it has a range of tasty food and you'll not find yourself wondering why you spent time getting there.