While the pandemic continues to force many retailers to the wall, there are some old and new businesses still snapping up space. Retail Week meets those with ambitious store opening plans.
"Landlords are doing everything they can at the moment to get new brands into vacant spaces," says JustCuts boss David Mathie

Peloton international MD Kevin Cornils says stores are "an excellent opportunity" for shoppers to become better acquainted with the brand

E-bike retailer Pure Electric expanding in the UK, Paris and Madrid as demand for cycling rises during the pandemic
Lidl is "embracing mixed-use sites" to meet customer demand in its expansion across London
UK high streets up and down the country have been hammered by the coronavirus pandemic – first by the lockdown and now by the slow footfall recovery, particularly in urban areas.
The strain has proved too much for some businesses who have been forced to shut up shop.
Unsurprisingly vacancy rates rose across all shopping destinations in the second quarter of 2020, according to BRC figures, with 14.3% of shopping centre space and 12.4% of high street space left empty. These figures could rise in the current quarter as big names such as New Look and River Island plot store closures via CVAs.
However, some sectors have thrived during the pandemic, and some retailers – old and new – are spotting opportunities to snap up property deals.
As Knight Frank's head of retail research Stephen Springham explains: "There are lots of retailers that are just starting out and there are decent deals to be had. They can cherry-pick space right now. If you're looking for space, don't waste a good crisis."
E-bike retailer Pure Electric plots 500 stores
One retailer expanding at pace that many will still be unfamiliar with is electric bike and scooter retailer Pure Electric.
Since July, the retailer has expanded from one London showroom to 14 stores in total across the UK, after snapping up 11 former Cycle Republic stores.
Store locations include London, Birmingham, Manchester and Gateshead's Metrocentre.
Last week, it also signed deals to open stores in Paris and Madrid.
Chief executive Peter Kimberley says the plan is to eventually have 500 stores across the UK and Europe. He puts the rapid expansion of the business down to the pandemic, which has accelerated electric scooter usage.
"I don't think the rise in cycling and scootering is going to change any time soon," he adds.
Pure Electric has recently opened sites in London's Holborn and Victoria stations and is in discussions about new sites in Spitalfields Market and near London Bridge.
"Basically, we want to either be at the beginning or the end of a customer's commute or journey," says Kimberley.
With such bold growth planned, does Kimberley not worry that Pure Electric might, like retailers of days gone by, find itself with an unwieldy and expensive store estate in years to come?
"Bricks-and-mortar is going to be so important for us, now and in the future," he insists. "Our stores also need to act almost like petrol stations. They need to be on routes for a customer. People are going to get punctures; they'll need bikes serviced, they'll need their chains upgraded."
Peloton rides into UK retail
Scooters are not the only type of bike to gain traction of late. US-based fitness app Peloton, which sells at-home workout bikes with personalised digital classes, is setting its sights on the UK.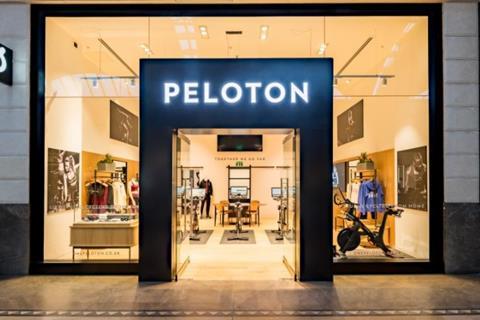 With bikes setting shoppers back close to £2,000, the brand believes stores are necessary for people to try out the equipment before buying.
This week Peloton is due to open two new 1,700 sq ft showrooms in Birmingham – one at the Bullring shopping centre and another at Grand Central. These add to the eight existing bricks-and-mortar spaces the brand has in the UK since it opened its first in London in September 2018.
The brand has also teamed up with department store chain John Lewis to open nine showroom concessions within its stores.
Peloton managing director of international Kevin Cornils says the showrooms offer would-be customers "an excellent opportunity" to become better acquainted with the brand.
"Peloton is such a unique experience that you have to try it and our retail showrooms are a great way to learn more about the brand and the Peloton bike in person."
With retail property prices driven to all-time lows and home fitness reaching all-time highs, there might never be a better opportunity for brands like Peloton to make their mark in the UK.
Aussie hairdresser Just Cuts eyes rapid expansion
Another overseas company aiming to establish itself as a household name in the UK is Australian budget hairdressing chain Just Cuts.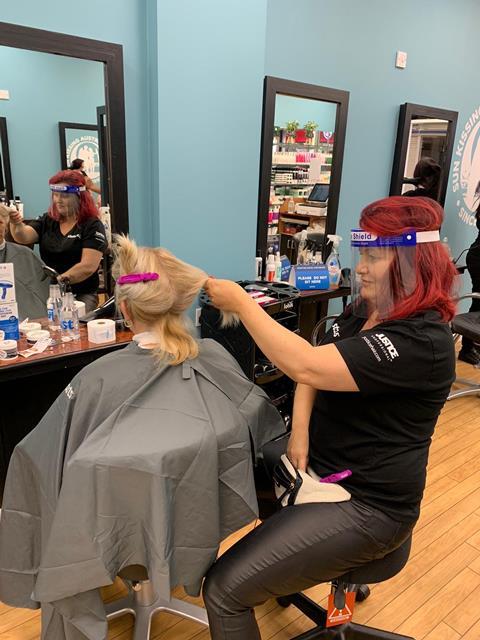 The salon, which launched in the UK in 2018, is looking to ride the growing popularity of hairdressers in the UK. More than 1,000 new hairdressers and barbers opened in 2019, according to the National Hair and Beauty Federation.
Just Cuts has more than 240 salons in its native Australia and New Zealand, but has even more ambitious plans for the UK, according to managing director David Mathie.
"Our goal is to have 400 salons in the UK," he says. "We've opened nine salons so far. We opened the ninth in Blackburn last week and I've got another at Intu Lakeside due to open next week. We're looking to roll out new salons every month. There's no stopping for us."
Just Cuts has opened two new salons since hairdressers were allowed to reopen on July 4 and Mathie says the pandemic has created opportunities for new brands.
"Landlords are doing everything they can at the moment to get new brands into vacant spaces. The more stores closing down means the more vacant spaces landlords have to fill. For a new brand coming to the UK, negotiations are strong at the minute, which is really good," he says.

In terms of ideal store locations, Mathie says Just Cuts' salons tend to be based in shopping centres as the business model is based on "customers walking in without appointments, so we really do rely on higher footfall traffic numbers".
However, he says due to the current deals available on high street locations and the rebuilding footfall traffic, "we will be looking at high street locations as well".
Poundland's store push
Some established UK retailers are also seeking to benefit from advantageous property prices. One of those is Poundland, one of the UK's largest discount chains.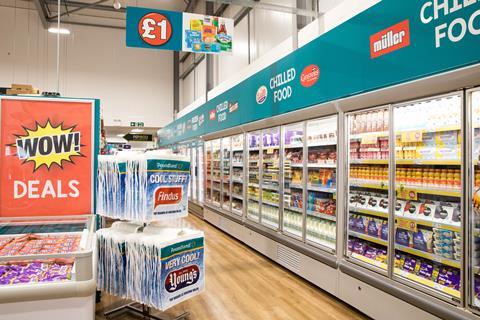 The retailer already has 822 stores across the UK and Ireland, but it has been one of the most active players in the retail property market of late.
Poundland property director Ben Wall says it has opened 13 new stores since July with a particular focus on the retailer's new extended offering.
"We are looking for new stores that take our full range, including frozen and chilled ranges, our homewares, Pep&Co clothing and our Poundland core range," he says.
In terms of ideal units, Wall says new stores will range from 6,000 sq ft to 10,000 sq ft in size to better accommodate the increased range.
While the pandemic has not sated Poundland's desire to take new space, it has changed Wall's process in evaluating what an ideal space looks like – particularly in terms of location.
"Larger city centres are obviously not top of our list at the moment," he says. "That's not to say that in some major cities where we're underrepresented we wouldn't be looking to actively acquire some space."
Another high street staple looking to expand during the pandemic is home and DIY retailer Screwfix.
Yesterday, owner Kingfisher revealed Screwfix would open 40 new stores this year – 30 in the UK and a further 10 in the Republic of Ireland.
Screwfix has opened at least 50 new stores a year for nearly a decade and now has more than 680 stores across the UK. It plans to have 800 bricks-and-mortar stores in the UK in the long term.
Chief executive John Mewett says: "The growing demand for convenience means we're opening more stores to help our busy customers get their jobs done."
New formats
A number of established national chains have also begun experimenting with new formats during the pandemic.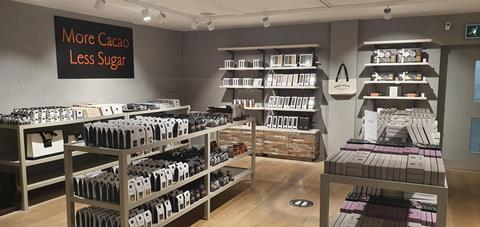 Hotel Chocolat, which usually trades in prime city-centre, shopping centre and travel locations, unveiled its new out-of-town format last week.
The store, next to its main distribution centre in St Neots in Cambridgeshire, is designed to cater to shoppers that feel safer driving to stores during the pandemic.
It is twice the size of a regular Hotel Chocolat store and has a shop, cafe and 3,000 sq ft of outside space dedicated to alfresco seating, as well as a 100-space car park.
Boss Angus Thirlwell told Retail Week it had "gotten off to a great start" and was the best performing store in its portfolio on the day it opened. Thirlwell said it could roll the concept out to more locations in outlet villages, retail parks or service stations if the debut store trades well.
"It's perfectly placed if you want to drive to Hotel Chocolat, have an amazing shopping experience, pick up a choc shake, fill up the boot and drive off again," he said.
While Hotel Chocolat is moving out-of-town, Dunelm is heading to the high street. The home & DIY giant, which usually trades in big-box retail parks, launched an in-town concept store in June called Dunelm Edit in Crawley, East Sussex.
The store features bestselling products picked out by Dunelm's design team and local customers who took part in focus groups. The chosen "edit" will be made up of products that are most popular in the Crawley area – an idea that will be replicated in future iterations of the store concept in different neighbourhoods.
One store expert suggested other big-box operators, such as B&M and The Range, could follow Dunelm's experiment with smaller, in-town formats to capitalise on the trend towards local shopping that many expect to remain beyond the pandemic
The discounters march on
Unsurprisingly, the German discount grocers continue to expand at pace.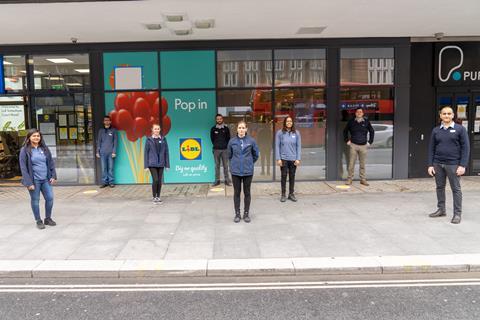 Lidl, which recently opened its 100th London store, is targeting a further 30 shops in the capital by the end of 2023.
The grocer also said it would be "embracing mixed-use sites to help support the creation of new homes and office space" as part of its expansion drive in London. For example, its new site in Richmond, currently under construction, has been designed and built to feature a school on top of it.
Lidl chief development officer Ingo Fischer says: "We're embracing the wide range of locations that London has to offer to help meet customer demand.
"With plans in place for more stores across the capital, we look forward to welcoming many more customers through our doors while continuing to identify and secure new sites that do not currently benefit from a discount offering."
Not to be outdone, Aldi is also pushing on with its UK expansion. It plans to open an average of one new store a week between now and Christmas. The discounter, which has around 900 UK stores, is targeting 1,200 stores by 2025.
Store closures may be rife across big established retailers, but there is a new group of brands emerging that are keen to take space.
In many cases, these younger, independent brands, such as Pure Electric, are more agile than their bigger rivals and will be entering a retail property market rapidly adapting to shorter lease lengths, turnover-based rents and more flexible leasing models.
"The current market is either totally geared towards more opportunistic retailers, which tend to be independent and providing services people can't get, or the bigger names that have the means to also take advantage of this downturn and expand," says independent property analyst Jonathan De Mello.
There is still life in bricks and mortar yet.