A planned £140m retail and leisure complex has moved a step closer to becoming a reality after the Crown Estate bought the site from LXB Retail Properties.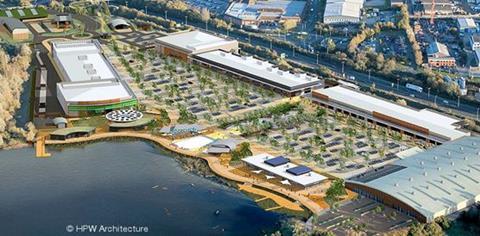 The two companies will now work together on the 400,000 sq ft Rushden Lakes development in Northamptonshire.
Marks & Spencer and H&M have already signed up to the retail park. The complex will also feature a home and garden centre, further shops and eight restaurants.
The "next generation" site will be based around a lake offering wakeboarding and canoeing. It will also boast a visitor centre and boathouse.
Work on Rushden Lakes will begin in the autumn and is poised to be completed by summer 2016.
Developers said the scheme could create up to 2,500 jobs during its construction and then in the form of permanent retail and catering jobs once the par has opened.
The Crown Estate regional portfolio manager Hannah Milne said: "Rushden Lakes will be the first in a new generation of shopping parks, setting an entirely new standard for the retail and leisure experience offered by assets of this type.
"We will see occupiers coming to Rushden Lakes that have never traded out of town before, demonstrating the quality of the scheme."
LXB, which originally bought 244-acre the site for £4.5m back in 2011 and gained planning permission from East Northamptonshire District Council in 2012, said the development would attract more than three million visitors per year.
The Rushden Lakes development is the second time the Crown Estate has partnered with LXB. The two companies teamed up in 2013 on the £80m Banbury Gateway Fashion Park.