As the retail landscape is convulsed by change, the role of the store has never been more hotly debated.
Shifting consumer habits such as demand for convenience and the rise of online and multichannel have prompted fundamental rethinks of retail property portfolios.
Marks & Spencer is closing at least 100 branches, department store groups such as John Lewis and Debenhams are racing to create new purpose for their shops, and some retailers, such as Maplin, have collapsed and disappeared from the high street entirely.
The latest BRC/Springboard data showed the national town centre vacancy rate was 9.6% in October 2018, up from 9.3% a year ago, and footfall was down across high streets, retail parks and shopping centres.
The place of the store in an omnichannel world was the focus of a discussion organised by retail property body Revo, which also released a report on the subject, Tomorrow's world: retail on the line.
Consumer research conducted for Revo by location planning specialist CACI and analysts at GlobalData highlighted that the shop is here to stay but its role is evolving.
Physical stores are expected to retain the biggest share of comparison goods sales over the coming years. They are anticipated to speak for 69% of revenues of such goods in 2026, though that will be down from 80% in 2017.
Online is expected to account for 31% of those sales, versus 20% in 2017.
Here to stay
While online will grow more rapidly, the store will continue to play a pivotal complementary part.
When researching product, in-store is the most popular method among consumers – 41% said that was their preferred way. Stores play a part in 29% of all online purchases, whether through their role as research centres or through services such as click and collect.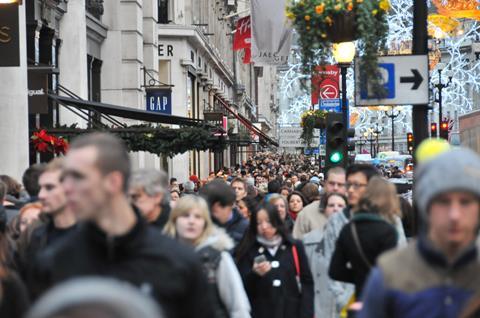 Similarly, online complements shops – 60% of click-and-collect customers buy something else while visiting and generate on average £68 of additional spend per household per trip, according to the research.
Bricks-and-mortar shops are critical on the journey towards seamless shopping at many points along the way. Almost 90% of 50 multichannel retailers surveyed, for instance, take online returns in-store; 70% allow store staff to place online orders for customers; 56% fulfil online orders from store stock; and 26% enable shoppers to check stock levels.
But while channels may increasingly be coming together and boundaries blurring, working out which part of the business contributes can still be a headache for retailers with shops.
That can be seen in profit and loss (P&L) models, and how they are changing. At present, 30% of retailers run separate P&Ls or sales lines for each sales channel, allocated to where an order was placed. That number is expected to rise to 40% in the next five years.
Partially crediting online sales to stores, based on the extent of involvement, is anticipated to rise from 10% to 34%. Allocation on the basis of separate P&L for each channel based on where orders are picked up is expected to rise from 12% to 28%.
While 22% have a single sales line for all channels, that will decline to 10%.
More flexibility
Perhaps it is no surprise, while the future role of the store remains a work in progress, that retailers are increasingly seeking flexibility in their properties.
Over the next five years, 60% of retailers expect more stores in the 'right' locations. Almost three-quarters expect to take a more flexible approach to stores, and the same proportion anticipate less space will be devoted to selling, such as through pick-up points.
Hammerson director of strategy and business transformation Sophie Ross expects shorter leases and pop-up shops will be increasingly in demand.
"Pureplays are dabbling at the moment, they're taking a minimum-viable-product approach"

Sophie Ross, Hammerson
Ross said: "Retailers expect the role of the store to change further." It will be "less of a sales place", she said, as emphasis increasingly shifts to the appeal of services or the ability to find out about and test product.
British Land head of retail business development Ben Dimson said: "Sometimes flexibility is narrowed down to leases. It's more nuanced. The onus on landlords is to offer a menu of choices – the same customer could have many different needs."
Ross said store openings by pureplays are also changing expectations about shops.
She observed: "They may not be focusing on sales in stores. It's about getting the brand out there and giving customers an opportunity to interact. Pureplays are dabbling at the moment, they're taking a minimum-viable-product approach. They've got some things to learn and they're going to hone and hone."
As the role of the shop changes, adaptation is being held back by outdated policy and industry norms, whether business rates or comparison rents.
While retail property owners acknowledge the need for change, the right new models have not yet been identified.
However, openness to increased collaboration and new ways of thinking mean that as the purpose of shops changes, so will landlord-retailer relationships.
Revo president and director of retail asset manager Hark Group, Mark Williams, concluded: "Collectively as an industry we need to start thinking more like consumers. Online and offline are not binary terms but fully intertwined, mutually dependent ways of shopping."