Everything from touchscreen monitors to selfie-designated stations and offline fitting experiences feature in our best examples of multichannel retail.
Reformation
Online 'eco-fashion' brand Reformation's physical stores are inspired by technology-driven brands such as Apple and Tesla, which focus on showcasing minimal amounts of stock, but support this with 'phygital' touchpoints (physical points for interaction with digital content) and an emphasis on service.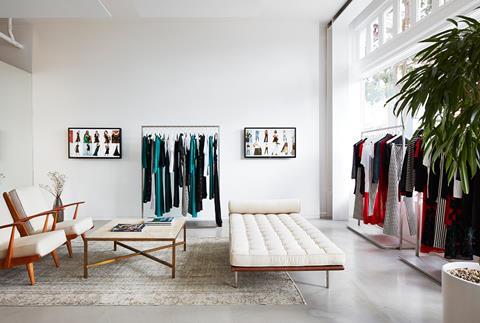 The top selling 20% of their collection is on display in the showroom, so rather than sifting through endless clothes racks, visitors use touchscreen monitors located around the space to browse garments that are then delivered directly to the fitting room.
With no physical cash register, orders can then be placed on the screen and shoppers will receive their purchases a few days later.
By incorporating 'phygital' touchpoints throughout the store, Reformation not only bridges its online and physical presence, it also allows staff to be consumer-centric and focus entirely on the consumer throughout their shopping experience.
Moby Mart
After initially launching Wheelys 247, China's first fully automated store, Wheelys has now developed an entirely moveable, solar-powered retail space prototype called Moby Mart.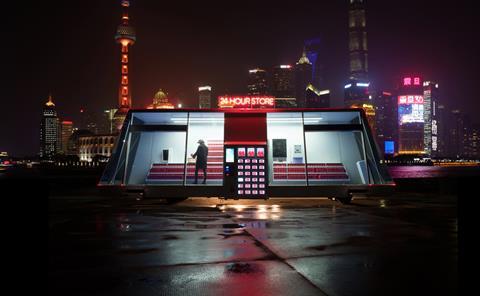 Catering to our prolific convenience culture where retail services are expected to be fluid, flexible and fast, Shanghai customers can use a smartphone app to summon Moby Mart to their neighbourhood using geo-location technology.
Access to the automated store and payment for goods is completed seamlessly through the app.
An important advantage of the Moby Mart's geolocation abilities is the potential to serve central areas with high footfall in the day, then transfer to more rural areas in the evening or at weekends to meet customer demand.
Currently the Moby Mart is moved by a driver or via a remote control, but Wheelys envisions the store will eventually be entirely autonomous and self-driving.
Jooos Fitting Room
Located in Hangzhou, architectural design studio X+Living has created a destination bricks-and-mortar offer for ecommerce brand Tmall.com.
Featuring the top 100 brands from Tmall.com's site, the store interior is divided into four separate themed-zones or 'dressing rooms' that reflect the ethos of the brands on offer.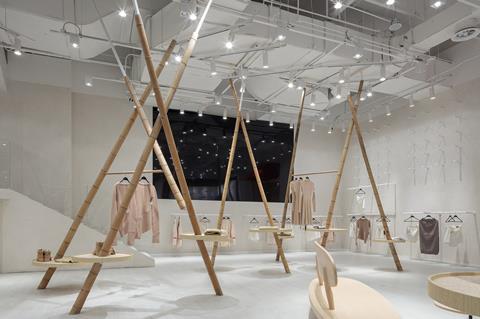 Before entering the space, shoppers can browse the website on interactive digital screens on the store window, or browse a selection of top brands through the contrasting zones in store.
Each dressing room also has a rest area, a make-up area and a selfie area.
Building an offline fitting experience in the online age through ubiquitous screens, Jooos Fitting Room closes the loop between physical and digital retail.
Made.com showroom
Despite Made.com opening their physical showroom back in 2015, it is their implementation of the Hero live shopping app this year that has pushed their multichannel offering to the next level.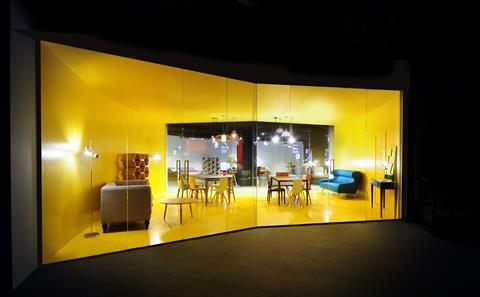 The showroom displays a selection of Made.com inventory via digital projections, as well as an extensive sample wall.
But through the Hero app, Made.com showroom staff can also communicate directly with online customers in real-time using live videostreams and chat.
The service aims to replicate the assurance of quality consumers receive in-store when deciding whether to buy a high-value product.
"It moves the website from a purely transactional experience to a highly personal, omnichannel shopping experience," explains Adam Levene, founder of Hero.
According to Made, the brand's average order value has increased by 20% following the implementation of the app.
Riley Rose
Riley Rose, the new beauty concept store from Linda and Esther Chang – the daughters of Forever 21's founders – combines a physical shop with the power of digital to offer products chosen by the consumer.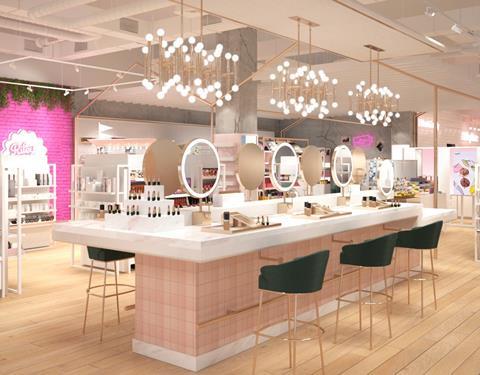 The store's inventory is curated according to regional online preferences, and products are rotated according to their popularity, lending the store an element of discovery and the peer-to-peer recommendations offered by Instagram.
Described as a 'high-sensory fantasyland', interactive touchscreens showcase the latest beauty trends and selfie-designated stations mean shoppers can share these instantly with their networks.
Online behaviour is driving Riley Rose's physical retail model and is not only suggesting but encouraging social media engagement.
Rachael Stott, visual trends researcher at The Future Laboratory