How can retailers make a store feel tailored to its location? John Ryan looks at retailers getting it right, and those getting it wrong.
'Thinking global, acting local' is one of those clichéd mantras that are the bane of retail, ranking perhaps alongside 'retail theatre' and 'the experience economy'. There was a point when this one was wheeled out so frequently that it ceased to have much meaning.
Yet dig a little deeper and the 'acting local' part at least still has some merit. This boils down to being in touch with your customers and giving them what they want – but this is hard to achieve on the ground.
Yet many continue to strive to do so, and among the leaders in this respect is H&M, which has been trialling different store layouts, offers and environments of late in an attempt to ensure it is a hit with the local population surrounding its stores.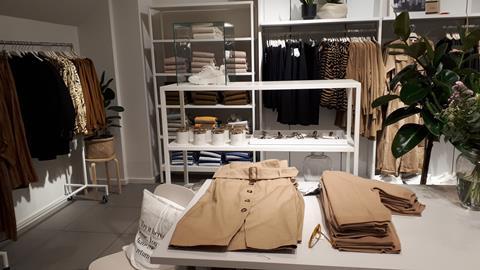 The most obvious example of this is in Hammersmith, where the Swedish giant opened a three-floor store at the end of 2018 aimed at a more mature demographic cohort.
Out went the bright, shiny graphics and dense merchandising and in their place came green plants, a generally magnolia/light brown colour palette and a rather nice feature staircase in the middle of the shop.
This is an experiment and presumably the assumption made is that the Hammersmith crowd is generally older and slightly more affluent than elsewhere in London. The jury, presumably, remains out on its success, but it is certainly an attempt at doing things differently from an outfit that is one of the emperors of young fashion 'format retailing'.
Last month it struck again in the other side of the capital. H&M has been a fixture at the One New Change shopping centre at St Paul's since it opened in 2010. But following a revamp it now offers shoppers a rather different experience from what was on view previously.
This is the City and higher-end shops abound in the area. Perhaps with this in mind, the new-look H&M very specifically targets the well-heeled female financial sector worker.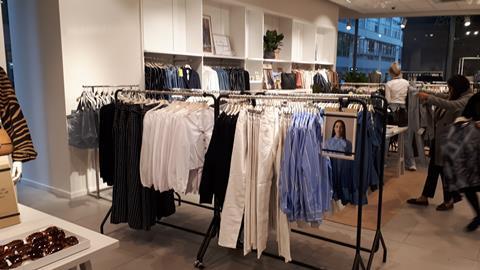 This two-floor womenswear-only proposition (with a smattering of home furnishings) looks like a good call from the outset, for no better reason than the Square Mile's retail provision is targeted very much at the male City worker, with women being somewhat short-changed.
Walk into the store and the first thing that the visitor will sense is room to breathe. This quality is something that it shares with the Hammersmith outpost.
Given the wealth of both neighbourhoods, this additional space makes sense as the usual connotation of this kind of layout is luxury and higher prices than more densely merchandised environments.
From a mass-market perspective, H&M One New Change does not disappoint in this respect. As well as this season's womenswear offer, the 'H&M Premium Quality' range is also on display, again a nod towards the considerably higher-than-average pay packets of those working in this part of London.
Overall, the design for this one might best be described as 'Nordic office', with a lot of natural daylight, matt steel frames for the windows, neutral floors and soft white light throughout. All of which means a more upscale execution than might normally be anticipated from H&M.
Don't lose the essence of the brand
The store remains recognisably H&M, but it is an H&M for its location. This is the fine balancing act that retailers have to tread as they look at remodelling their estates.
The trick is not to alienate those who know and love you, yet acknowledge that there really isn't homogeneity across all areas in a big city or region. There are of course those that aim to shapeshift almost completely when it is perceived that the occasion demands it.
There is almost a sense that the paint brand's 'Farrow and Ballness' has been ditched somewhere along the way
Upscale paint brand and retailer Farrow & Ball is a case in point with its new store in Los Angeles.
Open since the end of 2018, in place of the tastefully muted tones that normally characterise one of its stores, the exterior of the new branch, on the city's modish La Cienaga Boulevard, is covered in stripes of different colours, with wooden totems in the windows in a highly diverse palette.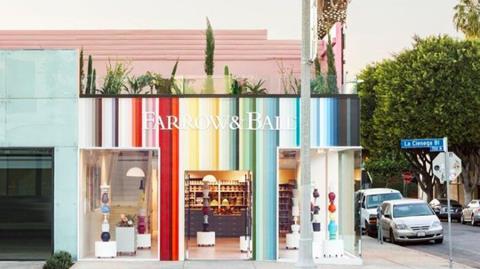 The aim is to make the store a piece of the candy-coloured neighbourhood and to respond to the general ambiance of the City of Angels.
Yet there is almost a sense that the paint brand's 'Farrow and Ballness' has been ditched somewhere along the way and that if the name were removed it would be hard to tell which retailer was being looked at.
It is possible to overstep the mark when it comes to localising an offer and perhaps to lose the essence of what your brand is about.
Location-specific references
Better therefore to add location-specific references to a store than to reinvent an entire proposition to make things more relevant for a particular demographic.
The O2 flagship store in the eponymous The O2 arena in Greenwich, London shows what is possible.
The O2 Arena is a venue for sports and music, and those passing through will probably have instruments, balls and tickets top of mind. The store, open since last September and positioned near the arena's entrance, has a pair of mid-shop tables above which are suspended rugby balls (O2 sponsors the England team), tennis rackets and guitars.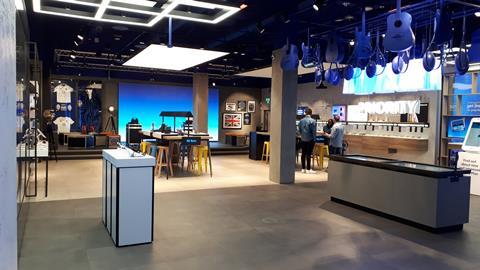 It's an odd combination, yet when washed with the O2-branded shade of blue light it doesn't seem out of place and the association between location and in-store cues would be hard to miss.
The same is true of the 'Priority' desk, where account-holders can benefit from discounted tickets and promotions.
The link in this instance between using a smartphone, venue and retailer is clearly made and is a good example of shaping a store to fit its location, without losing sight that this is a network phone shop with a particular look and feel.
The matter of making stores appropriate to their location has long occupied store design teams and the outcome can range from the fairly desultory (the TK Maxx store in Hammersmith has starlet-style lights in the window that state "Love Hammersmith", but that's about as far as it goes) to the highly tailored, as demonstrated by O2 and H&M.
Now, perhaps more than ever, retailers need to show that they are sensitive to local variation and take region/town/district taste into account.
Being a chain store is perfectly acceptable, but as customers demand greater numbers of destination stores, the ability to make this a reality will be one of the features that mark out the winning stores.