JD Sports chief executive Régis Schultz called it "the start of a new, distinct chapter" as the sportswear retailer looks to strengthen its brand as a part of its growth strategy in Europe. Retail Week takes a closer look at new acquisition Courir, its history and what the deal could mean for JD Sports in the UK and abroad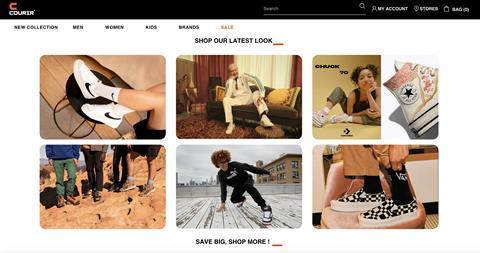 As JD Sports puts its long-term global development strategy into action, it plans to acquire French sportswear and sneakers retailer Courir for €520m (£451m).
Chief executive Régis Schultz called it "the start of a new, distinct chapter in the growth story of JD" as the sportswear retailer looks to strengthen the brand as a part of its growth strategy in Europe.
Courir began as a sportswear retailer in France in 1980 and has grown into a specialist in the lifestyle and fashion sneakers segment.
The retailer operates out of 283 stores in France and a further 320 across Europe in Spain, Belgium, Portugal, Netherlands and Luxembourg. The retailer also has 36 stores in North West Africa, the Middle East and French overseas territories.
With a primary focus on women's and girls' fashion, Courir has become one of France's leading trainer retailers, occupying a 16% market share. For the 52 weeks to December 2022, Courir had consolidated revenues of €609m (£528m) with profit before interest and tax of €47.4m (£41m).
Louise Déglise-Favre, apparel analyst at GlobalData, says: "Courir is well established in France thanks to its hundreds of stores across the country, helping the group strengthen its presence in one of Western Europe's key markets. Courir has a solid reputation as a go-to destination for exclusive trainers in France, allowing it to resonate with younger shoppers who follow streetwear trends."
How does JD Sports stand to benefit?
The acquisition is in line with JD's growth strategy to secure greater control over the long-term global development of the brand. As JD targets growth in Europe, it has relied on engagement with minority shareholders in its subsidiary business and acquisitions to open new doors for business.
Acquiring Courir is the latest step in this direction, following the acquisition of the remaining 20% of JD Sports Fashion Germany and formally entering discussions with minority parties to expand in Iberia.
Schultz says: "Investing in quality, complementary concepts whilst furthering the growth of JD itself is a key strategic pillar for the group and one which we will continue to pursue in the future.
"Securing greater control over the long-term development of JD and prioritising the development of the JD brand is a key pillar in our growth strategy in Europe.
"It will give us simpler decision-making, which will allow us to use our assets with more efficiency. At the same time, it will considerably simplify the group operations."
As the group targets rapid expansion in Europe, it stands to benefit from Courir's extensive knowledge in managing female-oriented stores that would significantly broaden its capabilities and global opportunities. However, the impact of the acquisition is likely to be limited in the UK.
Déglise-Favre adds: "In the UK, this acquisition would have little impact unless the group decided to export Courir to its home country, which might bring a risk of cannibalisation with JD Sports proposition being relatively similar. However, expanding Courir's operation to other Western European countries could allow JD Sports to further establish itself in the European sportswear market."
While the new business will likely have a limited impact on the UK market, the move is a nod to JD Sports' international ambition and could go a long way to strengthen its brand image as it looks to dominate sportswear in Europe.