How is Halfords shaping up to ride out upcoming bumps in the road?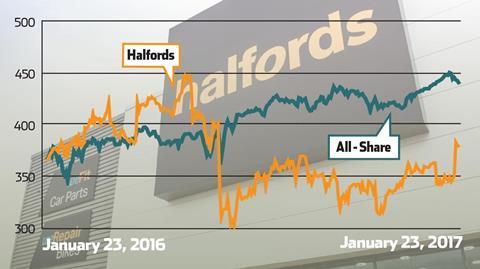 Last week investors cheered the retailer's Christmas performance as its share price soared nearly 9%.
The cycling and motor parts retailer revealed a better-than-expected 7% rise in third-quarter retail like-for-likes.
On top of this, it is rewarding shareholders with a 10p special dividend.
But despite the impressive top-line numbers and late Christmas present to investors, Halfords boss Jill McDonald is remaining cautious.
And rightly so.
Halfords did not raise its full-year profit forecast. Partly this is because its fourth-quarter will not include Easter. But there are other aspects at play.
The retailer is facing the prospect of having to raise the price it sells bikes at due to sterling's post-Brexit collapse. However, McDonald says it is better placed than rivals to weather the storm of price rises.
The retailer has been using its negotiating power with suppliers in order to ensure it keeps its prices down. It also benefits from the fact that a significant chunk of its sales are from own-brand bikes.
But like other retailers, Halfords is also having to invest to keep up with the demands and expectations of consumers as the speed of change within the industry intensifies.
While the Worcestershire-headquartered business is a household name in British retail, McDonald knows it cannot rest on its laurels.
Since taking the job in May 2015, the former McDonald's UK chief has acquired online cycling retailers Tredz and Wheelies. And it announced last week it has taken a minority stake in roadside tyre-fitting firm TyresOnTheDrive.com.
Motoring ahead
McDonald is clearly intent on building on Halfords' service proposition, particularly in motoring, which sets it apart from its competitors in this area.
While Halfords garners plenty of headlines for its cycling performance, the retailer actually bags 70% of its group revenues from motoring.
"This all appears to be good stuff, but will it move the dial in terms of delivering significant increases in profits on a reasonable time-scale?"

Tony Shiret, Haitong
And, according to Verdict analyst Anish Dosani, the pressure on consumers this year could play into its hands as drivers choose to maintain their current cars instead of buying a new one.
On top of this, Halfords is trialling a store of the future in Derby which includes a raft of new features that plays on its service agenda and leverages technology for its staff and customers.
On the cycling front, the retailer has also continued to invest in its upmarket cycling proposition Cycle Republic, which now boasts 12 stores, although the fascia currently makes up less than 1% of group sales.
Doubts remain
Some analysts, however, remain unconvinced Halfords' efforts will boost its flagging bottom line. Haitong analyst Tony Shiret says: "This all appears to be good stuff, but will it move the dial in terms of delivering significant increases in profits on a reasonable time-scale?
"We hope so. But to date the evidence is slim."
It appears Halfords has an uphill battle, but McDonald will be grateful she has a well-stocked toolbox at her disposal.