Entries for the 24-hour Tech Sprint event close on February 12 so harness your collective creativity and get your teams together now.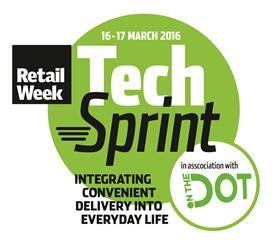 Retailers and start-ups are being encouraged to develop solutions around fulfilment at the The Retail Week Tech Sprint, in association with delivery firm On The Dot.
The hackathon-style event will be held alongside Retail Week Live on March 16 and 17 at the Intercontinental London, The O2. The event will bring together retailers and tech start-ups over a fast and furious 24 hours to develop solutions to industry pain points.
"It is an opportunity for the whole retail industry to participate in and to benefit from fresh ways of thinking and the creation of products that can click with consumers and bring competitive advantage," notes Chris Brook-Carter, editor-in-chief at Retail Week.
The theme for the inaugural Tech Sprint is to build a solution that integrates convenient delivery into consumers' everyday lives.
Who can enter?
All retailers and start-ups. The teams can be a minimum of three and maximum of five. We encourage teams from cross-disciplines, but we do specify each team should have at least one person who has coding skills and is able to work with data sets. At least one member of a team should have pitching and presentation skills.
Who's on the judging panel?
The judging panel consists of leading IT and digital figures across the retail space. They include:
Head judge Martin Newman – chief executive of multichannel consultancy Practicology, and non-executive director of Conviviality Retail Plc and White Stuff
Tom Fuller, head of IT customer relationships, Waitrose
Julie Price, IT director, White Stuff
Helen Colclough, ecommerce development manager, River Island
Karl de Bruijn, IT director, Cath Kidston
Nish Kukadia, chief executive, Secret Sales
Simon Luscombe, trading director, Hobbs
How to enter?
First put together a team
Each team can be a mixture of disciplines such as technology, marketing, product or user experience
Teams must be three to five people
Ensure one person can comfortably pitch the idea on stage
All entries must be submitted by February 12
You can enter by clicking here