PAID FOR POST
More voices from the retail industry
The pandemic has forced retailers to rethink the way they engage with consumers. Carl Hutchinson of Summit believes 2021 could be the year when social commerce becomes a dominant force in retail.
In years to come, we will look back on the coronavirus pandemic as a once-in-a-generation moment.
While change is a constant in retail, many of the modern trends were supercharged overnight by Covid-19. Those best placed to cope have prospered, while retailers who struggled to adapt to 21st-century life have found themselves usurped by young upstarts.
Online growth has seen a 47% increase in 2020 compared with 2019, but this isn't just down to a high street shift from store transactions to online.
The world of ecommerce provides many opportunities when it comes to acquiring, retaining and growing customers.
"It is estimated that 8% of all product searches globally now take place on Facebook alone"
For example, Amazon owns more than 50% of product searches in the UK, but other media platforms such as Google, Instagram, Pinterest and TikTok are constantly expanding their ecommerce offering.
With significant ecommerce growth and customers' increased focus on smartphones, will 2021 be the year of social commerce?
Have you noticed the social commerce boom?
Emarketer forecasts that Facebook is likely to overtake Google in terms of share of UK digital ad spend in 2021, and this is likely to continue to grow as more shoppers spend time in the social ecosystem.
Research by Finder shows that there was a 21% uplift in time spent on social media in 2020 and, thanks to the product discovery element, it is estimated that 8% of all product searches globally now take place on Facebook alone.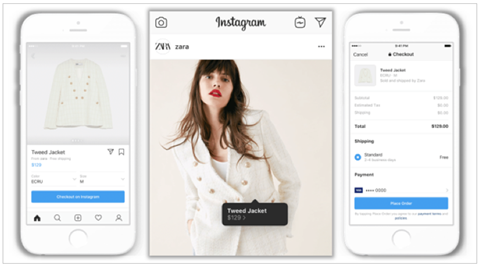 It's not a coincidence that platforms in the social ecosystem are rolling out more retail-focused features and shoppable formats.
Take Facebook, for example. At the start of the pandemic, it rolled out its Shops feature, allowing businesses to create a shoppable storefront directly in Facebook and Instagram.
Is this route a surprise? No. For retailers looking to directly connect products to their consumers, this creates a shortened journey for the customer.
In-app purchases on Facebook and other platforms offer the ability to purchase without visiting the retailer's site.
Evolution shows that this is likely to create one of the largest one-stop shops behind the likes of Amazon and Google, which will work on trusted reward models in direct response marketing: the cost per action (CPA) or affiliate model.
Why social commerce?
With the social boom in motion, it's important to look at the opportunity available to maximise your brand.
We know how important brand salience is to any retailer, so it's important to understand how your brand can be represented in the social space. Let's explore what you can control:
The ability to customise your Facebook shop – adding product collections during key trading periods allows retailers to showcase relevant products and categories in line with the wider promotional plan.
Using a feed management solution – this means you control what is shown to the customer, ensuring it's in line with your brand and reflects what's on your site, whether it's product imagery, pricing or stock volume. Managing product margin will likely be the focus for some retailers, too.
Incorporating direct communication into the sales mix with WhatsApp and Messenger – this allows customers to share products across the wider Facebook ecosystem. Retailers can also communicate directly with customers, linking back to store and helping the transition from thinking about buying to completing the purchase.
Embrace the social commerce revolution
Staying connected to customers is a retail challenge. Brands need to maintain relationships and inspire customers while understanding them and how they want to shop.
Retailers need to embrace the evolution of ecommerce and give their customers what they expect: an efficient, seamless experience across all sales channels.
My advice to retailers is to maximise all opportunities to connect with your customers. It will only get more crowded as more customers begin their product searches across social platforms.
With the right strategy, retailers can be in the space where today's customers are shopping, but also where future customers spend more of their time.
To find out more about how your brand can maximise their social commerce opportunity, get in touch with our experts at Summit today at info@summitmedia.com.

Carl Hutchinson is head of social and display at Summit and has more than 10 years' experience of delivering successful paid media campaigns for retailers such as Joules, Homebase, Argos, Selfridges and Carpetright
Summit are performance marketing specialists. Over the last 20 years we have grown internationally and partnered with some of the biggest brands in retail, helping them transform their online business, grow their customer base and make more money from retailing online. We pride ourselves on our retail experience, our business agility, our genuine people and our proprietary technology, combining all of these with our performance marketing expertise to drive measurable value for you.