PAID FOR POST
More voices from the retail industry
If you think influencers are all style and no substance, it's time for associate livestreams to take their place, says Richard Willis, RVP solution consulting for EMEA and APAC at Aptos.
I know what I am about to say runs the risk of typecasting me as an #OldGuy, but I have to say it anyway: I am so over social media influencers.
These posers and hipsters are constantly flooding my feeds with shallow, self-promotional posts in search of likes, follows and swag. Their battles for beautiful backgrounds are as clichéd as their tropes are tired.
And while influencer marketing is big business, I have to believe that younger generations are starting to feel much like I do about these high-priced and temporary spokespeople.
Most influencers traded any hint of authenticity for new sponsorship, more likes or a fistful of followers long ago. People of every generation can feel it from a mile away when something is forced.
We all have a sixth sense for spurious sales pitches and, in this time of marketing overload, we have elevated resisting artificial messaging to an art form.
Influencers still have a place in our video marketing strategies, but top-tier influencers are expensive to book and difficult to scale. Plus, they cannot connect with consumers at a local level.
Understanding shoppers
So, if not influencers, to whom do we turn to help create local video connections at scale? We need look no further than our nearest store.
Just inside that store we'll find passionate brand ambassadors who understand the shoppers that walk through those doors and who make their living selling our products to those shoppers.
"Store associates possess one thing influencers will never have: authenticity"
This is why I think it's time we engage our associates in video-marketing strategies.
Store associates know their products and their customers. As a result, they possess one thing influencers will never have: authenticity.
No swag, no stylised selfies. Just real people, talking about their real experiences with real products and real customers.
While still a relatively new marketing experience, a couple of standout experiences have begun to emerge among the early movers.
Italian fashion retailer Motivi produces regular associate-led livestreams featuring store associates. Its associate presenters are engaging, personable and knowledgeable, and they look like they are actually having fun.
But what really stands out is the viewing experience. Viewers can engage with the presenters via integrated chat.
They can share their reactions and see how others react. Shopping for pieces they like is just a click away and the livestream stays with them while they browse product details.
Molbak's Garden + Home centre in Woodinville, Washington, produces monthly livestreams that feature associates presenting gardening advice, do-it-yourself tips and product information. Their associates are knowledgeable, (mostly) comfortable on camera and always (here's that word again) authentic.
Meaningful connections
In both examples, the associates are becoming trusted shopping partners, which is exactly what we should be aiming for with associate livestreams.
We should be striving to make meaningful connections that educate people, showcase products and, most importantly, earn consumers' trust. And, coincidentally, once we establish a relationship built on trust, we usually sell more product.

While numerous retailers around the globe have begun producing associate livestreams, they haven't gained too much momentum yet. Those who move quickly have a chance to gain an advantage and establish consistent livestream connections ahead of the competition.
This makes me think it may be time to press pause on those influencer-led livestreams and let our associates do the talking. In the long run, I have a feeling they'll probably "fake it" far less – and sell much more.
To learn more about associate livestreaming, visit the Aptos resource hub, where we have checklists, iPapers and panel discussions.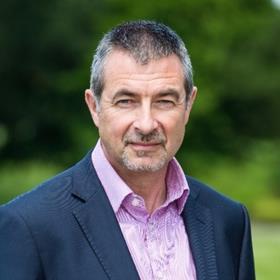 Richard Willis is RVP solution consulting EMEA and APAC at Aptos
Richard Willis has worked with retailers throughout Europe and globally. In his current role at Aptos, he supports retailers in their efforts to differentiate and innovate through the use of technology.

Aptos' singular commerce platform unifies the entire retail enterprise to enable over 1,000 retail brands to deliver the informed, empowered and seamless omnichannel shopping experiences that their customers demand — no matter where, when or how they shop.