PAID FOR POST
More voices from the retail industry
Retailers today face many challenges. Consumption patterns have changed – and keep on changing – and Covid has only expedited this change process.
Consumers demand solutions that better cater to the 'new normal' of low-touch and no-touch shopping journeys.
And with a clear separation between online and offline shopping channels disappearing, connected experiences with consumers in control of their shopping journeys will be the new norm.
Consumers set the rules
We live in a consumer-centric world in which consumers determine the rules of engagement.
A recent study of more than 15,000 grocery shoppers, carried out by Nielsen and commissioned by Diebold Nixdorf, found a steep increase in consumers preferring smaller basket sizes and higher shopping frequencies, supported by fast, convenient and low-touch in-store services.
48% of Gen Z and millennial shoppers do their shopping several times per week, compared with 38% of Gen X and baby-boomers, according to Nielsen. And, despite Covid, going to physical stores remains the preferred option for most consumers.
Self-service empowers them
Consumers are changing their behaviour when it comes to checkout and payment in stores, with a higher preference for self-service journeys.
This matches with consumer desire to be more in control of their shopping journeys.
"37% of shoppers say waiting in a queue is the number-one frustration"
37% of shoppers say waiting in a queue is the number-one frustration, according to Nielsen, and self-scanning items that enable them to leave the store faster is one way of alleviating this issue.
With self-service technology, consumers are empowered to choose the shopping journey they prefer – one that's more intuitive and frictionless.
Self-service lets consumers control how they shop, supporting low-touch and no-touch journeys, at the pace they want, while saving time in the queue as well.
Top five frustrations experienced by grocery shoppers
37% – It annoyed me if I needed to wait in the checkout queue
36% – Items I wanted to buy were unavailable/out of stock
24% – It annoyed me if I could not find the products I wanted immediately
23% – Even if I only had a few things to buy the shopping trip took pretty long
20% – It annoyed me if I needed help but couldn't find a store assistant
Source: Nielsen, 2020
More open, more modular and more available
There are three prerequisites for successful self-service implementations: openness, modularity and availability.
1. Openness
This determines how easily you can implement self-service journeys into existing store formats.
It's about being open in working with multiple vendors and technologies, open in gradually extending your IT infrastructure, and open in adapting business processes and journeys as you see fit.
It requires self-service equipment (software and hardware) to have open, standardised interfaces that foster easy integration with other third-party solutions.
2. Modularity
Modular self-service equipment allows you to take a true 'right-sizing' approach while keeping options open to rapidly respond to emerging consumer journeys.
Modular store equipment offers on-site scalability and easy upgradability.
Scalability lets you quickly scale up or down the same modules across your stores, independent of location and store format. Upgradability enables step-by-step innovations without facing prohibitive investments upfront.
3. Availability
Roughly 75% of consumers demand more control over their shopping journeys, according to the Nielsen study.
Self-service technologies put more control in the hands of the consumer while reducing workloads for store staff. However, for a smooth adoption, it is crucial that self-service equipment is 'always on' – i.e. readily available at all times.
Retailers can't risk losing consumers' trust due to malfunctioning equipment, especially since it will now be the consumers themselves who experience system failure first.
More than ever before, it will be the consumer experience that ultimately sets one retailer apart from another.
In the retail evolution, it has become a survival of the fittest, where 'fittest' indicates who is best able to fit with changes in consumer demands.

Introducing DN Series EASY
DN Series EASY empowers retailers to support frictionless consumer journeys that can be adapted on the fly to future innovations, whatever they may be.
Based on a modular platform approach with a set of open APIs for faster and easier integration, and supported by smart consulting and migration services to help retailers stay 'always on', Diebold Nixdorf offers future-proof self-service solutions on a global scale that are able to meet the highest consumer demands.
Click here for more information.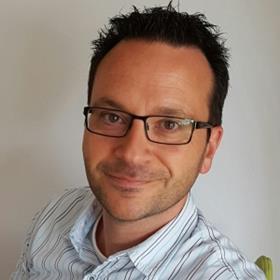 Reint Jan Holterman is global product marketing manager for retail software at Diebold Nixdorf

Diebold Nixdorf is a world leader in enabling connected commerce. It automates, digitises and transforms the way people bank and shop. As a partner to the majority of the world's top 100 financial institutions and top 25 global retailers, its integrated solutions connect digital and physical channels conveniently, securely and efficiently for millions of consumers each day. The company has a presence in more than 100 countries with 22,000 employees worldwide.