PAID FOR POST
More voices from the retail industry
There is a huge customer thirst for discounts, which is radically influencing fashion retailers' pricing strategies, new research from Blue Yonder has discovered.
We live in an era where shoppers have come to expect discounts. This is having a direct impact on the pricing landscape in the fashion industry.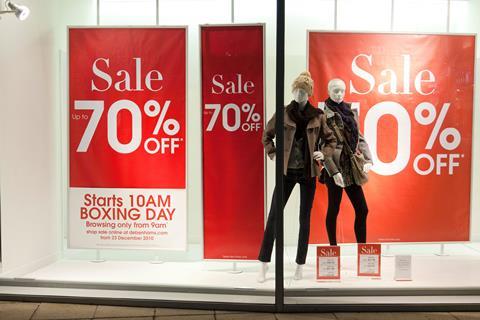 Research carried out by Retail Week Connect found that 43% of clothing purchases are driven by money-off deals, while a quarter of consumers globally never buy clothes at full price. This is having a direct impact on fashion pricing strategies.
The research, which surveyed 4,000 consumers in the UK, US, France and Germany found that 42% of customers wait until the end-of-season Sales to make a fashion purchase, leaving the traditional fashion buying cycle, based on seasonality, redundant.
The research also discovered that 37% of global consumers are more interested in getting a price reduction than a low starting price.
New technology such as price-comparison websites, ecommerce platforms and smartphones has brought fashion into a new era.
Gone are the days where fashion retailers can dictate shopping patterns – consumers are now in the driving seat and retailers need to take note. Indeed, 36% of shoppers check the price of an item online when in store to see if it is cheaper elsewhere.
As a result, seasonal shopping does not follow the pattern it once did, and changing consumer behaviour – combined with customer expectations for discounts – is causing some serious profitability and margin erosion challenges, which can no longer be ignored.
Keeping prices low: the order of the day
Keeping prices low to meet consumer demand could have far-reaching consequences for retailers. Many fashion retailers are being forced to create even greater markdowns on high volumes of leftover stock at the end of the season, leading to a vicious cycle of discounting that could have a serious impact on profitability.
Traditional buying cycles are dead
A more flexible approach to demand forecasting, and better methods for analysing real-time shopping patterns, is required. Fast-changing fashion trends and discerning consumer behaviour mean long lead times for buying in items no longer work for the retailer.
AI is the cornerstone of profitability in fashion
Artificial Intelligence (AI) can help fashion retailers match customer demand to the most relevant price points for all items and allow them to sell more at the price which yields the highest profit.
Pricing influences brand equity, so it is crucial fashion retailers do everything they can to get it right
Pricing influences brand equity, so it is crucial fashion retailers do everything they can to get it right. Most global consumers tend to be tempted by price reductions rather than the opportunity to make huge savings, while frequent discounting by the same retailer is viewed as a real turn-off for shoppers.
These are the new fashion retail norms and it will take a more scientific approach to successfully navigate the changing landscape.
By embracing AI – which can optimise pricing strategy across a retailer's cycle, from procurement to customer fulfilment – fashion brands can build long-term, sustainable strategies based on the relationship between price changes, consumer demand and commercial goals.
The leading provider of artificial intelligence and machine learning applications for retail.