The development pipeline has almost ground to a halt and, as Mark Faithfull discovers, more realism from councils and retailers will be required if schemes are to see the light of day.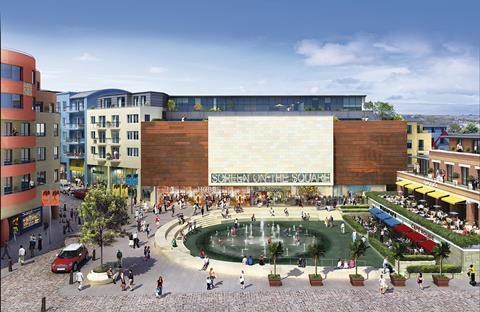 How Supermarkets can lead regeneration
Much of Tesco's development work over the past few years has targeted in-town stores and the grocery retailer has also opened 35 of what it calls "regeneration partner" stores, which are located in areas of social and economic deprivation and aim to give work to the long-term unemployed.
Just before Christmas, Tesco opened at a brownfield site in the Springhill area of Birmingham. The retailer formed a link that connects to both the new store and the adjacent library, creating the first route into the library building that is compliant with the Disability Discrimination Act.
Tesco property spokesperson Michael Kissman says long-standing experience in developing town centre stores means Tesco can now open all its formats in urban locations. Although more challenging to develop in town, he says: "A scheme has to be right for all parties but the right project in the right location will always be attractive for Tesco."
This year just three major retail schemes will open in the UK, and the dominant chunk of that space will be in one project: Westfield Stratford City. Next year no major schemes will open - Land Securities' Leeds scheme in 2013 will offer the only significant retail expansion and beyond that there is next to nothing on the horizon. For retailers hooked on store growth for sales growth, the river is running dry.
One obvious solution is to create right-sized retail units back in the hearts of towns, at once creating growth possibilities and investing back in communities. But of course it's not quite as simple as that. Developers complain that retailers want the best of both worlds - great space at rock-bottom rents - and that, while such an impasse continues, there is little hope of investment on a large scale. Others argue that too many generalisations have been applied to the economic wellbeing of the UK and that deeper-lying issues have been papered over.
Paul Sargent, managing director at shopping centre operator Queensbury, concurs and says it has become hard to make the numbers stack up unless a radical rethink is employed. "The story is not about the top 20 cities, but the next 180. Currently, a developer of a 300,000 sq ft scheme, which would bring about 2,000 to 3,000 jobs and £3m to £4m in rateable value, would realise about a 10% return on investment if the land price was zero," he says. "At current land prices, there is no return. We need councils to think radically, we need brownfield sites to be provided free."
He describes the current situation as a "Mexican stand-off between developers and town planners" and points out: "An out-of-town site is quick and easy, a town centre site requires long timelines and the under-resourcing of planning is another issue. The development timelines often don't match with the need for quick political fixes."
"At current land prices there is no return…we need brownfield sites to be provided free"

Paul Sargent, Queensbury
Tough decisions
Nick Webb, associate with agent King Sturge, reflects that making town centres work financially is tough, with extra pressures created by site assembly, the practical issues of construction and retailers driving down rents. "But," he affirms, "with such little supply there will have to come a tipping point where rents start to make projects viable again." He believes that, politically, councils have their hands tied in how deeply they can involve themselves financially in what is, ultimately, a private sector venture.
"It's difficult for councils, a lot of whom signed up to schemes in the good times that still haven't seen the light of day," he says. "They have to decide how much help to give developers to get projects moving and whether that is the right use of taxpayers' money. They also have to decide whether it's appropriate. There are towns near very successful regional shopping centres that are on the edge of being unmarketable."
Of course there are plenty of towns that can point to retail as an effective catalyst. Edmonton in north London is one such example and Rupert Wood, regional director at urban specialist developer St Modwen, says: "When I think back to 1999, the Edmonton site was pretty run down and, as with all these things, you need that bit of luck. The timing was good as it was just at the start of economic growth, which gave us the ability to raise the investment and create the nucleus of the regeneration that, aside from retail, included a new primary care trust, bus station and leisure centre, an Asda and residential units."
That built momentum, which is continuing now. Lidl moved in to the scheme two years ago and is currently doubling the size of the store by acquiring the adjacent unit; similarly, Home Bargains opened its first store inside the M25. Wood says: "For a deprived area like Edmonton, that's a great sign of confidence. But the key is to develop what's appropriate, which is why it's not a one-stop shop, it's about evolution. Secondary centres in strong locations have proved very resilient."
Viable solutions
Just as local authorities may need to become more imaginative to kick-start schemes, so the investment community is going to have to come up with ways to attract and inject finance. Having created a war chest specifically designed to seek and push forward stalled schemes, Resolution is one such player. It has stepped into Brewery Square in Dorchester and its director Nigel Robson says it would like to do more, although finding the right schemes is proving challenging.
He says: "The opportunity needs to be pretty specific. There needs to be strong socio-economic fundamentals, a tight supply of retail and no threat from big regional centres. For example, we wouldn't look at areas around Leeds because of the development work there."
Robson believes re-engineering is a prerequisite to creating appropriate schemes but shares Sargent's concern that retailers have not yet grasped the full implications of driving rents down. "There is a disconnect between what retailers are prepared to pay in rent and their aspirations, which is having a big effect on the viability of schemes," he warns. "It's hard to see how many department store anchored projects will be viable in the current climate. We would expect to see more projects anchored by supermarkets or even medium space users and with a mixed-use element."
In town in 2011: Two schemes opening this year
Parkway, Newbury
"The Newbury site had been around for a long time and was originally a scruffy bit of land that various developers had looked at. It's often about timing and the council started promoting the site, which was a significant step forward," says Standard Life Investments fund manager Ed Jenkins.
"Inevitably in a town centre you have a lot of stakeholders. There is no disguising the fact that building a scheme in a confined area will cause disruption so community engagement is really vital," he adds. "Newbury is full of character and listed buildings and sensitivity to the local environment was very important. Newbury Parkway is an open project and fully integrated with the town - more an extension to the existing provision."
Trinity Walk, Wakefield
Sovereign Land leasing director Max Le Frenais says:
"In our case we picked up a scheme that was partially built and had been sitting idle for six months or so. It's a great site - simply laid out and very well integrated with the centre of Wakefield - and it provided a real opportunity to bring new retail provision to [the town] including Debenhams and also Next, which came back for the first time in 11 years and had spent a long time looking for a suitable store."
"We would be very keen to develop more urban sites but you have to take every opportunity on its own merits," he adds. "It is very difficult to apply general principles to these sort of schemes, which tend to involve a lot of different parties."