Clearance Sales, a shopper rush to beat the VAT rise and weak comparatives because of snow last year all helped lift retail sales by 2.3% like-for-like in January.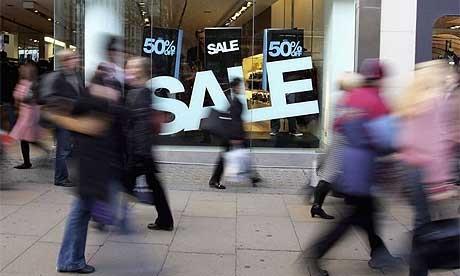 Total sales were up 4.2% but trading weakened as the month progressed, the BRC-KPMG Retail Sales Monitor showed.
On a three-month basis, like-for-likes advanced 0.8%. The figure was 1.4% for food and 0.4% for non-food.
Internet, mail order and phone sales growth was up 12.3%.
BRC director general Stephen Robertson said January's sales growth was the best since March last year, but cautioned against reading too much into the increase.
He said: "Growth this January was driven by a relatively short but strong burst of non-food buying early in the month.
"Later in the month sales of non-food goods slowed, particularly for bigger items, as the reality of worries about jobs and personal finances returned to customers' minds.
"Generally, food sales growth was modest as people used up stocks they'd bought in during December's bad weather.
"Turning round consumer confidence is now central to turning round the economy. A range of pressures is bearing down on customers. As it considers the Budget, the Government must not add any more."