Notonthehighstreet is a UK curated online marketplace focusing on handcrafted and unique gifts, which was founded in 2006.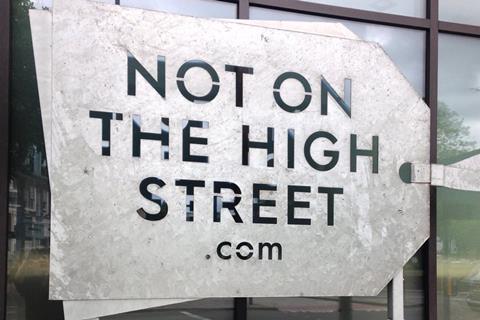 The business was acquired by US private equity firm Great Hill Partners for an undisclosed sum in February 2021.
The online marketplace, which had been mulling a sale of the business since late 2020, has been one of the winners during the pandemic, with sales surging and hundreds of new small business partners signing up. Management will use its new backing to expand the range of products sold on its marketplace and further deepen its reach into the small business community in the UK.
The core UK business reversed declining sales in the year to March 2020 (FY2019), reporting a 5.5% increase in sales to £37.2m, compared to a 2.0% drop the previous year. It was the same story for gross sales through its website, which climbed 5.0% to £145.9m.
The retailer moved closer to turning a profit at the pre-tax and operating level in FY2019, while its EBITDA remained firmly back in the black. It has been looking to continue investment in platform development to support the future growth of the business, as well as continuing to develop its in-house marketing capabilities.
While it has recently extended its product offer into experiences, Notonthehighstreet's current focus is on targeting loyal customers, including personalisation and making the online experience even better, both for its end-customers and the community of 5,000 or so sellers whose products are featured on the site.
Innovation Rating: 3
See related content from Retail-Week.com