Boohoo is a fast fashion ecommerce group based in Manchester which owns and operates an eponymous clothing brand alongside PrettyLittleThing, Nasty Gal, Miss Pap, Karen Millen, Coast, Oasis, and Warehouse. It picked up the digital assets of Debenhams in January 2021 before going on to add the former Arcadia labels Dorothy Perkins, Burton, and Wallis to its cohort in February 2021.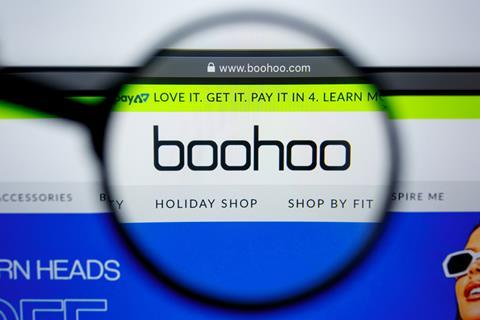 Total sales at the group increased 41.3% to £1.7 over the year to February 2021 (FY2020), with the UK division posting a 39.1% rise to £945.1m whilst international sales jumped 44% to £800.6m.
The group was founded as the sole Boohoo brand in 2006 by Mahmud Kamani and Carol Kane with an aim to design, source, market and sell clothing, shoes and accessories targeted at younger female consumers. The retailer launched its standalone menswear offering a decade later and has since gone on to expand into beauty to remain competitive against rival Asos.
Boohoo's acquisition strategy has allowed the group to broaden its target audience by widening its product offer and price range. Efforts to widen its appeal beyond its core demographic reflected in Boohoo's resilience during the coronavirus pandemic, and its plans to pivot Debenhams into a digital department store looks to continue this trend.
Chief executive John Lyttle said Boohoo was seeking "to capture incremental growth opportunities arising from the accelerating shift to online retail" and to build on its "successful multi-brand direct-to-consumer platform" which will allow it to "disrupt the markets that [Boohoo] operates in."
Revealing its plans for the future of Boohoo, executive chairman Mahmud Kamani added: "Our other investment activities planned over the next financial year are centred upon automation at the Sheffield warehouse that serves PrettyLittleThing, the opening of third and fourth warehouses in Wellingborough and Daventry for our growing brands, the set-up of our Leicester factory and showcase facility, and in enhancements to our IT infrastructure."
Boohoo completed its flotation on the AIM in 2014 and used funds raised to scale up its supply chain facilities as it aimed to generate £3bn of global sales. There has also been a focus on improving its apps and websites, as well as exploiting influencers and social media technology to improve customer acquisition and retention.
See related content from Retail-Week.com