Property giants Hammerson and Intu intend to sell off a raft of assets and ramp up their focus on residential units and hotels in an effort to rejuvenate their portfolios including flagship malls. Retail Week examines what the strategy means for the future of retailers in shopping centres.
The full-year figures unveiled by Intu and Hammerson over the past two weeks showed that 2018 was not just a tough year for the high street.
Both property giants suffered substantial falls in the values of their respective portfolios year-on-year – the worth of Lakeside and Metrocentre owner Intu's assets tumbled 12.9% to £9.17bn, while Bullring and Brent Cross owner Hammerson's fell 5.9% to £9.9bn.
While there were myriad reasons for the chunky writedowns, a common thread linked the two – declining customer footfall. Intu reported a 1.6% drop in customer numbers during the year to December 31, 2018, while Hammerson was hit by a 1.8% fall across the same 12-month period.
Retail sales were down across both portfolios too, slipping 2.3% at Intu and 2.9% at Hammerson.
In a bid to arrest those alarming trends, the two businesses – which almost joined forces before Hammerson abandoned its £3.4bn takeover bid last spring – are pursuing similar strategies. Both plan to create more experiential propositions – a shift that could leave space historically reserved for high street retailers being handed over to brands, or leisure and entertainment operators.
Hammerson's UK and Ireland boss Mark Bourgeois reiterates that the landlord's plans include a drive towards "reducing our floor space let to traditional high street fashion by about a fifth" and slashing department store space by "a quarter" – targets first revealed at its half-year trading update last June.
New business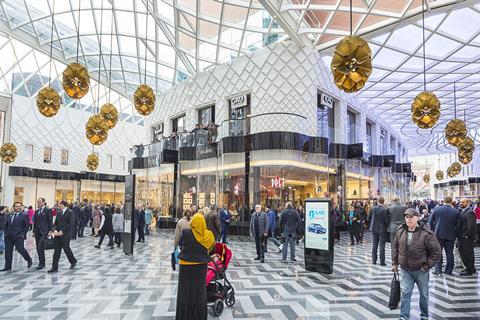 Instead, consumer brands outside fashion such as Dyson, Bose and Nespresso are now driving lettings across the Hammerson portfolio. About 31% of new leases were signed by such brands last year, compared to just 13% by high street fashion retailers – a reminder of the ongoing direct-to-consumer trend among brands.
Bourgeois says "aspirational" fashion brands – such as Polo Ralph Lauren, Tommy Hilfiger and Guess – performed well in Hammerson centres last year and would continue to be a focus in 2019.
"We've highlighted how we're managing the mix," Bourgeois says, "and we're leasing to winners."
Similarly, Intu chief financial officer Matthew Roberts says tenants "want to be alongside their best peers" to prompt "as many people as possible to walk past your store".
With that in mind, Roberts reveals Intu is now "doing more deals with global, international retail brands than we were before two or three years ago," including Zara parent Inditex and Swedish fashion giant H&M.
Size matters
However, Knight Frank retail partner Stephen Springham says that there is still clearly a place for retailers to play, particularly at flagship shopping centres. It's on the smaller, secondary and tertiary sites Springham thinks some retailers may be considering their positions as footfall patterns change.
"The reason that Hammerson and Intu are rethinking things re: secondary sites, is as much future-proofing and consumer-led as actually looking at what retailers themselves are doing," he says.
"All retailers are looking at their space requirements and, in very simple terms, asking whether they need to be at those locations"

Stephen Springham, Knight Frank
"You don't need me to tell you that retail is a very challenging market at the moment. All retailers are looking at their space requirements and, in very simple terms, asking whether they need to be at those locations."
But the retail mix represents just part of the conundrum that landlords are attempting to solve. Catering, leisure and entertainment are becoming increasingly focal elements of shopping centres' propositions.
Roberts, says that in order to woo more people back into malls and increase their dwell time, "you have to be providing a whole load of ancillary opportunities".
He points to the new leisure extension at Intu Watford, which includes "a big cinema, as well as bowling, golf and a climbing area", and the Nickelodeon theme park recently opened at Intu Lakeside, in Essex, as examples of how its proposition is evolving.
Beyond retail
Bourgeois says Hammerson is ramping up its focus on events and other experiential offerings in a similar vein.
He insists that "customers want experiences" and, in response to those demands, Hammerson will invest £2m into hosting a series of "super events" during 2019. Bourgeois pointed to the Festival of Light Hammerson held at its WestQuay centre in Southampton last year, which he said drove a footfall increase of 11%.
As with the high street, digital is also an important area of focus for both Hammerson and Intu in order to complement bricks with clicks. Bourgeois says that Hammerson has been working with tech companies to deliver a fashion finder app for customers to use in its centres.
He wants to make the most of the halo effect that can lead to an uplift in online sales when a retailer takes a store.
Roberts says that balancing bricks-and-mortar and online sales continues to be a "big conundrum". He is working with tenants to "drive click-and-collect as the deployment mechanism of choice" and so cut out the cost of the last mile of delivery.
"The general move is more to leisure than retail. But, currently 85% of our income comes from retailers"

Matthew Roberts, Intu
Both Hammerson and Intu are also seeking to exploit surplus land adjacent to their flagship shopping centres to build residential units, hotels and workspaces.
Roberts calls the process "intensification" and says Intu has already embarked on a programme to build flats at Lakeside.
Hammerson is also doubling down on its 'City Quarters' programme, which Bourgeois says will "break down the walls between those flagship investments [shopping centres], and the thriving cities in which they're located".
He points to planned developments at its centres in Dublin, Bristol, Leeds and Southampton as examples of how Hammerson is bidding to create communities around its destinations.
Intu has identified more than 470 acres of surplus land across its portfolio, with the potential to develop as many as 5,000 residential units and 600 hotel rooms.
Hammerson is eyeing the development of 6,600 residential units, 1,200 hotel rooms and 2 million sq ft of potential office and co-working space.
Bourgeois and Roberts stress that such investments will complement, rather than come at the expense of, retail space. But Roberts is clear about the overall direction of travel that the make-up of shopping centres will need to take.
"The general move is more to leisure than retail," he says. "But, currently 85% of our income comes from retailers. Even if it moves 1% a year for the next five years, it will still be 80% retail in five years' time."
Market forces
However, given the clear focus on more experiential and leisure propositions – and landlords' needs to juggle the development of surplus land with the enhancement of existing centres – some retailers could perhaps be forgiven for thinking they are becoming a less crucial part of the shopping centre mix.
Springham says that Hammerson and Intu's move towards leisure is primarily a case of "reacting towards what's going on around them" and believes it is highly unlikely that any retailers will be "turfed out of these schemes against their will" to make more space. However, he is certain that the levels of change seen in 2018 will continue for the rest of this year and beyond.
"This level of flux isn't going to go away anytime soon. We're a long way from getting this sorted," he maintains. "Last year was a wake-up call, if you like. You're going to continue to see a lot of churn again when leases expire."
As Intu and Hammerson shift their strategies, it seems that 2019 could be just as turbulent a year for retailers in shopping centres.
When it comes to deciding where to trade, the old retail maxim of location, location, location has never been truer – but getting that right may be harder than ever as consumer habits change.