The entrepreneur and TV star has put collapsed camera specialist Jessops back on the high street and he has a clear picture of its future.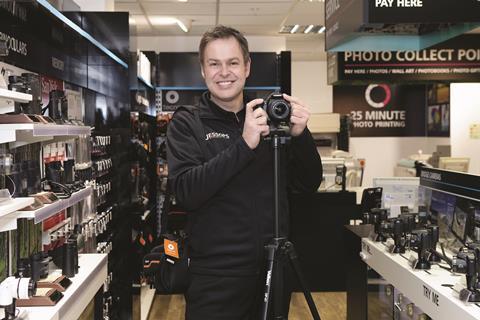 Dragons' Den star Peter Jones is determined to prove he has not bitten off more than he can chew with his latest investment. The entrepreneur snapped up collapsed camera specialist Jessops out of administration at the end of January and, as chairman and chief executive, plans to build it up to a £100m business in a year.
It might seem like a tall order for the 6 ft 7 inch white knight, who has never before led a retail business, but Jones is convinced Jessops has a future and that he is the right man for the job.
A fortnight ago the 47 year old returned Jessops to the high street by reopening six stores, including the Oxford Street flagship. Since then he has been opening a shop each day, with the aim of reaching 30 in April. Eventually Jones wants to operate 50 stores.
Jones says he understands "retail is struggling" but believes Jessops can have a successful future. "It's such an iconic high street brand. If you keep operating costs low and match online prices to those in-store there is no reason for the consumer to buy anywhere else. We all love shopping and getting the right price. What we don't love is paying a lot more for it. At Jessops we are changing that," he says.
He plans to export the brand overseas and hopes to open international stores in the future. It is an ambitious strategy for a business that will continue to battle camera phones, which have become an increasingly popular alternative to cameras. But Jones insists: "There will never be a day when a phone can replace a £4,000 camera."
Since the age of 7, Jones - thought to be worth £402m according to The Sunday Times Rich List - has been a budding entrepreneur. "When I was still at school, I remember sitting in my dad's leather chair for hours thinking about someday running a small business of my own.
"I would pretend to have conversations on the phone and go to the telex machine to pick up messages," he recalls.
When the Berkshire-born businessman turned 16 he opened a tennis academy. As a keen player, Jones became one of the youngest coaches in the country and just three years later he was able to buy his own home. Jones says the business allowed him to combine the two things he loved most - sport and economics.
"That was a real watershed moment in my life I think," says Jones. "I had the chance to improve my game with a view to becoming a professional, but there was something in me that wanted to take that talent and develop a successful business from it rather than, say, win Wimbledon."
But it was through electricals that Jones, who describes himself as "determined, relentless, caring and compassionate", began making big money. After getting a taste for building his own company, at 21 he developed a firm providing computers and services to corporate clients.
When the recession hit in the 1990s, his business collapsed and he lost his house, but Jones was not disheartened. He pulled money together to launch a telecommunications firm, Phones International Group, which turned over £14m in its first year. It is that experience that makes battler Jones an ideal candidate to help grow fledgling businesses on TV show Dragons' Den, which he has starred in since 2005.
So how has fame changed his life? "I do have to pinch myself sometimes. It's not something I take for granted and
I will do all that I can to encourage enterprise in young people."
Jones was appointed a CBE in 2009 for services to business, entrepreneurship and young people for work he
has done through the Peter Jones Foundation, which he set up in 2005 to support children through innovative education techniques.
And if all his career achievements were not enough, family man Jones also has five children.
The pace is unlikely to let up now Jones has taken the helm at Jessops. And while it is a job that many a Dragon may have said "I'm out" to, no doubt fellow TV star and retail entrepreneur Theo Paphitis, owner of Ryman, Robert Dyas and Boux Avenue, will be at the end of the phone to give shopkeeping advice.
Not-so-tall tales about Peter Jones
He has size 14 feet
Jones is an animal lover and has two dogs, two guinea pigs, a pig, chickens, five turkeys and a field of cows
He is known for his love of stripy socks
Jones has his own coat of arms
He loves playing tennis and golf