The newly appointed minister for business arrives at a punishing time for retailers. Will his background in commerce mean he tackles their concerns?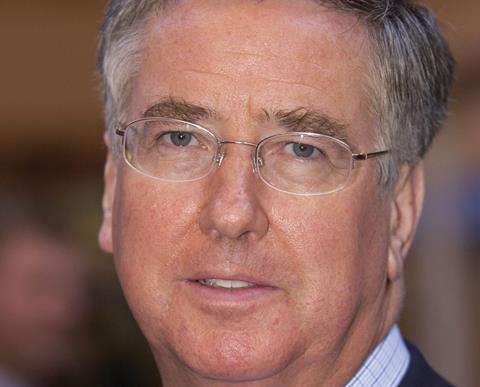 As minister for business, Michael Fallon takes over responsibility for the retail portfolio at the Department for Business, Innovation and Skills at a time when retailers are gearing up for their busiest season of the year, in one of the most difficult trading periods many have ever faced.
He replaces Mark Prisk, who has moved to the Department for Communities and Local Government (DCLG) as housing minister. Prisk is likely to be responsible for retail guru Mary Portas's programme to revive struggling high streets, a duty that was previously undertaken by his predecessor Grant Shapps.
Fallon will act as "the voice of business", in the words of Downing Street when he was appointed. But does the deputy chairman of the Conservative Party have the skills to be the voice of retail?
A graduate of the University of St Andrews, Fallon began his political career as MP for Darlington in 1983, a seat he held for nine years. He then embarked on a business career, which led him to his most recent position as director at leading City brokerage Tullett Prebon. Fallon has since stepped down from that post because of his new role, where it is likely he will have plenty on his plate.
He has other business credentials too. After setting up a chain of children's nurseries called Just Learning with funding from Dragons' Den star Duncan Bannatyne, Fallon remained chief executive while continuing his duties as MP.
Retailers will hope that Fallon's background in business will help him understand their concerns, such as business rates that increased 5.6% in April this year. The rate next year will be based on this month's inflation figures, which look likely to be higher than original forecasts. The BRC is lobbying for a freeze in business rates next year, which could be Fallon's first significant challenge from a retail perspective.
Meanwhile, the debate between the Conservatives and their Liberal Democrat partners about a permanent extension of Sunday trading hours is ongoing.
Shop vacancy rates are also likely to be an issue, because they remain stubbornly high at 14.6%, according to the Local Data Company. This was highlighted as a concern by Portas in her recommendations to the Government, and an improvement campaign is being led by the DCLG.
It was Eric Pickles, secretary of state at the DCLG, who revealed that the Government is attempting to make it easier for retailers to open pop-up shops, enabling void premises to be made use of and scrapping red tape. Fallon is likely to have input in discussions about that and the Portas programme more widely, and retailers will be watching developments closely.
It has yet to be decided whether Fallon will also be involved in tackling ongoing retail issues such as crime, planning and car parking in town centres, which may be led by other government departments.
There has been speculation that Fallon's appointment was made to try to rein in outspoken Lib Dem business secretary Vince Cable. With a breadth of experience across government, including junior ministerial posts under Margaret Thatcher and membership of John Major's government, Fallon is seen as a go-to minister for agenda-setting programmes such as Radio 4's Today and is often put in front of the cameras because of his public speaking skills.
Retailers will hope that Fallon charms them with his actions as well as his words.
Career history
2012 Appointed minister for business and enterprise
1997 to present Conservative MP for Sevenoaks
1992-1997 Founded and ran nursery chain Just Learning
1990-1992 Minister for education
1988-1990 Joined Margaret Thatcher's government as a whip and was promoted to Lord Commissioner of the Treasury
1987-1988 Parliamentary private secretary to the Rt Hon Cecil Parkinson, secretary of state for energy
1983 Conservative MP for Darlington