After the snap election resulted in a hung parliament, Retail Week spoke to retail executives to gauge reaction across the industry.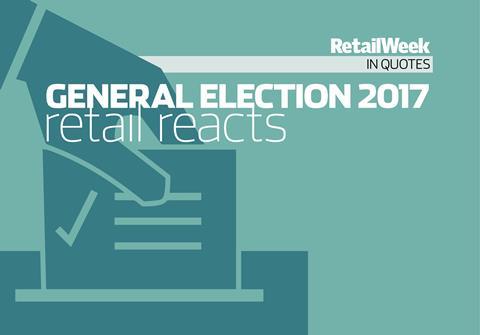 Fenwick and The Hut Group chairman Richard Pennycook
"The uncertainty that's been created clearly can't be good for business and business drives the economy.
"Business leaders need to be thinking about whatever they can do to help with stability and with improving the overall prospects of the country because we are in very uncertain times.
"The concern, given this new situation, is that any domestic agenda is going to be very hard to implement. The sorts of things that retail has been asking for, whether that's a review of business rates, or how we deal with the world of 'fewer, better jobs' for retail, that's all going to get crowded out now.
"It's going to be very difficult for a government, which was always going to be preoccupied with Brexit, but is now going to be totally preoccupied with just carrying on week-to-week. It's going to be very difficult for them to focus on these long-term issues."
Hobbycraft chief executive John Colley
"Clearly it's not a great result. For business, I think it just creates even more uncertainty at a time when we really want certainty, especially considering the Brexit negotiations.
"The big concern is what these trade agreements look like.
"It's not an insignificant task. In my last role at Majestic, some of the trade that the UK was doing with some of the big wine producers was a big concern.
"What happens depends on what a coalition would look like. The [last] Conservative Government were looking for a hard Brexit position, whether that's right or wrong, but having a very clear position with Europe is important.
"It's very hard to do that if you have a coalition government."
Schuh chief executive Colin Temple
"It's not ideal – you like clarity. The people have spoken, but in a muffled voice.
"The catalyst for it all was us coming out of Europe and we've really got to try and get the best deal we can from that now. I actually don't think it's as bad as everybody might think because we are trading nations and we want to trade.
"Providing we don't lose sight of the fact that what we want to do is do business, we might be alright. There might be a little bit of a penalty to pay in terms of some kind of exit fee, but providing it's not crazy, I'd like to think common sense would prevail."
Carpetright chief executive Wilf Walsh
"The biggest challenge, undoubtedly, for the economy going forwards, is the successful negotiation of Brexit terms. You don't want uncertainty piled on uncertainty.
"If this Prime Minister is involved in it, she'll need to show the opposite of her election campaign, which was complacent, arrogant, and lacked visibility, leadership or a plan. I think the Champagne corks are probably popping in Brussels.
"I also feel pretty certain there'll be another election before the year ends. Our democratic rights will be extended further and further. We've turned into Italy without the nice clothes or the resolute football defenders. But life goes on!"
Theo Paphitis Retail Group founder Theo Paphitis
"I'm not surprised at all. I said Theresa May would snatch defeat from the jaws of victory and she's not disappointed on that front. With her performance in this last year, I wouldn't put her in charge of running a kebab shop, never mind the country.
"Nothing will get done on business rates, because we've got nobody to deal with it and the Government will have no power. If May stays it'll be a lame-duck Prime Minister who will be too paralysed to do anything.
"My biggest concern in the retail sector is jobs and this growing uncertainty means there's an above average chance of causing job losses. Retail is an incredibly resilient industry, but the one thing we can't deal with is people not coming into stores and putting money in our tills.
"The chance of that happening is the highest it's been in my whole career, including after the crash in 2008."
Tapi chief executive Martin Harris
"If you think of UK PLC, it was the worst result we could have had. A good win one way or the other would have been better; more uncertainty is exactly what the country doesn't need.
"We're going into the Brexit negotiations worse prepared. Europe is probably giggling. It was a terrible gamble, a terrible election and it is a terrible result for the country.
"Elections always cost retailers around 10% or 15% in sales. The last thing we need is another snap election and to go through this all over again in the autumn."
Bathstore chief executive Gary Favell
"There was so much uncertainty already, and here we are now with more uncertainty, which isn't helpful for business. We need to know the track we're getting on and just get on it.
"But it's important to be positive – we can talk ourselves into a recession otherwise.
"So if you look on the positive side, it could mean a softer Brexit. I was always for staying in anyway, and we could benefit from getting a more sensible discussion going around the exit.
"If we get a more reasonable conversation going with our colleagues over the water too and not such a hard line that will be a good outcome."
Ann Summers chief executive Jacqueline Gold
"I have been very impressed with Theresa May as Prime Minister, but she has not had a good election campaign. She is politically weakened, with her approach to Brexit now open to question, and with her own future sadly in some doubt.
"The biggest challenge of a hung Parliament is one of stability – but let's not forget, we have avoided the worst outcome of this election; Corbyn is not at Number 10.
"As a remain supporter who has now come to terms with a future outside the EU, I continue to have concerns about the impact of ending freedom of movement on retail businesses such as mine.
"Ann Summers has certainly benefited from it at every level of our operation, from head office to our warehouse. If this result leads to a softer Brexit, then retaining freedom of movement would be a positive outcome for me.
"I welcome the Conservatives' manifesto commitment to fully review the business rates system. I see no reason for this commitment to be knocked off course, but as a sector we must continue to make our case for radical reform and to keep up pressure for a rates system that supports, not hampers, the high street."