From next Monday, large retailers in England must charge at least 5p for single-use plastic bags, under new Government rules.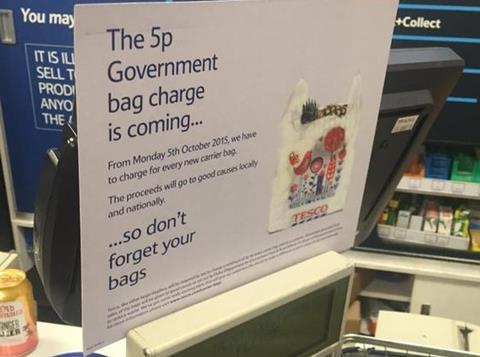 The ruling Conservative party believes the scheme will boost the economy and reduce litter, but critics including the British Retail Consortium argue that loopholes in the new legislation "will reduce its impact and cause confusion for shoppers", after plastic bags containing certain items were made exempt from the 5p charge.
Similar rules are already in place in Scotland, Wales and Northern Ireland, where the levy applies to all plastic bags, no matter what their contents.
As England prepares to become the last member of the UK to adopt the charge, here are the key things that retailers and consumers need to know.
Which retailers does the new 5p levy apply to?
The obligation to charge for single-use plastic bags will become compulsory for businesses that employ the equivalent of 250 or more full-time employees and sell or deliver goods in England.
Smaller businesses can also charge on a voluntary basis if they wish to do so.
Scotland and Wales already have separate plastic bag regulations in place.
What carrier bags does the levy apply to?
Retailers will only have to charge customers for carrier bags that are plastic, are up to 70 microns thick and have handles. However, there are some exceptions to that rule.
Duncan Reed, from TLT Solicitors, explains: "There will be no requirement to charge for bags that are provided for certain items including certain uncooked or unwrapped food products, prescription medicines and live aquatic creatures."
There are numerous other items, including uncovered blades, seeds, bulbs and flowers, for which a carrier bag can be provided for free. All items that fall into this bracket are listed within schedule 2 of the Single Use Carrier Bags Charges Order 2015.
If the bag containing any of these items is also used to carry goods not on this list, then retailers must still charge 5p for the bag.
Shoppers also won't have to pay for bags made of paper, or plastic bags picked up from shops in airports, or on board trains, aeroplanes or ships.
What about re-usable and biodegradable bags?
Customers with re-usable bags, often referred to by supermarkets as 'bags for life', will not be charged 5p every time they use them, but the bags for life must be sold for a minimum of 5p when they are purchased.
There is currently no exemption in place for biodegradable bags. The Government is currently in the process of reviewing industry standards for the biodegradability of lightweight plastics to ensure that biodegradable bags can be separated during recycling.
What other requirements are there for retailers?
Reed adds that retailers must keep a record of "the number of bags that are supplied, what proceeds have been made from the charges and how those proceeds have been spent."
Organisations will also be required to provide records of the "reasonable costs incurred in implementing the charges."
These records will be made open to the public by the Department for Environment, Food and Rural Affairs (Defra). Reed said that members of the public will also be permitted to "request copies of an organisation's records".
What happens if retailers fail to enforce the new charges?
Local authorities across England will monitor the implementation of the new levy within all stores in their individual areas.
Councils will have the power to fine organisations if they fail to comply with the new regulations and will be free to make any financial penalties public knowledge.
What are the benefits of bringing in the new levy?
The scheme aims to reduce the use of single-use plastic bags after more than 7.6bn were given to customers by major supermarkets in England alone during 2014. That equates to around 140 bags per head of population.
The Government has estimated the levy will result in an 80% fall in the use of plastic bags in supermarkets. In turn, that is expected to provide a £780m boost to the economy, with £60m alone set to be saved on litter clearing costs.
What will happen to proceeds from the charge?
Retailers must inform the government about what they will do with cash gained from the 5p levy. Details will be published each year.
Businesses are expected to donate their proceeds to charitable causes of their choosing.