The retail sector has become synonymous with Britain's national identity as a 'nation of shopkeepers' – but is that title under threat?
Retail jobs have been disappearing at a rate of knots. Only today, 500 jobs were put at risk as LK Bennett lined up administrators. Meanwhile, high street stalwart Boots revealed earlier this week that it plans to axe up to 350 head office roles in a bid to cut costs.
This is just the tip of the iceberg. According to the British Retail Consortium, 70,000 retail jobs were lost in the final quarter of 2018. It is a trend that looks set to continue in 2019. The Centre for Retail Research expects job losses to rise by nearly 20% in 2019, to 160,000.
The downward trajectory in retail job numbers comes at a time where the number of people in work in the UK is actually rising, with a record 32.6 million people employed between October and December, according to the Office for National Statistics.
"The BRC has been too nice and given far too much respect to people who blatantly are not competent or have any intention of doing the right thing"

Theo Paphitis, TP Retail Group
BRC chief executive Helen Dickinson tells Retail Week: "What we are seeing is all part of an unprecedented transformation of the industry where you have a perfect storm of technology changing how people shop, rising costs for the businesses that are operating in the sector and diminished demand.
"The challenge is what happens to the people who were working in the roles [that are being lost] and whether they are being redeployed in other parts of retail or other industries."
There is a big issue around redeploying staff. According to the Resolution Foundation, retail employees face a higher risk of redundancy than any other sector.
Furthermore, 60% of those exiting retail without another job to go to are under 30, despite only a third of the sector's workforce being in that age bracket.
While for some younger people working in retail early in their careers is a stop-gap, the rate of job losses is indicative of a more concerning possibility that career progression from shop floor to board room is becoming increasingly rare.
Time for intervention?
Against this backdrop, is it time for the Government to step in to safeguard retail jobs?
Retail entrepreneur Theo Paphitis believes retailers would not welcome a Government intervention to protect roles – but he does think it could do more to ease the pressures on the sector as it undergoes a rapid metamorphosis.
"No retailer worth their salt will say 'we need the Government to treat us differently and ignore the fact that our consumer is deciding to shop in a different way'. We'd be extinct if we did that," he says.
"The problem we've got is the sector is changing so fast that it is difficult to adapt any further without some sensible government legislation that treats all retail in an equitable way while allowing transformation to take place."
Paphitis believes that business rates relief, combined with a more robust taxation system for online operators, is the best way to even the playing field and would slow the rate of job losses in the sector.
"The disappointing thing for retail is [the Government's] current stance is allowing retail, through their inaction and inability to legislate correctly and in a timely manner to deal with the speed of the technological change, to crashland."
For Paphitis, crashlanding "looks like what you are seeing at the moment on the high street, with retailers that were profitable two years ago going bust".
Dickinson says that the BRC is working with the Government to reform retail business rates but admits that it is slow going.
"These issues are hard and they span longer than the [career] of the average MP so they feel short-served putting their shoulder behind this. We have to keep going with our messages because the time will come when it is right and they will learn from understanding business to act on what it needs."
However, Paphitis believes the BRC needs to be tougher with the Government. "The BRC has been too nice and given far too much respect to people who blatantly are not competent or have any intention of doing the right thing and have been taken along for the ride.
"They need to take a much more robust approach even if they become unpopular [with the Government]".
Lost career opportunities
Paphitis believes the fact that overall employment is growing enables the government to dismiss the retail sector's concerns as little more than the natural forces of the economy.
Retail Week contacted the Government to see if it plans to take action to protect retail jobs in the face of the projected 160,000 job losses this year. However, despite numerous phone calls from Retail Week and being passed between several departments, the Government was unable to find anyone to answer our questions.
One retail chief executive says the government should be concerned about ballooning redundancies in the sector, despite the healthy employment figures elsewhere.
"One of the great things about retail is it does act as a vehicle for social mobility and you can move up"

Retail chief executive
"It's not just a question of numbers of jobs – not all jobs are the same," he says. "Shops play an important societal role in terms of community, cohesion and getting onto a career path. If the jobs are coming out of that area and moving into gig economy jobs, driving a Deliveroo bicycle or picking in a fulfilment warehouse, I'm not sure that's a good thing for society."
However, John Roberts, founder and chief executive of online retailer AO.com, believes some roles are simply becoming redundant as new technology and ways of working emerge and there is no benefit in holding back the tidal wave of change.
"If you go back 30 or 40 years, everybody was upset about coal mines closing and those people have all retrained and gotten other jobs. It's just the natural progress of how things develop," he explains.
But Paphitis argues the roles being lost in retail right now offered career progression opportunities that replacement jobs do not.
"The reality is [retail] is a great career because it embodies everything that is changing in our world from technology to sales, marketing, finance, transportation. All the things we use across any industry you can learn in retail," he says.
"Those jobs are now being replaced by jobs in warehouses without windows. Yes, they are replacement jobs on the most basic level, but what type of jobs are they? Is it fulfilling? Does it put you on a career path?"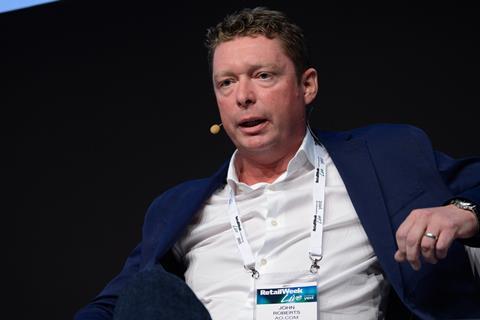 The aforementioned chief executive concurs.
"One of the great things about retail is it does act as a vehicle for social mobility and you can move up," he says. "A number of chief executives of FTSE 100 retailers started off as shop colleagues. I'm not sure that level of opportunity and social mobility exists if all you are ever doing is pick and pack in a fulfilment centre."
Roberts rejects this view: "That's a load of nonsense – 90% of the people at the management in our distribution business came in on the ground floor.
"My first job was in a warehouse," he emphasises. "It is a very stereotypical image that those working in warehouses don't have progression. Anybody that has got talent, a work ethic, grit and determination has the ability to progress, regardless of which bit of the business they start in."
New skills and training
Dickinson says alongside an overhaul of business rates, the Government needs to improve the education system to ensure that newcomers to the workforce are equipped with skills that coincide with retail growth areas.
"I don't think it's about negating change in the retail sector, it's about equipping people with skills that are relevant for the future so they don't end up on the scrapheap," she says.
"The areas where the Government can have a real impact is by encouraging more diversity in STEM [science, technology, engineering and mathematics] subjects, equipping people in the existing working population with basic digital skills that are the mainstay of new retail roles."
Dickinson adds that the employees losing retail jobs today – which are often shopfloor roles – are not equipped with the skills to work in other areas of a retail business.
"Those people are more likely to be in the places that are already more economically challenged in the UK so it does lead to a polarisation which, from a Government policy point of view, I think should be a real concern.
"If you really roll that forward then that's a cocktail which could lead to social unrest or all sorts of things which are terrible news from a government point of view. Part of the Government's role has to be incentivising economic activity in those places, as well as equipping people who live and work there with the types of skills which people will need in businesses in the future."
With the rate of change in the retail sector showing no sign of abating, the Government needs to take action to ensure that Britain's nation of shopkeepers – and shop workers – are fit for the modern world.