The Apple founder, who died this week, may not have been best known as a retailer. But the brand he created profoundly changed our industry. Here Retail Week explains why.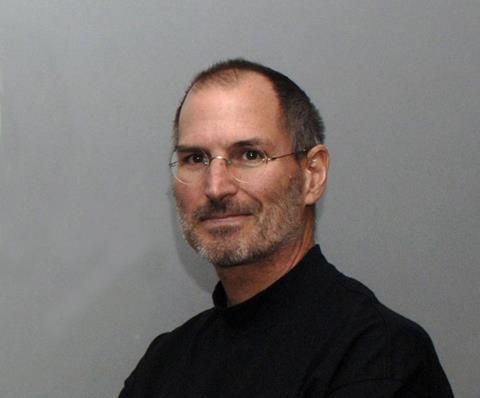 1. Because he created products people wanted to buy
It's a fact that in a mature consumer economy, it's really hard for new products to genuinely capture the imagination of shoppers. But Steve Jobs' Apple has managed the trick not just once, but time and time again.
The Mac, the iPod, the iPhone and the iPad all became must-have products which created their own aura, and had shoppers queuing round the block to buy them. This created its own momentum, with each new launch being eagerly anticipated to see if it was as lifestyle-changing as the last one, and the company always keeping a masterful grip on the way the product was released and marketed to create the maximum impact.
The reason it could do this isn't about hype – it's because the products were genuinely brilliant and ground-breaking. Across the world, Apple products have become must-have tools for living, for the iconic design and the kudos of having them, yes, but primarily because they make life easier and more fun.
2. Because he changed the way we think of the store
When people think of Apple, they tend to think first of its iconic products, not as a retailer. But it now has 33 stores across the UK, and so many of the best things that are happening in the field of reinventing stores and creating a genuine experience for customers owe a huge amount to the store format created by Apple. The design of the stores is clean, attractive and modern. But its importance goes way beyond the attractiveness of the fixtures.
What the Apple store concept has done is put customers in charge. It allowed them to come in and play with the products, without applying pressure to buy them – it allowed them to sell themselves. Whatever the level of the customer's technology expertise, there is nothing intimidating about the Apple experience – the staff on the shopfloor are true advocates of the vision.
It's a generous brand - if you want to buy something, the staff come to you for payment, if you want to spend more time with them and understand the product better, you book a time and do it, and if something goes wrong, they'll fix it without making you feel like a bad person.
Many have tried to replicate the ethos behind the concept, with varying degrees of success. For sure, Apple is helped by the iconic status of its products. But Steve Jobs' Apple has created the benchmark for what the store of the future should look like, the service customers should expect, and the experience – and fun - that only a physical retail store can create.
3. Because he gave retailers new ways to sell online
The word 'application' wasn't in the retail lexicon just a couple of years ago. Now, thanks to the iPhone and iPad they are part of the every day lingo for retail and consumers alike. IPhone apps are not just about wasted hours playing Angry Birds - they have changed the ways in which consumers shop.
Apps has made shopping on mobile devices slick and easy for consumers, and shoppers across the world have embraced them wholeheartedly. Retailers have been quick to try to reap the benefits of the app, with 14 of the top 20 UK retailers having some form of mobile app or mobile commerce presence. In the past month alone Asos and New Look have launched iPhone apps to bolster growth.
Mark Newton-Jones, chief executive of Shop Direct Group, explains the impact Apple's products have had on how his home shopping group's makes it sales "We've repurposed our websites so they can be viewed on smartphones and have seen a six fold increase in sales activity on mobile phone this year."
Grocery apps such as those from Ocado and Tesco have made it possible for anyone to effortlessly arrange their food shopping while on the move, while for general merchandisers like Argos they have played a key part in their transformation to multichannel retailers.
4. Because he transformed the way we consume entertainment
Legacy retailers in the entertainment sector may not thank him for it, but there is no doubt that under Jobs Apple transformed the way we consume music and entertainment with the launch of the pioneering iTunes service in 2004.
While it may spell difficulty for traditional retailers like HMV, iTunes is a legal route to market for music publishers in an online world where piracy is rife. Downloading is now a phenomenon not just in music but in books and film too, and has opened up a market for retailers in new hardware such as e-readers.
5. Because he created new tools for selling
One of Steve Jobs' influences on retail is only just beginning to be realised. Yet, in the same way iPhone and iPad apps have quickly proliferated in the industry, one of the next big must-haves is likely to be mobile point-of-sale. Apple itself was a pioneer of allowing staff to serve customers anywhere on the shop floor. And now its consumer technology is being adapted by other retailers for use by staff in their stores. In Disney's Times Square flagship in New York, staff members can not only take payment on an iPod, but control the audio-visual special effects played in the store.
Meanwhile, fashion retailers are quickly discovering the benefits of arming staff members with iPads to use on the shop floor. Burberry, Crew Clothing and Aurora Fashions have all turned to the iPad – essentially a consumer device – to allow staff to take customer orders. Crew Clothing has seen a fantastic sales uplift as a result of being able to offer its entire online range to customers in even its smallest store using iPads.
But perhaps the biggest impact is yet to come. Aurora is now rethinking the whole customer journey through the store, and with staff enabled to serve customers anywhere is leading it to question its store design. If in five years time stores have begun to do away with their traditional cash desk, Steve Jobs' company will be able to take significant credit.
Your tweets
We asked for your tweets on how Steve Jobs changed retail. Here are some of them:
"It's a sign of his impact that so many of us read&reacted to the news of his death via his creations - sent from iPhone" @clionalynch
"Look at Steve the retailer, apple stores and the cult of the launch queue. That's some impressive contribution." @hotredbiz
"People don't just visit Apple Regent St, they go to "worship at the temple". That sort of sums it up." @paullewis61
"Where do you start but the apple store itself creates new destinations wherever it opens - Covent Garden, Regent street etc" @mervDM
"Mobile will save physical retail. We can thank Mr Jobs for that." @geoffreyB
"A true genius passed away today. Steve Jobs not only changed the design world, but also changed the world of retail and technology. RIP" @forty6design