"I think, for me, one of the areas we are looking to improve is customer-first contact resolution. So, in a small, convenient supermarket business we still have some processes and routines you would expect to see in a big-box retailer and if we can give colleagues the skills, autonomy and technology to solve the customer's concern immediately I think that would be a big change for us," explains Baines.
Listening to feedback from store managers and teams is going to be increasingly important, adds Williams.
"Creating a culture, if you like, where people can have a voice and their voice is heard. So people can feel free to push things back up the chain. We hear you, we listen to you and critically within all of that is we act on it," he says.
Baines and Williams shared their views on Retail Week's latest virtual panel, Better performing people: empowering stores teams to do their best work. Produced in association with Reflexis, now part of Zebra Technologies, the event was broadcast on Thursday 29 July, but you can view it on demand for free here.
They were joined by Zebra Technologies director of retail and hospitality solutions EMEA Mark Thomson.
During the event, Williams advised: "You need centralised control… but instead of pushing everything down, it's our in-store colleagues that know their stores and our customers better than anyone else."
These are just a handful of the tips the experts offered to help retailers rethink established ways of working and create better-performing stores and people.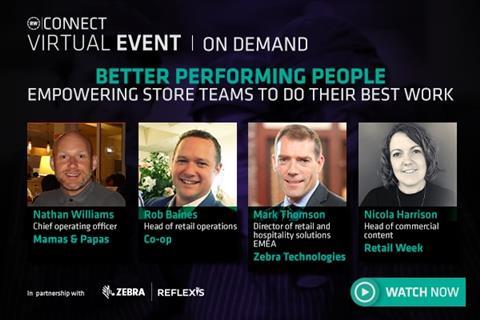 Register here to watch the event on demand for free and find out:
Why simplicity is key to improving productivity in retail operations
The future forecast – what in-store CX needs to look like in 2022
The technologies that save staff time so they can better serve customers
How to make store staff central to CX strategy and win internal buy-in

Reflexis Systems, part of Zebra Technologies, is the leading provider of intelligent workforce management, execution and communication solutions for multi-site organisations in retail, food service, hospitality and banking.