The retail industry has paid tribute to Sir Ken Morrison, one of the greats of modern supermarketing, who has died at the age of 85.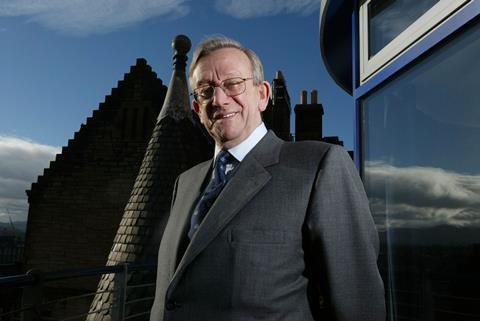 Sir Ken built Morrisons from a market stall run by his father into one of the big four grocers, opening his first high street shop in 1958, floating the retailer in 1967 and buying Safeway in 2004.
Morrisons chairman Andrew Higginson, who formerly competed against Sir Ken as finance director at Tesco, said: "Taking Morrisons from a small Bradford-based family business to a major grocery retailing chain is an outstanding achievement in the history of UK business."
Former Asda chief Archie Norman said: "The great thing about Ken Morrison was not just that he built Morrisons into the most formidable competitor and but that he was simply the best shopkeeper of our time.
"He made the complex simple, never forgot that it is all about the stores and in an industry of egomaniacs was the most unaffected, authentic, decent person and never ever pandered to the media, the City, or popular opinion".
Co-op chief executive Richard Pennycook, who previously worked under Sir Ken as finance director at Morrisons, told Retail Week that Sir Ken was a key architect of the UK's grocery industry.
"He's a vanguard of a small number of people that developed the post-war grocery model in the UK, which is the best food sector in the world," he says.
"It's highly efficient and delivers safe, high quality food to 65 million people. He's one of no more than five people that built that."
Co-op chairman and former Asda boss Allan Leighton adds: "He was a great retailer, a great character and a great inspiration."
Iceland founder and chief executive Malcolm Walker said: "He was the nicest, kindest CEO I've ever met, and a man of his word. A handshake was his bond."
Walker tells Retail Week that his longevity is something of wonder in UK retail.
"I heard yesterday that the average tenure of public CEOs is four years. Ken was there for four decades. It is quite remarkable that one man can grow that company over that time when all his contemporaries were burning out," he says.
Former Asda boss Andy Bond believed Sir Ken was "one of the architects of modern-day supermarket retailing" and his achievements were comparable to those of other trailblazers such as Tesco founder Sir Jack Cohen.
He said: "I think building a business from a couple of stalls to a chain with your name above the door requires very different leadership qualities from in a big corporation. He's one of the very few to have done that and he was a really important character in our age."
Shore Capital analyst Clive Black – now Morrisons' house broker – described Sir Ken as "a rare businessman and retailer, one of the true grocery greats of European retail alongside John Sainsbury – they were the two greatest grocers of this country."
A grocery innovator
Sir Ken introduced supermarket innovations such as the Market Street fresh food proposition, designed to make the most of Morrisons' strengths in the category, as well as the vertically integrated business model that gives the retailer control of food provenance and manufacturing.
He saw retail as a simple business and once said: "It's just taking money off people – and giving them something in return."
He famously kept a close eye on stores, where his attention to detail and standards were legendary.
It is said he placed £10 notes on gaps on shelves, gruffly commenting to staff: "That's what you're costing me, lad."
Morrisons expanded close to its Bradford home to begin with.
It was 1978 before the retailer crossed the county line into Lancashire for the first time with the acquisition of Whelan Stores, and 1998 before Morrisons made its debut in the south of England.
The Safeway takeover
Ambitions in the South were at the heart of the retailer's biggest deal when, in 2004, Morrisons took over Safeway.
But things did not proceed smoothly at first, perhaps because of Sir Ken's over-riding confidence in his own way of doing things.
"This is not a merger, it's a takeover," he told staff at Safeway's head office.
As he pushed south, he was confident of Morrisons' universal appeal. He once said: "Southern shoppers like to think they are sophisticated, don't they? But they're not. There's not so much difference down there.
"They say poor people need a bargain. Wealthy people appreciate one."
However, it was some time before the enlarged business was fully firing on all cylinders.
In 2008 Sir Ken stood down as chairman. By that time, Morrisons had 375 stores and served nine million customers a week.
A straight-talking shareholder
However, as a shareholder and honorary life president, he continued to take a keen interest in the business and was not afraid to forthrightly put forward his views on how things were being run.
He said that former chief executive Marc Bolland "patently wasn't a retailer" when the latter departed, and described an AGM presentation by successor Dalton Philips as "bullshit".
Black says: "With Ken, what you saw was what you got. He was a man of tremendous standards, very clear thinking and plain speaking.
"He wasn't always the most easy person to deal with, but when you did deal with him he was straight and you knew what you were getting.
His legacy lives on
Sir Ken's guiding spirit is still felt at Morrisons.
Higginson said: "His knowledge of retail and his strategic insights have remained as relevant and intuitive as they were when he first built the business."
Joanne Denney-Finch, chief executive of grocery industry body IGD, said: "Hugely charismatic, he was a real leader and a true, genuine retailer to the core.
"He was incredibly customer and people-focused and the industry legacy from the great strides he made for retail during his tenure are unquestionable."
Clive Black summed up: "Without Sir Ken many hundreds of thousands of British families and businesses would not have had their working and commercial livelihoods; many folks will be thankful to him this day."
Sir Ken was made a CBE in 1990 and was later knighted for services to the food retailing industry.
In 2008 he was recognised with Retail Week's Outstanding Contribution to Retail Award, which was presented by Allan Leighton. The accolade was awarded the week Sir Ken retired from the grocer he built into a national institution and Pennycook says it was the "perfect retirement present" for the grocery legend.